Murdered to Death - May 19th - 21st 2016
Murdered To Death a comedy by Peter Gordon

This hilarious spoof in the best Agatha Christie tradition, is set in a country house in 1930's and includes a Butler, a Colonel with stiff upper lip, a bumbling police inspector and a well-meaning local sleuth who seems to attract murder wherever she goes!

Thursday 19th& Friday 20th May at 7.45pm

Saturday 21st May Matinee at 2.30pm & Evening Performance at 7.45pm

Hyde Heath Village Hall

Tickets £10 (£9 concessions for Thursday and Saturday Matinee)

Box Office 07840-965411

Available at Hyde Heath Village Shop

Email: carole_north@yahoo.co.uk

Post: Send S.A.E and cheque payable to:

Hyde Heath Theatre Co.

33 Walnut Way, Hyde Heath HP6 5SD

Phone box office for discounts of 10 or more

This is an amateur production by arrangement with Josef Weinberger Ltd




Up Home
One Man Two Guvnors - Jan 28th - 30th 2016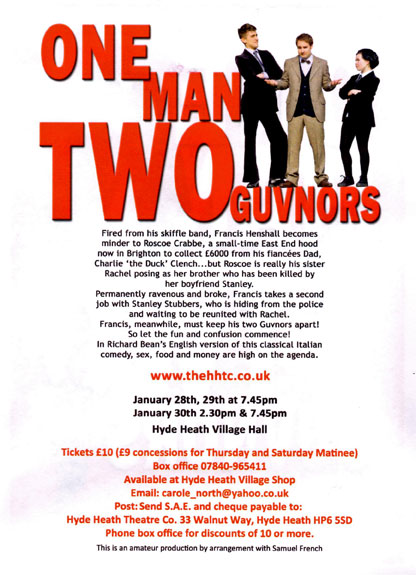 A Christmas Carol - Jan 29th - 31st 2015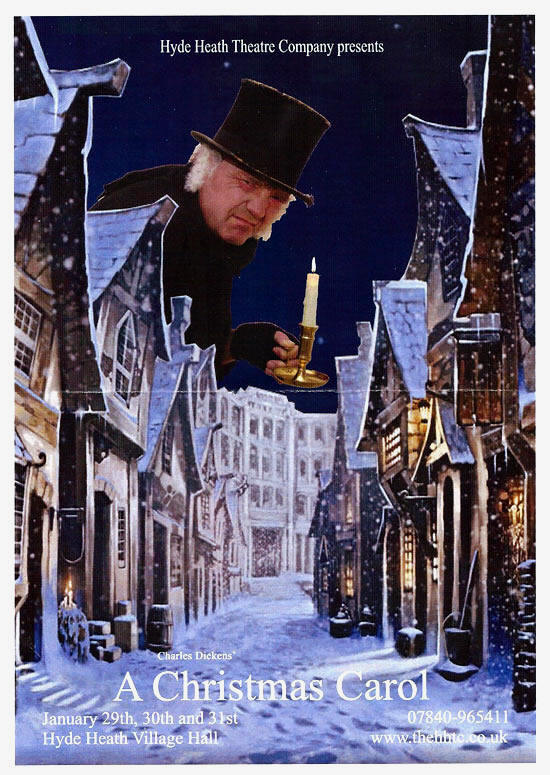 Lilies on the Land - June 5th - 7th 2014
FACE TO FACE WITH HISTORY
The cast of Hyde Heath Theatre Company's current production Lilies on the Land which depicts the real life stories and experiences of the women and girls who served in the Women's Land Army during the Second World War – had a surprise visitor on opening night and came face to face with a real life Land Army Girl.
Cockney-born Pauline Schrader, who now lives locally, joined the WLA at the age of 15 and spent the war working on the land, it was she said, one of the happiest times of her life.
She thoroughly enjoyed the play and afterwards had the company enthralled as she regaled them with tales and shared her experiences, many of which were mirrored in the production.
Lilies on the Land is a truly remarkable and sparkling piece of theatre which celebrates an extraordinary episode in Britain's history. It is a revealing, funny and wonderfully moving portrait of four women who sign up to join what was referred to for many years as The Forgotten Army. Indeed, it wasn't until the year 2000 that the Women's Land Army was officially recognised for the amazing part they played in the fortunes of the war.
These gripping, but charming tales relive the personal journeys of women, all from different walks of life, who are determined to work endless, backbreaking hours on farms across the country in a bid to do their best for the war effort.
The play will be staged at Hyde Heath Village Hall on Friday, June 6th at 7.45 pm and Saturday, June 7th at 2.30 and 7.45 pm.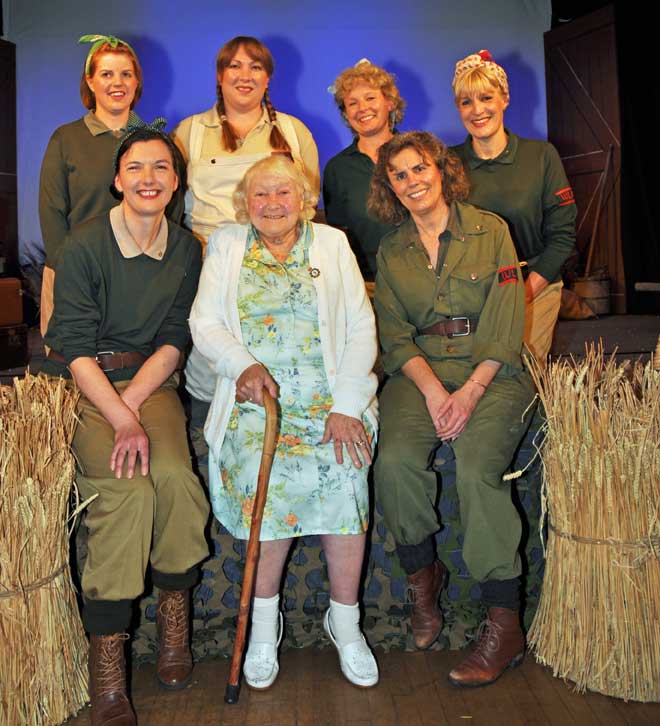 Pauline Schrader – veteran of the Woman's Land Army joins the cast on stage of Lilies on the Land. Back row – left to right: Stephanie Thornhill, Estie Edwards, Claire Mitterhuber and Sarah Caslon. Front row: Moira Little, Pauline Schrader and Lorraine Sutherland.
'Lilies on the Land' by The Lions Part company depicts the real life exploits and experiences of the ladies who served in the Women's Land Army during World War 2. Mainly drawn from cities and towns around the country, for many it was their first experience of farming, animals and machinery.

Both funny and poignant the play plots the progress of four girls from very different backgrounds and what happens to them during 1939-1945.

5/6/7th June Evening performances 7.45pm and Saturday Matinee 2.30pm. tickets £10 ( £9concessions for Thursday and Saturday Matinee.

Tickets:

Box office 07840965411

The Village Shop

Post: send stamped addressed envelope with number of tickets required and cheque payable to:

Hyde Heath Theatre Company,33Walnut Way, Hyde Heath HP6 5SD

Phone box office for group discounts of 10 or more.

More pre- production pictures here Rehearsal pictures here
'Allo 'Allo returns to Hyde Heath January 30th - February 1st 2014
More pictures here
October 3rd - 5th 2013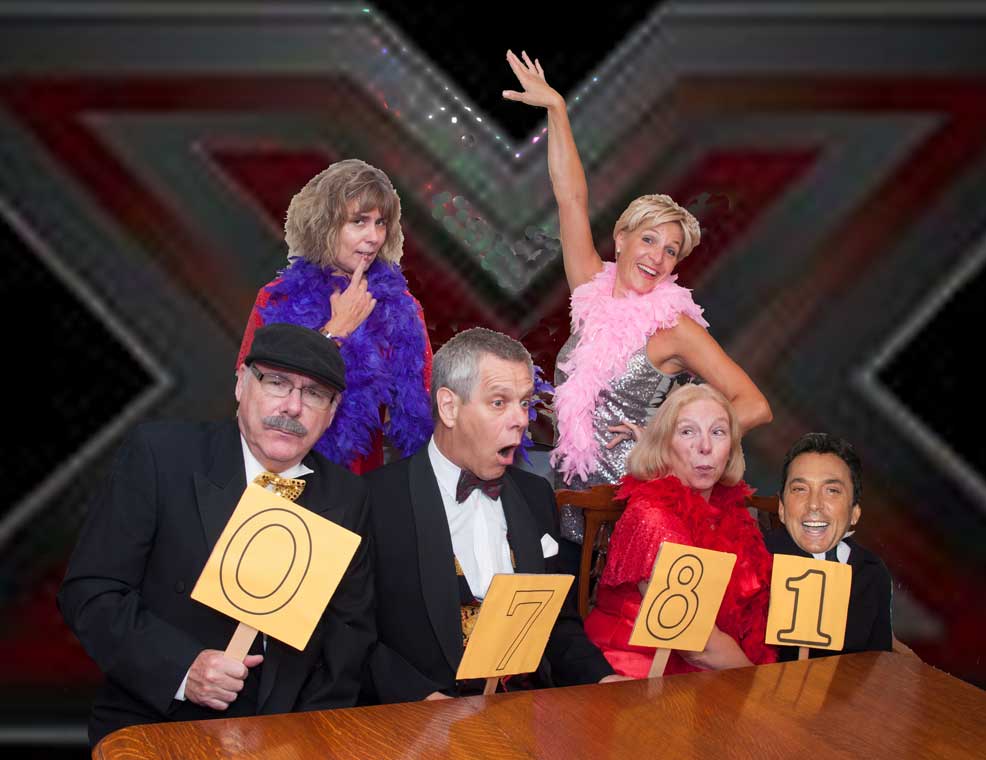 Hyde Heath Theatre Company present:

Little Grimley presents 'Last Tango' and 'Strictly Sex Factor (on ice)!' by David Tristram

Hyde Heath Village Hall, 3rd 4th 5th October evening performances 745pm &Saturday Matinee 230pm

Tickets £10 (£9 concessions) Available in Village shop

Box Office 01494 784760

Email: ericaelson@btinternet.com

"There's only one thing that sells tickets these days" argues Gordon the chairman of the struggling Little Grimley Amateur Dramatic Society, "Sex and Reality!"

Thus begins an evening of laughter and chaos as this troubled society whose membership has dwindled to four are facing a threat to their very existence. Gordon, the Chairman devises a cunning plan to drag audiences away from their TV's and compete head on by bringing their very own Saturday night blockbuster combining the best of Realty formats. All they need now is an audience, some contestants, four judges a mirror ball…oh yes, some sex and ice!

HYDE HEATH THEATRE COMPANY

PRESENTS

Little Grimley Amateur Dramatic Society in

LAST TANGO IN LITTLE GRIMLEY

COFFEE BREAK

STRICTLY SEX FACTOR (ON ICE)

Written by David Tristram

"Hilarious Comedy"

At Hyde Heath Village Hall 3rd,4th,5th, October

Evening performances 7.45pm, Saturday Matinee 2.30pm

Tickets £10 (£9 concessions) includes refreshments

Box Office 01494 784760 & available at The Village Shop

Email: ericaelson@btinternet.com

An amateur production by arrangement with Samuel French Ltd
April 2013 Production announced :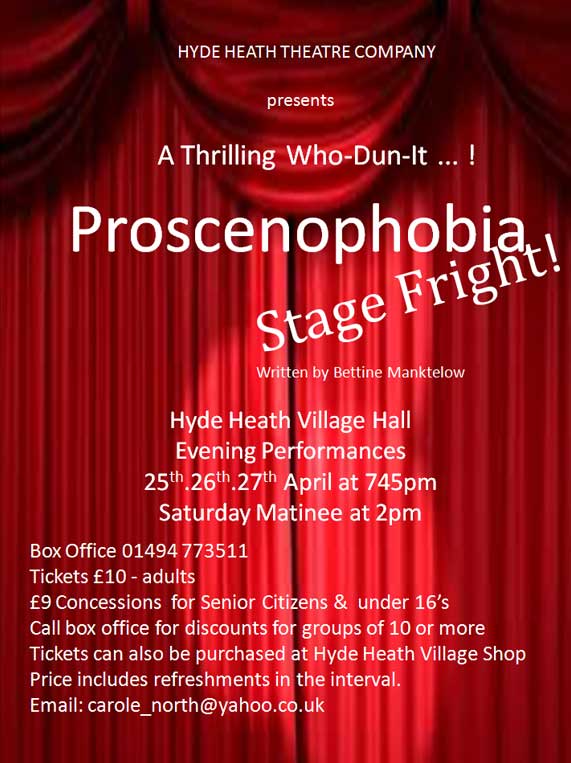 Hyde Heath Theatre Company present
A thrilling Who-Dun-It!
'Proscenophobia (Stage Fright !)' by Bettine Manktelow
Hyde Heath Village Hall
Evening performances on 25th,26th ,27th April at 7.45pm
Saturday Matinee , 27th April at 2pm
Tickets £10 (concessions £9 for Senior citizens and under 16's
Group of 10 and over – discount tickets available from box office
Box Office 01494 773511
Tickets on sale in Hyde Heath Village Shop
Synopsis:
The action of this clever who-dun-it takes place in a provincial theatre during a performance of a thriller. The star, Addie, is attempting a comeback and is understudied by Millie, her best friend for many years. Suspense builds when Addie feels unwell and Millie has to take over. In a startling twist, the violence becomes real and one of the company is dead. With everyone a suspect, the tension does not let up until the final revelation.

Hot News - December 2012

After over 40 years of providing theatrical entertainment in Hyde Heath village hall, the members of Hyde Heath Drama Group have decided it is time for a name change to give a more modern feel and to encourage younger members. In future it will be known as
Hyde Heath Theatre Company
and will continue to present new and interesting shows for all tastes. The Company is always evolving and thanks to the success of recent productions are able to invest in new equipment and facilities to raise production standards. We present at least two shows a year and would ask anyone from the village or surrounding area who has an interest in performing or working on productions to come and participate.Rehearsals are on Mondays and Fridays at 7.30pm. For more information call 01494 784760.
Toms' Midnight Garden,
a play adapted by David Wood from the book by Philippa Pearce.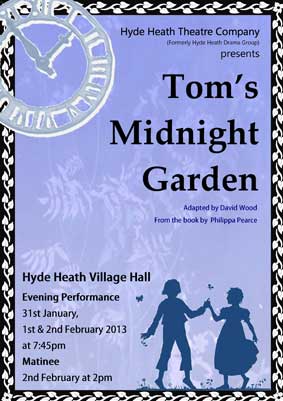 .... AND THEN THE CLOCK STRUCK THIRTEEN!
Philippa Pearce's charming literary classic Tom's Midnight Garden about a young boy's nightly adventures back in time to a Victorian past is the next production to be staged by Hyde Heath Theatre Company (formerly Hyde Heath Drama Group).
Set in the 1950's it tells the tale of Tom Long (played by Joshua Day) who is sent to stay with his uncle and aunt in the country, to escape his sister Pip's measles. He is quarantined from the outside world in the tiny upstairs flat which is part of a big house with no garden – only a small back yard. The house is owned by the elderly reclusive Mrs Bartholomew who religiously winds an imposing grandfather clock which stands majestically in the hall. Because he might be infectious Tom is not allowed to leave the flat and becomes restless and bored with the restrictions imposed upon him by his aunt and uncle. However, he is fascinated by the grandfather clock and one night, unable to sleep, he hears it strike.... Thirteen.
Startled yet intrigued by what he hears Tom goes to investigate, only to discover the door that once led to a dishevelled concrete back yard containing nothing but dustbins, is open revealing a beautiful sunlit Victorian garden that comes alive each night after midnight.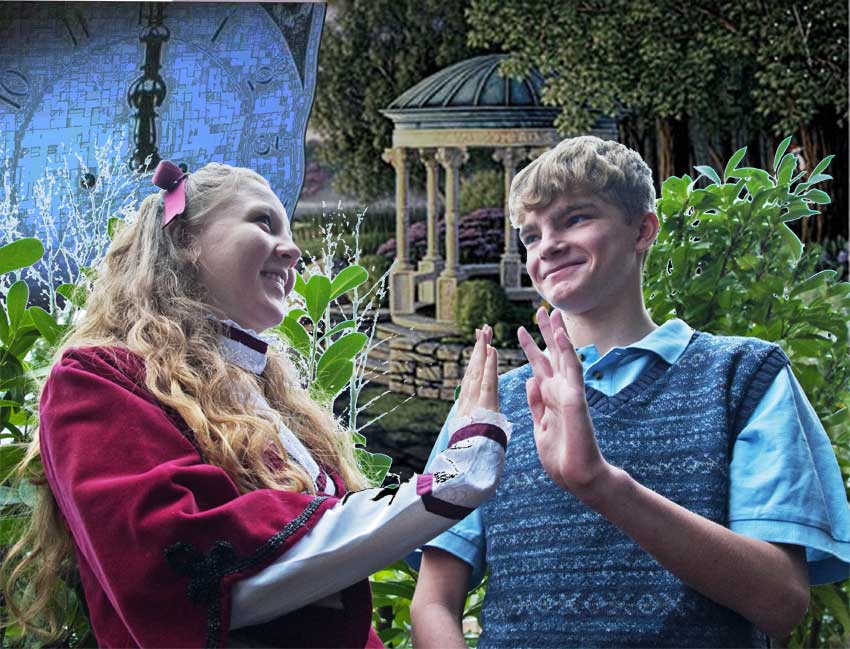 Each time the clocks strikes 13 Tom returns to his secret garden where he meets Hatty (Eve Mitterhuber) an unhappy orphan girl and discovers a whole new and magical world.
Tom writes daily accounts of his visits back in time and the characters he meets, to his sister, who follows the adventures during her recovery — and afterward, as Tom contrives to extend the stay with Aunt and Uncle in order to discover the haunting secret of his very own Midnight Garden.

This delightful and enchanting play – directed by Erica Elson – will be staged at Hyde Heath Village Hall or three nights on Thursday, January 31st, Friday, February 1st and Saturday, February 2nd at 7.45pm and at 2.00pm on Saturday, February 2nd. Tickets are £10.00 (£9.00 concessions) - family tickets and groups of 10 or over
available from the Box Office 01494 773511, Hyde Heath Village Shop and carole_north@yahoo.co.uk.
This is an amateur production in association with Samuel French Ltd.