15th September - Monks Risborough - Away
And so we came to the last match of the season, at Monks Risborough. On an overcast afternoon Charlie lost the toss, and was invited to bat first. Hyde Heath were soon in trouble at 18 for 3 wickets as home skipper, Brocklebank, enjoyed his opening spell of bowling. And the situation didn't improve with the Monks Risborough bowlers pinning down the batsmen, causing them to act rashly in frustration ( "unforced errors" in tennis parlance, 1 think ). At 61 for 5 Jeremy Stevens arrived at the wicket, and the tempo changed as he began to carry the attack to the opposition. At 88 for 6 Charlie "Carlito" Vermeylen, who had been at the wicket from the start, was joined by young Dominic Haddock, who belied his career record by cleanly driving and pulling his way to 40 not out. Not that Charlie was any kind of slouch - he and Dominic shared an unbroken stand of 77 for the seventh wicket ( there's symmetry for you! ), and his own score at the teatime declaration of 165 for 6 wickets was 75 not out, his best of the season.
For Monks Risborough the best bowling return was that of Brocklebank with 3 wickets for 35 runs. Tim Nutman struck early for the visitors as the home side slumped to 12 for 2 wickets, but then King ( 41 ) and Yarranton ( 48 ) added 69 for the third wicket, and there were useful contributions in the middle and lower order. But time was running out - with two overs left fourteen runs were needed and the last pair was at the wicket. With the third ball of the penultimate over Evan Hamilton-Pike induced the batsman to edge the ball into his stumps, from where it was smartly caught by 'keeper Henry Capper. ( The batsman's mode of dismissal was, of course, "bowled" ). Thus Monks Risborough were dismissed for 152. The visiting bowlers shared the wickets, Andy Williamson being the best with 3 wickets for 47 runs from 13 overs.
HYDE HEATH 165-6 dec. MONKS RISBOROUGH 152 Hyde Heath won by 13 runs
A winning season for Charlie Samuels in his first year as captain. Congratulations, Charlie, well done! Played 19; Won 7; Drawn 9; Lost 3.

Back to top
8th September - Cublington - Away
( Your correspondent Robin Richards appears by kind permission of his wife of exactly forty years )
Another pleasant Sunday afternoon, and as the volunteer workforce continued on Day Two of the Great Hyde Heath Cricket Field Drainage Project, the lucky ones escaped to Cublington for the penultimate game of the 2002 season.
The match started twelve minutes late, the home side having won the toss and deciding to bat first. They were soon in a spot of bother at 2 for 2, which included a run-out from a smart piece of fielding by Charlie Bibby, but they then recovered somewhat as Kitchener ( 29 ) shared stands of 35 each with Aldus ( 21 ) and Lovatt ( 14 ). Jeremy Stevens came on as first-change bowler, and he employed the full range of his delivery repertoire, creating havoc in the Cublington middle and lower order, and finishing with 5 wickets for 33 runs from 6.5 overs. Tim Nutman bowled well, and had figures of 2 for 20 from 12 overs as the home side were all out for 108.
After tea, with plenty of time available, Hyde Heath set about the task in capable fashion. Charlie Vermeylen ( 24 ) and Tim Barnsley ( 21) put on 36 for the first wicket, then Barnsley and the inform Henry Capper ( 36 not out ) added 43 for the second. Thereafter it was plain sailing and the visitors reached their target in the twenty-fifth over.
With one match to play Charlie Samuels is guaranteed that his first season as captain shall be a winning one ... Played 18; Won 6; Drawn 9; Lost 3.
CUBLINGTON 108. HYDE HEATH 109 - 2. Hyde Heath won by 8 wickets.
1st September - Yeading Cavaliers - Home
Sunday, Ist. September, 2002 (Season of mists and mellow fruitfulness ...
It's the one-thirty start that plays havoc with the gastric system...
Hyde Heath C.C. obtained a match through the emergency fixtures bureau of the Club Cricket Conference, and they welcomed to The Common Yeading Cavaliers C. C., who won the toss on a pleasant afternoon and decided to bat first. They were soon in trouble 3 for 1, 4 for 2, then 7 for 3.

There were two reasons for this state of affairs - firstly the opening attack of Andy Williamson ( 3 wickets for 10 runs ) and Evan Hamilton-Pike ( 2 for 2 ) and, secondly, the continuous shuttle service of bottles, glasses and trays between the pavilion and the Plough.
( This must have had an exceedingly positive effect on Neil's turnover... ).

After 20 overs the Cavaliers had tottered to 44 for 6. Henry Capper was having a good day as skipper, almost every fielding and bowling change immediately resulting in a benefit. When he brought himself on as fourth-change bowler he removed Smith, their most obdurate batsman for 29, and then their second-highest scorer, Dave ( 'Trigger " ) Brennan, who had been persuaded to make up the number, possibly on a promise of drink for 17. Henry finished with 3 wickets for 2 runs as the visitors were dismissed for 109 from 32 overs. So, tea was taken slightly earlier than scheduled.
After the interval the home side set off steadily in pursuit of the target. Birthday boy, chairman John Capper, had his day ruined when he was caught, without troubling the scorers, but in-form batsman, Renry Capper, lead the way to victory with a splendid 46 not out. He shared in stands of 44 with Evan flamilton-Pike ( 24 ) and 39 with Chris. Simpson ( 16 not out ) and the target was reached with 18 overs to spare.
For Yeading Cavaliers Waite extracted life and lift from a Pitch not thought to possess either property, and finished with 3 for 43.
YEADING CAVALIERS 109. HYDE HEATH 113 for 4. Hyde Heath won by 6 wickets.
The report of next Sunday's ( 8th. Sept.) match may well be secondhand, because it will be the occasion of your reporter Robin Richard's 40th wedding anniversary, and he may not be allowed out to umpire !
August 25th - Money Programme - Home
Sunday, 25th. August ( four months to Christmas - my, how the seasons fly ! )
The Money Programme C.C. were the visitors to The Common on a dull-ish afternoon. Their team contained Peter Marshall and his four sons - less of a Money Programme, more like a Marshall Plan*

Henry Capper deputised for the holidaying Charlie Samuels ; he won the toss and invited the visitors to bat first. Hyde Heath made a good start - in the third over Jeremy Stevens bowled one opener and in the fourth, the other opener, the dangerous Chris Marshall was run out by a direct throw from Simon Napier- unn. 11 for 2... Get rid of one Marshall and another takes his place, this time it was Richard, who drove and pulled to a splendid 69. He got good support from his fellow batsmen, notably Tom Clark ( 35 ) and John Maund ( 23 ), and at the fall of the ninth wicket at 187 the declaration was made. All four bowlers shared the wickets equally, the best return being by Charlie Bibby ( 2 for 14 ).
An additional piece of entertainment happened just before tea, when a wasp with inoperative navigational aids insinuated itself inside the home umpire's collar...
After tea the visiting attack gave the home batsmen little room for manoeuvre ; although the opening stand was worth 36 runs it had taken some time to achieve. Charlie Vermeylen ( 24 ) and Chris Simpson ( 28 ) did their best to pep up the run rate, but could not sustain it and the match petered out to a draw with Hyde Heath on 132 for 6 wickets, five of which had been captured by various Marshalls.
MONEY PROGRAMME 187- 9 dec. HYDE HEATH 132 - 6. Match Drawn.
*The Marshall Plan - Devised by George C. Marshall, U. S. Secretary of State 1947-1949. European Recovery Programme, in which the U.S.A.undertook to provide economic aid to Europe after World War 2.
August 18th - Gamecocks - Home
On a warm afternoon Gamecocks C. C. were the visitors to The Common. Their skipper, Peter Cox, won the toss and, not unreasonably, decided to bat first. The afternoon was to prove a setting for the talents of Jamie Cox - no, not the one from Tasmania and Somerset C. C. C, ( although he might as well have been... ), but son of the captain and sometime teacher at the Beacon School. In a fine exhibition of stroke play he batted throughout the visitors' innings, scoring 114 not out ( 15 fours and 2 sixes ). He did offer one unaccepted chance, but by then the die was cast. He received good support from Edwards ( 22 ) and Wood ( 35 ). and the declaration came after 34 overs at 213 - 4 wickets.
We'll gloss over the bowling figures, but Tim Barnsley did take two catches at slip.
After tea the home side found that one of their regular weapons at this time of year - low sun over the pavilion - was working against them, as slow left-armer, Adams, gave the ball some air. Only Henry Capper ( 32 ) and Chris Simpson ( 21 ) made any impression with the bat after each of the openers had been dismissed as soon as they had reached double figures. The target had probably been too daunting from the outset, but now wickets were falling too ..... lt was left to two of the younger players to mount a rearguard action, and this they did successfully. Charlic Bibby (16 not out) and Dominic Haddock ( 2 not out ) defended stoutly as Hyde Heath finished at 131 for 8 wickets, from 42 overs. Adams was the Gamecocks ( or should it be Gamecox ? ) best bowler with 4 wickets for 43 runs from 13 overs.
GAMECOCKS 213-4 dec. HYDE HEATH 131-8. Match Drawn.
August 11th - Chesham Bois - Home
It was a dull day - no need for wide-brimmed hats and reactolite sunglasses. Chesham. Bois were the visitors to The Common; they won the toss and invited the home side to bat first. After fifteen overs Hyde Heath were 31 for 2 wickets, but then Henry Capper ( 61 ) joined Charlie "Carlito" Vermeylen (74) and together they added an entertaining 112 for the third wicket. In the search for quick runs some later wickets were sacrificed, and the innings eventually closed at tea on 168 for 8 wickets declared, from 42 overs.
For Chesham Bois their third change bowler, Hinks, returned the best figures with five wickets for 28 runs.
After tea the visitors began their reply very slowly and after 22 overs had reached just 25 for two wickets - it was a bit of an impasse - they seemingly couldn't hit the ball off the square and the Heath bowlers couldn't take a wicket. Eventually Caple, their no. 5 batsman, arrived and began to change the tempo of the match. Dropped off the first ball he received he hit out powerfully and while he was at the wicket achieving the target looked distinctly possible. But wickets fell at the other end, and he was not always able to retain the strike. He finished 72 not out as Chesham Bois ran out of overs on 122 for 6 wickets, also off 42 overs. Young Charlie Bibby, promoted to opening bowler, had the best figures for Hyde Heath with 3 wickets for 32 from 13 overs.
HYDE HEATH 168-8 dec. CHESHAM BOIS 122-6 Match Drawn

Back to top
August 4th - Bourne End - Home
On their return from Wiltshire Hyde Heath fielded first at home, to Bourne End, Under threatening skies the opening bowlers were fairly economic but unable to make a breakthrough. After the first stoppage for a heavy rainshower the first change man, Alistair Richards, bowled Alan Proctor, but his brother, John, continued to entertain with some powerful driving in his 87. His departure came when he played one shot a little early, the ball went up a very long way and Andy Witten hung on to a splendid catch. Meanwhile down at the wicket the batsmen attempted to complete a second run.
Another shower brought about early tea and afterwards the visitors hustled to score as many extra runs as they could in as short a time as possible, and they declared at 155 for 4 wickets from 37 overs.
Alistair was Hyde Heath's most successful bowler with 2 wickets for 34 from 10 overs. Later the home batsmen were a little diffident against the raw pace of Akhtar, but the backbone of the innings was provided by Henry Capper with a splendid knock of 62 not out. He was given good support by Andy Williamson ( 22 ) and Neil Williams ( 17 ),but the number of overs remaining was dwindling fast,and the home side finished on 133 for 5 from 32 overs. Just a few more, and it might have been a very close finish!
BOURNE END 155 for 4 dec, HYDE HEATH 133 for 5 Match Drawn
August 2nd - Bishops Canning - Away (tour)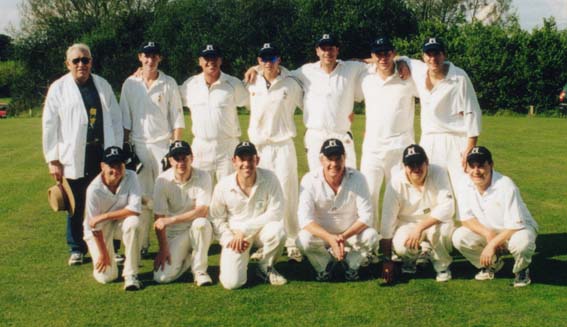 Back: Robin Richards, Henry Capper, David Brennan, Adam Pusey, Joel Kelly, Simon Naper-Munn, Charlie Bibby

Front: Luke Brennan, Charlie Vermeylen, Alistair Richards, Charlie Samuels, Andy Williamson, Jeremy Stevens
We had aquaplaned down the M4 on Wednesday, travelling more in hope than expectation. The game at Box C. C. was of course washed out, but we had the promise- of a weather improvement for the Friday game at Bishops Cannings ( near Devizes ). Charlie won the toss and asked the home side to bat first on a pitch which was damp - of course it was with all that rain - and this paid off as the Bishops slipped to 38 for six, thanks to Andy Williamson ( 3 wickets for 11 runs ) and Jeremy Stevens ( 3 for 26 ).
At this point, fearing that the game could be all over by teatime, Charlie changed the bowling, and this was the cue for the seventh-wicket pair of Allsop ( 41 ) and Curran ( 32 ) to cut loose, adding 63 in their partnership. Thereafter there was another collapse, this time to the bowling of Charhe Bibby and Charlie Samuels, and the home side was put out for 120 from 34.3 overs.
After tea each of the top four visiting batsmen got a start, but nobody appeared able either to build that crucial larger innings or, indeed hit the ball off the square. At 54 for one wicket in the twentieth over the target looked easily attainable, but the tight bowling of Curran ( 4 for 19 ) and young Hickey ( 2 for 10 ) pushed it tantalisingly more distant. At the last Hyde Heath looked not a little embarassed as they hung on at 102 for 8 wickets ... from 42 overs.
Bishops Cannings C. C. are a friendly bunch and a visit to the New Inn after the match seemed to cure all disappointments.
BISHOPS CANNINGS 120. HYDE HEATH 102 - 8.Match Drawn.
July 28th - Long Marston - Home
Thursday evening ( July 25 th.)... Potential disaster - scheduled opponents for Sunday, West Wycombe C. C., cry off..
Friday morning ( July 26 th.)... Disaster averted - a visit to the Club Cricket Conference emergency fixtures bureau results in a home meeting with Long Marston C. C., and a very fine game it was...
Sunday ( July 28 th.) - the hottest day of the year - the visitors lose the toss and Charlie elects to bat first. Richard Cousins ( 33 ) and Henry Capper ( 13 ) put on 39 for the second wicket, but then the score reaches 67 for 4 in the twenty-second over, and the innings is in need of re-building. On a flying visit from Scotland Alistair Richards ( 26 ) is joined by Sinion Napier-Munn ( 47 not out ) and together they share a stand of 79 for the fifth wicket. A quickfire 10 not out from Jeremy Stevens helps to boost the total at tea to 161 for 5 declared ( from 44 overs ... )
N.Proctor (yes, a relative of the Bourne End C. C. Proctors ) is the best bowler for Long Marston with 3 wickets for 27 runs.
The visitors reply steadily and lose their first wicket at 45 in the seventeenth over. S.Robinson ( 94 not out ) and A. Vessey ( 40 ) then add 103 for the second wicket, all the while improving the scoring rate.
Now it's getting a bit tight - they need seven runs per over, and they are achieving this rate, well near enough, to create a frisson of tension. Now the last over arrives, and it's Alistair to bowl it - they need 10 runs to win and have seven wickets in hand ... 2 , 1 , dot , 4 ( oo-er ! ), dot , dot. Yes, good game ... handshakes all round ... Long Marston finish on 159 for 3 wickets, and Alistair is Hyde Heath's most successful bowler with 2 wickets for 44 runs from 12 overs.
HYDE HEATH 161 for 5 DEC. LONG MARSTON 159 for 3. MATCH DRAWN
July 21st - Knotty Green - Away
As the team left Hyde Heath for the scheduled away fixture Chris. Stanier-Davis could be seen on the Common, mowing the home outfield, and jolly good it looked too ! As the team arrived at Knotty Green the unanimous wish was that Chris had accompanied them, for the outfield there appeared to have been shaved not as closely as your average batsman would like. Still, same for both sides...
Charlie Samuels lost the toss for the second successive match, and Hyde Heath batted first. The innings was a dour affair as the home side kept a fairly tight rein on the proceedings, firstly through the pace of Lewis ( 2 for 21 ), then the wiles of Grant ( 3 for 30 ) and Forrester ( 2 for 22 ). Only Henry Capper ( 27 ) and Matt Sims ( 29 ) came close to mastering the situation and they each perished in their attempts to improve the scoring rate. After 40. 1 overs the visitors lost their final wicket at the unimpressive total of 101.
After tea Knotty Green lost an early wicket, but then Genders - he of the firm call - ( 36 not out ) and Forrester ( 41 ) provided the foundation for the innings with a second-wicket stand of 57. The score then slipped from 73 for 2 wickets to 74 for 5, and the visitors thought that they could detect the faint whiff of a possible victory ... ... but it was not to be, and Knotty Green cantered home, with almost ten overs to spare, at 102 for 6 wickets.
For Hyde Heath Tim Nutman bowled well, taking 2 wickets for 24 runs from 13 overs, and young Chris. Michaelson-Yates gave good support with 2 for 14 off 5.
HYDE HEATH 101 KNOTTY GREEN 102-6 Knotty Green won by 4 wickets.
July 14th - Ballinger Waggoners - Away
Bastille Day at Ballinger Waggoners ; phew, what a scorcher
Waggoners skipper, Paul Humphries, won the toss and invited the visitors to bat first. Charlie Vermeylen ( 23 ) and Tim Barnsley ( 42 ) put on 35 for the first wicket and then Tim and Henry Capper ( 60 ) shared a second-wicket stand of 59. The strike rate, however, was not exceptional, a little more than three runs per over - this may have been because it was a wicket where the ball tended to keep low, and this feature was fairly well exploited by the home spinners, lan Davis and Stuart McGowan. Henry was the backbone of the innings with some spirited strokeplay, and he was given support in the middle order with some lusty blows from Andy Witten ( 24 ).
Tea came with the declaration at 193 for 6 wickets. To their great credit the Waggoners had sent down 49 overs.
In their reply the home side lost two early wickets, both being bowled by Jeremy Stevens ( 2 for 22 from 11 overs ), but then the third -wicket pair added 87 before Danny Draper ( 49 ) was brilliantly caught by Dominic Haddock at short mid-wicket. ( Dommic appears to be claiming this piece of territory as his own ; he has certainly done some outstanding work on it this season ... ) lan Davis (55) compiled a splendid half-century, but time seemed to be running out.
With just two overs left, and three wickets in hand, 23 runs were needed - a tall order ! But, cometh the hour etc.,etc... Jeremy Rayne ( 18 not out ) joined Trevor Yeardye ( also 18 not out ) and together they biffed their way to the target, with just one ball to spare. Good game, good game ... congratulations to both teams.
HYDE HEATH 193 -6 dec. BALLINGER WAGGONERS 194 - 7. Waggoners won by 3 wickets.
July 7th - Southwell Ramblers - Home
Despite overnight and early morning rain Terry Egan produced a well-tempered pitch for the home match with Southwell Ramblers ( Sunday, 7th. July ). The visitors arrived full of bonhomie and dejeuner chez Haddock, won the toss and decided to take first use of the strip. They soon lost their first wicket when Paul Haddock played a non-textbook shot to the bowling of his son, Dominic, and was adjudged l.b.w. Thereafter the Ramblers lost wickets at regular intervals, although Alistair Turner ( 54 ) kept his end fully operative, driving with due care and attention on both sides of the wicket.

After he had departed Richard Mann ( 27 not out ) held the tail together for a teatime declaration at 153 for 8 wickets. Hyde Heath's ground fielding was of its usual high order. but the catching was woeful ... Paul Waiters was the pick of the bowlers with 3 wickets for 42 runs, ably supported by Dominic Haddock ( 2 for 35 ) and Tim Nutman ( 2 for 33 ).
After tea Andy Williamson ( 22 ) and Charhe Vermeylen ( 19 ) put on 39 for the first wicket, but at a rate of just two per over, thanks to the tightness of the visitors' opening attack. Thereafter only Henry Capper ( 46 ) and Dominic Haddock ( 11 ) reached double figures as home resistance crumbled.

When the last over started (and it was the last over, despite the visiting umpire's erroneous assertion) the score was 126 for 7 wickets. First ball - Henry Capper bowled ; second ball Charlie Sarnuels caught at second slip; third ball-Tim Nutman hit on the pad ... big appeal ... not out; fourth ball-T N attempted to put it into an orbit over the pavilion ... missed; fifth and sixth balls safely negotiated .... just.
For the visitors Robert Spencer bowled his spinners in one long spell and finished with 3 for 66.
SOUTHWELL RAMBLERS 153 - 8 dec. HYDE HEATH 126 - 9.MATCH DRAWN
June 29th - Presidents XI - Home
HYDE HEATH CRICKET CLUB Saturday 29th.June dawned fair. The marquee had been "de-fumed' from the previous evening's Beer Festival, much clearing up had been achieved and the Pimms bar was now open and ready to greet all the President's Men. After lunch the traditional ceremony of the President's XI winning the toss took place, and they of course decided to bat first. They started off rather well, with Simon Blayney ( 29 ) and Nigel Goddard ( 30 ) sharing an opening stand of 60, but then there was a minor collapse before Nathan Wilkinson steadied the innings with a painstaking 44.

There was also late aggression from Mike Blayney who, assisted by a much younger pair of legs, those of his runner, hit a quick 20 not out. For the Club Jeremy Stevens bowled well to take 3 wickets for 44 runs from 13 overs while Dominic Haddock had the excellent figures of 3 for 9 from 7 overs. Tea, and the declaration at 162 for 8 wickets, arrived after exactly 40 overs. Tea ..... wonderful.
The Club's reply spluttered and stuttered to 49 for 5, and at this point the patient Charlie Vermeylen,who had opened the innings, was joined by Jeremy Stevens. Together they added 82 for the sixth wicket, and they reached the situation of 3 2 runs needed from 6 overs with 5 wickets in hand - game on ! .... But the Presidential strike force returned for another tour of duty, four wickets fell quickly and Tim Nutman played out the last over impeccably to achieve the draw at 135 for 9 wickets, also, remarkably, from exactly 40 overs.
For the President's XI Simon Blayney took 4 for 21 from 9 overs, and, in his first outing of the season, Alistair Richards grabbed 3 for 12 from 12 overs. Charlie Vermeylen scored a splendid 59 and he was well supported by Jeremy Stevens with 33.
PRESIDENT'S XI 162- 8 dec. HYDE HEATH 135-9. MATCH DRAWN
Deliveries often kept low during this match, which may have contributed to the eight Lbw.dismissals. The home umpire allowed five appeals, probably as many as for the whole of last season! Unfortunately there was another injury during this year's game when Terry Laidlaw dislocated his shoulder when attempting one more throw from the deep third man boundary. But it had been a good contest, with much to please the crowd.
Same time next year, Mr.President ?
June 23rd - vs Little Missenden - Away
In their latest match ( on Sunday, June 23rd. ) at Little Missenden the Hyde Heath skipper, Charlie Samuels, won the toss and invited the home side to take first use of a fairly good - looking wicket. They started fairly crisply, but then Jeremy Stevens, employing an occasional element of guile, bowled a slower ball ( a full toss, in fact ) which was clipped straight into the hands of Dominic Haddock at short mid-wicket. Two overs later another full toss, this time wide of the leg stump and to the very capable Evan Hamilton-Pike. "Four ! " thought the bowler and the batsman simultaneously ; " Mine" said Andy Witton , taking a splendid one-handed diving catch at leg gully. This seemed to knock the stuffing out of The Misfits as tight bowling and excellent ground fielding restricted them to just 32 for 4 wickets after 20 overs. And their situation got no better as two suicidal run-outs added to their woes, and they were finally dismissed for 50 runs. Jeremy Stevens finished with the splendid figures of 5 wickets for 21 runs from 13 overs, Andy Williamson 2 for 6 from 6, and Tim, Nutman bowled 10 good overs for 18 runs and no reward whatsoever.
So, there was the final half-hour before tea for the visitors to negotiate. They lost Richard Cousins in the second over, and Eddie Buller's pace was proving troublesome, but the interval was reached with no further alarms at 22 for one wicket. After tea Andy Williamson (16 ) had his middle stump removed by a good fast ball from Buller, but Charlie Vermeylen ( 20 not out ) and Henry Capper saw Hyde Heath safely to 54 for two wickets.
LITTLE MISSENDEN MISFITS 50 (32.4 overs ) HYDE HEATH 54 - 2 ( 18.4 overs) HYDE HEATH WON BY 8 WICKETS
Hyde Heath's bowling and fielding appears to be as tight as their skipper could hope for, but have they peaked too soon ? The President , remembering last year's 6-wicket defeat , is bound to bring a much stronger side this year... So, be up at The Common on Saturday, June 29th. at 2.00 p.m .... or watch this space...
June 16th - vs The Plough and the Stars
(Your correspondent Robin Richards is on holiday so result only this week)
The Plough & the Stars 98-9 dec
Hyde Heath CC 99-3
A Witten
31
R Cousins
37
N Tanski
22 not out
C Vermeylen
24
P Walters
4-17
M Sims
20 not out
C Michelson-Yates
3-13
G Buchan
2-13
T Nutman
2-13
Hyde Heath CC won by seven wickets
June 2nd - vs Chiltern Gypsies - Away at Hughenden
There was a new fixture last Sunday ( 2nd. June ) at Hughenden where Hyde Heath were the visitors to Chiltern Gypsies, who won the toss and decided to bat. On a slow track against tight bowling and excellent ground fielding runs were always going to be difficult to come by, and the home side ground its way to 68 for 3 wickets, but it had taken them 24 overs. So Charlie Samuels called upon his senior pro., Paul Waiters, who responded by taking four wickets for 14 runs with his off-breaks, and the Gypsies' innings was suddenly in tatters. There was good support from Matthew Walters ( son of senior pro. ) with three for 12, and the home side's innings subsided to 98 all out - from 41.5 overs.
Hyde Heath's reply stuttered along. Jeremy Stevens played all round a straight full-toss, David Brennan was proceeding steadily on 15, when he had a rush of blood (and feet) and ran himself out and then Simon Napier-Munn was looking good on 13, when he played a poor shot (about ten minutes too soon) to a poor delivery and was l.b.w. At this point 24 overs had been bowled, and the score was 56 for 4 wickets. Now Joel Kelly joined Matthew Walters, and they shared the best partnership of the day. Together they added 43 in 7.5 overs, to the accompaniment of the occasional roll of thunder and intermittent rain, reaching the target at 99 for 4 wickets with 5.1 overs to spare. Man of the match, Matthew Walters, made 33 not out.
CHILTERN GYPSIES 98 HYDE HEATH 99 - 4. HYDE HEATH WON BY 6 WICKETS
Your correspondent is not available for the next two matches, at home to Turville Park and ThePlough and the Stars, so , if you want to know what happens, make Sunday afternoon visits to Hyde Heath Common .....

May 19th - vs Bourne End - Home
Last Sunday (19th May) the visitors to the Common were Bourne End CC(the Hertfordshire one... ), who won the toss and decided to bat first. They lost a wicket in Jeremy Stevens' first over - a good catch by Tim Barnsley at second slip - but thereafter they gorged themselves as the change bowling was put to the sword. Akhtar (75) was particularly brutal, despatching the ball to all parts of the wooded surrounds, and he was ably supported in a second - wicket stand of 137 by Proctor ( 94 ). Joel Kelly got his customary wicket with a splendid caught -and - bowled, but it was a merciful release when the visitors declared well before tea on 216 for 3 wickets ( from just 35 overs ... ).
The home side had put down at least five catches. Unusually, Bourne End produced a father - and - son opening attack Gordon and Richard Scillitoe, but this did not break the stand of Matt Sims and Richard Cousins (18), who put on 36 for the first wicket. Thereafter Matt alone stood firm in just his second match for Hyde Heath, scoring 53 (nine fours) whilst wickets tumbled at the other end. Joel Kelly ( 10 ) was the only other batsman to reach double figures as the home side was put out for 125. And who was the architect of all this mayhem ? None other than Mr. Akhtar (no, not Shoaib... ) with a devastating spell of 5 wickets for 16 runs from a mere 4.4 overs.
BOURNE END 216 - 3 dec. HYDE HEATH 125 BOURNE END WON BY 91 RUNS
The Lee C. C. were the visitors to the Common last Sunday afternoon (12th May). They won the toss and invited Hyde Heath to bat first. This appeared to be a very good decision as the home side collapsed to 32 for 7 wickets, David Brennan alone resisting for long enough to make double figures.

This disastrous state was due mainly to the extremely accurate bowling of visiting skipper, Humphreys, who finished with the excellent figures of 15 overs and 1 ball, 7 maidens, 24 runs conceded and 7 wickets. Simon Napier-Munn (42) then set about some reparation work; he and Joel Kelly (13), with the help of some useful extras, added 67 for the eighth wicket. Hyde Heath eventually reached the relatively respectable total of 102 all out. Knott had given his captain good support with 2 wickets for 9 runs from ten overs.

There was a feeling of "deja-vu" about The Lee's reply; their innings was in free-fall at 12 for 6, but, once again a lower-order batsman did his best to repair the damage. This time it was Knott, who followed up his good work with the ball by hitting an aggressive 52 (8 fours and a six). He took the total score to 87 ( Australia's "Nelson" ), but was then dismissed. There was no further resistance as The Lee finally totalled 89 all out.

For Hyde Heath Jeremy Stevens returned career-best figures of 6 wickets for 18 runs from 10. 1 overs, and he was ably supported by Dominic Haddock with 3 for 34 and a splendid catch at short mid-wicket. David Brennan's enthusiastic wicket-keeping had ensured that no byes were conceded.
HYDE HEATH 102 THE LEE 89 HYDE HEATH WON BY 13 RUNS
May 5th – vs Chartridge - Home
At Hyde Heath Common last Sunday the weather was cool and the sky overcast. In his first match in charge Charlie Samuels did what every captain should - he won the toss - and invited the visitors, Chartridge CC to bat.
The Hyde Heath opening attack of Jeremy Stevens and Tim Nutman proved economical, conceding just two runs per over, but they found wickets hard totake as the visitors batted slowly but surely. The introduction of young Dominic Haddock as second change bowler brought some success, and he went on to take four wickets for 35 runs from eleven overs.
There were also debut wickets for Joel Kelly and Simon Napier Munn, but,given the conditions, the visitors batted steadily enough, thanks mainly to Gooch (30) and Atif (26 not out to declare at tea on 137 for 7 wickets from 44 overs.
The home side's reply began a little too slowly, and after sixteen overs their score was just 22 for one. Then disaster struck ... visiting skipper, Sweet, put himself on to bowl first change, and proceeded to rip the heart out of the Hyde Heath innings, taking six wickets for just eight runs from six overs. Only David Brennan stood firm, scoring 28 not out, and he was aided for a while by another debutant, Warren Gordon (17, including one defiant six ), but at the end it was skipper Charlie who presented a stonewall defence to help his side to 88 for 9 wickets.
CHARTRIDGE 137 for 7 dec. HYDE HEATH 88 for 9. MATCH DRAWN