Sunday, 18'h. Sept. 10.00 hrs: turn on TV. and look at the weather forecast in Ceefax... "Mostly dry with occasional sunny periods" Change channel and note the shadows being cast in Gateshead by the Great North Runners; step outside front door and observe the continuous moderate drizzle in Hyde Heath - not very promising for the last match of the season. However, the wicket covers laid by Mike Thompson II ensure that play shall go ahead, indeed would start almost on time. Today's visitors to the Common are Ivinghoe & Pitstone C.C., who win the toss and invite Hyde Heath to bat first.
The match began at seven minutes past one (good effort), and after losing an early wicket the home side set a fair pace, at almost five runs per over. A second wicket stand of 65 between Matt Sims (25 - three fours) and Henry Capper (51 - ten fours) provided the impetus for a big total and this was helped by a fifth wicket stand of 49, struck by Simon Napier-Munn (24 - four fours) and James Aird (32 not out - one four and two sixes). The visitors were finding the ball slippery; it was wet after each trip into the undergrowth, and despite having the drying agents of bar towels and sawdust, many errors in ground fielding occurred. Charlie eventually called a halt eight minutes before tea, and Hyde Heath declared on 181 for 5 wickets from 36.2 overs. The visiting bowlers shared the wickets, and an unusual statistic arose, due to the damp outfield, that seven threes were run.
Tea with today's speciality - mystery carrot cake (mystery: where's the carrot ?) and dark treacle brownies. In addition to these delights I was treated to a smoked salmon roll ... the quality of the Hyde Heath teas just gets better and better.
Back to the cricket ... opening batsman, Wright, provided the major part of the visitors' reply; he cracked 52 off 47 deliveries, including two sixes and seven fours, and when he was fifth out at the innings total of 70, there didn't seem to be much left in the visitors' tank. However, Frankum made himself of nuisance value, with a stubborn late contribution of 18, but Ivinghoe & Pitstone were finally dismissed for 98 with 10.4 overs to spare. James Aird was Hyde Heath's most successful bowler with 4 wickets for 15 rims and there was help from Atif Mirza with 2 for 11. Thanks to Mike T.for preparing a pitch on which we made our second-highest total of the season and thanks to Charlie Samuels, the skipper, for always getting the best out of his men.
Result: HYDE HEATH 181 for 5 dec. IVINGHOE & PITSTONE 98 Hyde Heath won by 83 runs.
P1aying record, 2005: P. 22 W. 12 D. 4 L. 5 A. 1
And when shall we all meet again ? At the Club Dinner on Saturday, 29th October... ( contact the hon.secretary on 01494 774582 for details )
September 11th - Monks Risborough - Home
It's the second Sunday in September, and the weather, unlike on recent Sundays, is dull and overcast with more than a hint of rain. Your scribe, in preparation for a long stay at the scoretable, has donned thermal underwear as insulation against the drop in today's temperature. This stint in the fresh air is promised to be lengthened by the late arrival of the opposition, who appear to be completely unaware of the starting time agreed between the two hon.fixtures secretaries, namely 1.00 p.m. Charlie wins the toss, invites Monks Risborough to bat first, and the match eventually starts at eight minutes to two.
They started off at a fair rate, finding the boundary reasonably frequently, thereby causing the ball to be carefully dried after each trip into the wooded areas. There were some neat little cameo innings, notably by young Waqar Khan, a former colleague of Ollie Haddock in the county under-14 eleven. At 59 for 5 wickets the visitors' prospects did not look too promising, but their skipper would seem to have reversed the batting order, because the last six batsmen all made double figures, enabling them to reach the teatime total of 161 for 9 wickets declared. For Hyde Heath the most successful bowler was James Aird with 4 wickets for 60 runs from 12 overs; he was given good support by the normal high standard of ground fielding and by Atif Mirza with 2 for 15 from 4 overs.
Tea was the usual quality affair with chocolate cake again in evidence. After the tea ceremony there was the moving of the scoretable into the pavilion doorway, to minimise the scorer's exposure to pneumonia. The home side's reply began steadily and Henry Capper gingered it up with a splendid knock of 44 ( seven fours ), but the fall of his wicket at 88 for 4 began a middle order collapse, engineered by lqrar (3 for 18) and Waqar Khan (3 for 7). The last pair of James Aird and Charlie Samuels came together in the twilight zone (they would have been off the field with this quality of light at the Oval) and with nine overs to be bowled, but they survived and saw Hyde Heath to safety at 119 for 9 wickets.
To the Plough for a glass, or two, of whiskey mac.
Result: MONKS RISBOROUGH 161 for 9 dec. HYDE HEATH 119 for 9. Match drawn.
Next Sunday 18th.Sept. - last match of the season - v. Ivinghoe and Pitstone at the Common (1.00 p.m. start )
September 4th - Cublington - Home
September - never mind mists and mellow fruitfulness - matches are scheduled to start an hour earlier, at one o'clock, and this can play havoc with the domestic lunch timetable. On the Common Charlie is getting ever so slightly tetchy as each team member reveals his own interpretation of the start time. But it's another warm Sunday afternoon and today's opposition, Cublington, are all here; they win the toss and decide to bat first. We eventually get under way at 1.24 p.m.
It was fairly slow going at the start of their innings ( 20 for 1 wicket after 10 overs, ), but then no.3 batsman, Taylor, began to open his shoulders and was particularly punishing on our first-change bowler, leg-spinner Tom JefibM hitting him for 17 in one over. Tom was replaced in the firing line by Atif Mirza and Sohail Rauf, who slowed the scoring rate and then met with conspicuous success, Atif taking 4 wickets for 18 runs from 6.1 overs and Sohail, the more economic, with 4 for 14 from 9. Cublington had lost their last 7 wickets for only 25 runs; Taylor had made a belligerent 51, but only two other visiting batsmen made double figures. As a consequence Cublington were all out for 122 in 36.1 overs
Tea, as ever, was splendid, particularly as a handmaiden promised to bring a cuppa and further supplies of fruit loaf to the scoretable within the hour ... joyous delight. The Hyde Heath reply began at a gallop, six an over from the start, lead by Andy Williamson, who looked set for a long innings, but then he tried one lofted drive too many and was caught at extra cover for 29 ( six fours ). This brought Henry Capper to the wicket; he and Tim Barnsley then proceeded to hit the ball to all parts as they shared an unbroken stand of 77 for the second wicket. Cublington tried six bowlers, but to no avail, as Tim ( 40 not out - seven fours ) and Henry ( 44 not out - nine fours ) dominated and brought the team total to 125 for one wicket in just 20.4 overs.
Result: CUBLINGTON 122 HYDE HEATH 125-1 Hyde Heath won by 9 wickets.
With the end of the season fast approaching, and your scribe having got the averages up to date, the clear leader in the race for the batting cup appears to be Henry Capper with 457 runs from 10 completed innings, whilst the bowling cup would seem to be headed for Sohail Rauf with 40 wickets at an average of 12.15. Watch this space...
Next Sunday, Sept. 11th at the Common ( 1.00 p.m.start ) v. Monks Risborough
August 28th - Bank of England Touring - Home
On yet another sunny Sunday afternoon we welcomed our visitors to the Common, Bank of England Touring, who lost the toss, but were nevertheless not unhappy that Charlie had asked them to bat first. Sadly, we are coming towards the end of another season; for the next three Sundays we shall be starting an hour earlier, at one o'clock.
After heavy rains earlier in the week the pitch was on the slow side with the delivered ball occasionally staying lower than usual, and this feature contributed in many instances to the visitors' dismissals. They lost both openers with just 13 runs on the board, but then their third wicket pair (notably Wildman - 30) produced a partnership of 46 runs, which appeared to have steadied the ship. However, with two spinners now bowling in tandem, disaster was at hand. Operating from The Plough end Atif Mirza took 3 for 34 with his off-breaks whilst from the Pavilion end Tom Jefferies' leg-breaks realised 4 wickets for 31 runs. This combination reduced the visitors to 110 all out off 38.1 overs, and it would have been worse, had there not been some late strokeplay from White (24 not out). Jererny Stevens gave good support with 2 for 28 from 11 overs, and the ground fielding had generally been very good, but there were a couple of dropped catches...
Tea was of the usual high quality; your scribe took his al fresco he might have a chat with a visiting former player, Brian Hartley. The Hyde Heath reply didn't start too well, losing the first wicket with just one bye on the board, but this brought to the crease Henry Capper, who, once he had settled in, showed how the pitch, as well as the visiting attack could be conquered, powering his way to 76 not out (sixteen fours). He shared in stands of 49 with Matt Sims and 24 with Simon Napier-Munn as he guided the home side to the target with 18.1 overs to spare. This timeslot allowed those interested to crowd round the flickering screen of the pavilion television set and cheer England to victory in the fourth Ashes test match.
Result: BANK of ENGLAND Touring XI 110 HYDE HEATH 111-5. Hyde Heath won by 5 wickets
Playing record, 2005:- P.19 W.10 D.3 L.5 Aban.1 With three matches left to play can the team go one better than. last season and make it 13 wins ??
Next Sunday (4th.Sept.) at the Common v. Cublington ( 1.00 p.m. start)
August 21st - B & A Sports - Home
For Larger Views of these pictures click here
After the rains of the previous Friday the wicket was thought to be damp, but not dangerous, for the visit to the Common of B.A.Sports (formerly Bellingdon & Ashridge). Tanned and refreshed from his holiday Charlie lost the toss and Hyde Heath was asked to bat first. The visiting side contained many players known to the cousins, Atif Mirza and Sohail Ratif, including the latter's younger brother, Haroon.

The home side set off at a fair clip, reaching the tenth over at a tad under 5 per over, but then the rate slowed, due to a sudden inability of the opening batsmen to penetrate the field. However, their partnership was worth 66 runs, and had been quite entertaining, except for an unwillingness to go for a second, or third, run where the slightest element of risk was involved. Nevertheless, Andy Williamson (26) and Matt.Sims (28) provided an ideal platform on which a sizeable innings could be built. This good work was continued by Henry Capper (21) and the senior "pro", Tim Barnsley (42). Tim hit 5 fours in one over, and looked certain to make his first half-century of the season, but he was undone by Haroon Rauf bowling from the pavilion end in his older brother's boots. After two and-a-half hour's batting, and only 37 overs bowled, teatime was reached, at which point Hyde Heath declared on 194 for 6 wickets. Such riches were due in no small part to the visitors' generosity, conceding extras which totalled 51 and included 21 wides and 10 no balls. Haroon was B.A.'s most successful bowler, taking 3 wickets for 58 runs, of which 13 were wides and 7 no-balls!!!

Tea included some piquant ham sandwiches and another appearance of the delicious strawberry and cream sponge cake. We were pleased to welcome to the pavilion our old friend, Mr.Webbe-Master, and an itinerant photographer, Simon, who could be seen on the boundary during the course of the match with tripod and telephoto, snapping all the action. It was therefore no surprise that after tea there was an outbreak of team photographs, spoiled only by the late inclusion of the scorer.

It took 18 overs for the home side to break the B.A.opening stand of 75, which had seemed to be moving serenely along and was only disturbed when Sohail Rauf changed ends, to bowl with the sun behind him. The visiting opening batsmen scored 38 and 43 respectively, but after their dismissal there appeared to be little further attempt to threaten the target. But there was resistance, and, despite various fielding and bowling changes, Hyde Heath could not get as deep into the tail as they would have wished, and the visitors finished after 36 overs on 135 for 6 wickets, 60 runs short of the target. Sohail was the home side's best bowler with 4 wickets for 30 runs from 9 overs; he was supported by cousin Atif with 2 for 34, also from 9.

It is interesting to note that all twelve wickets which fell in the match did so without the aid of the field. ( 11 bowled, 1 lbw. )

Result: HYDE HEATH 194-6 dec. B.A.SPORTS 135-6 . Match drawn.

August 14th - Gamecocks - Home

After several hours of rain on the previous afternoon and night the prospects for the day's game did not look bright, but Mike Thompson II had prepared a wicket, which, with the help of sawdust, would withstand the vagaries of our summer weather. Henry Capper was believed to be still en route from Cornwall, so Jeremy Stevens officiated at the toss of the coin. He won and invited today's visitors to the Common, Gamecocks C.C., to bat first.

Henry arrived in time to be invested with the gloves and pads of office and lead his team onto the field. They were rewarded with an early wicket, but this brought to the crease Nayeem, who began to attack from the start of his innings. He regularly employed a full swing of the bat, and this brought him 6 fours and 2 sixes in an entertaining innings of 70. He shared a partnership of 102 for the third wicket with Barrett who made an enterprising 46 not out ( 5 fours ), and this enabled the visitors to declare after two-and-a-half hours and 41 overs on 167 for 4 wickets. The Hyde Heath ground fielding had been good, but not quite up to their usual standard. James Aird returned the best bowling figures with 3 for 49 from his 14 overs, all delivered from the Plough end.

Tea boasted strawberry sponge cake and oriental delicacies firom the House of Mirza -nirvana ... back to the action. The Hyde Heath reply stuttered along - Dominic Haddock, Andy Williamson and Richard Austin all got into double figures, but then they got out -and eventually we reached 96 for 7 wickets, with 12 overs remaining. Atif Mirza then joined his cousin, Sohail Ratif, and together they bludgeoned a 50-run partnership in 28 minutes, a repeat performance of their success on tour in Wiltshire. Atif was the first to be dismissed, having hit 3 fours and 1 six in his 28, and when Sohail followed, two runs short of his maiden half-century for the Club ( 5 fours and 3 sixes ), eleven runs were still needed and the last pair was at the wicket. But what a last pair, James Aird and Jeremy Stevens ! The chief destroyer for the visitors was Doone, who had taken six wickets for 40 runs in twelve overs and retired to a quiet spot in the outfield for a little rest and recuperation, but now he was summoned back to the pavilion end for one last effort. The poor chap's direction-finding equipment seemed to have malfunctioned in his thirteenth, and unluckiest, over as he delivered six runs-worth of no-balls, and these were accompanied by two well-struck fours from James as the home side reached 171 for 9 wickets off 31 overs ( 4 clear overs to spare ), to the vocal delight of the spectators.

Result: GAMECOCKS 167-4 dec. HYDE HEATH 171-9. Hyde Heath won by one wicket

So, Henry Capper's captaincy has yielded four wins out of four - what will happen next week ? ( at home to B.& A.Sports 2.00 start )

Playing record to date: P. 17 W.9 D.2 L.5 Aban. 1 Canc. 1

August 7th - Longwick Sports - Home

On a warm and sunny Sunday afternoon ( 7th August ) Henry Capper was in charge for his third successive match; he won the toss and invited this week's visitors to the Common, Longwick Sports, to bat first.

They began falteringly, and by the eighth over they had lost both openers with just eleven runs on the board. At the fall of the third wicket Fuller (20) was joined by Warren (39) and they both punished the change bowlers, who nevertheless stuck to their task manfully. As last week at Bourne End the ground fielding was exemplary. With the dismissal of Warren at 114 for 6 there was still time for some quick runs from the tail, but it was not to be ... Sohail Rauf whose first eight overs had cost 37 runs, then delivered four consecutive maiden overs, the final one of which was a triple wicket maiden. This caused the visitors to be dismissed for just 115 runs, with Sohail finishing on 5 for 37 from 12 overs. He received good support from leg-spinner, Tom Jeffries, with 2 for 39 off his 10 overs , Jeremy Stevens with 2 for 20 from 9 and Tim Nutman with 1 for 7 in 8. Longwick's total of 115 was made from 39 overs, indicating a fairly slow wicket on which the ball regularly kept low.

Tea was of the usual high standard, with excellent sandwiches and strawberry sponge and chocolate sponge cakes, and, just in case the diet was taking a bit of a hammering, healthy mouthwatering slices of melon.

Back to the action... Hyde Heath too found the going slow and in the early part of the innings struggled to maintain the run rate above 2 per over. Mercifully, Henry Capper's knock of 40 (5 fours) shone like a beacon in an otherwise mediocre team performance, but when he was dismissed at 73 for 6 wickets there was the fear that the remaining batsmen did not possess the "stickability" to get the 43 runs needed for victory, and there were still seventeen-and-a-half overs left. No worries ... the bowlers came good; Jeremy hit 23 and was aided by timely contributions from Tom and Sohail. When the scores were actually level umpire John Capper, thinking that Hyde Heath had already won, removed bails and stumps, and had to be persuaded to re-instate them for three further deliveries to take place before the real winning run was hit. ( Could it be time for the installation of an electronic scoreboard, operated by the man who really knows, the match scorer ? ) The Hyde Heath total came from 39.2 overs.

Result: LONGWICK SPORTS 115 HYDE HEATH 119-8 Hyde Heath won by 2 wickets

Playing record to date: P. 16 W.8 D.2 L.5 Aban. 1 ( Cancelled. 1)

Sunday, 14th August at the Common v. Gamecocks 2.00 start

July 31st - Bourne End (Herts) - Away

Skipper Charlie Samuels has gone on holiday, so vice-captain, Henry Capper, is in charge for the next two Sundays or so. On a cloudy and cool afternoon at Bourne End (Herts.) he won the toss, and, flushed with the memory of the previous Friday's successful run chase in Wiltshire, he invited the home side to bat first.

Bourne End were trotting along quite nicely at four runs per over; they had seen off the opening bowlers and were looking forward to what was coming next. James Aird, with an extra yard of pace, causing the ball to occasionally lift in an uncomfortable fashion, removed both opening batsmen - Goodinson, caught behind for 22, and the dangerous John Proctor, caught at extra cover for 44. Skipper Akhtar weighed in with an entertaining 39 and there was later support from Redwan (24). After 36 overs the score stood at 134 for 4 wickets, but in the next five-and-a-half overs Bourne End lost their last six wickets for just seventeen runs, thanks to a run-out and a cleaning-up spell of bowling by Atif Mirza ( 3 for 14 ). James finished his thirteen overs with 4 for 56 and Jeremy Stevens weighed in with 2 for 31, as the home side were all out for 151 from 41.3 overs.

The highlight of tea was coffee and walnut cake and an honourable mention was due to the fruit loaf.

In Hyde Heath's reply an early wicket was lost, but then Andy Williamson (47) - 8 fours and Henry Capper (34) added 77 for the second wicket. Thereafter wickets fell rather cheaply and the visitors found themselves with three wickets in hand and needing 29 runs from the remaining 5 overs. James Aird ( 21 not out ) and Jeremy Stevens ( 16 not out saw us home with a stand of 32 and did it with eight balls to spare.

Result: BOURNE END 151 (41.3overs) HYDE HEATH 155-7 (34.4overs) Hyde Heath won by 3 wickets.

Sunday, 7th.August v. Longwick Sports at the Common ( 2.00 start )

July 29th - Bishops Cannings - Away

Bad news on Sunday, 24th.July; the present and forecast rain meant that the match at Turville Park, one of the nicest grounds that we play on, had to be cancelled.

And so to Wiltshire ... at Box, where that clever Mr.Brunel built his rail tunnel under the Wiltshire Box Hill, a 40-overs match was agreed upon (max.8 overs per bowler). Charlie won the toss and invited the home side to bat first. James Aird bowled his eight overs from the school end to great effect, taking two wickets for just 14 runs. After 18 overs, with Box C.C. on 58 for 3, the heavens opened and play was abandoned for the day.

At Bishops Cannings, also in a 40-overs match, the home side won the toss and batted first. By the fifteenth over they had tottered to 44 for 5 wickets, the chief inflictor of damage being Jeremy Stevens. However opening bat, Cottis, (40) held firm and there was a good stand of 58 for the eighth wicket between Alsop (42 not out) and Cornwell (27), enabling the home side to complete their 40 overs on 171 for 8 wickets. Jeremy returned the best bowling figures with 3 for 30 from his eight overs.

The Hyde Heath reply was steady, and there were useful contributions all the way down the order, most notably by Andy Williamson (23) and David Brennan (28), but they were falling behind the clock. In the thirty-first over, with the score standing at 113 for 6 wickets the required striking rate was 6.3 per over (compared with progress to date of just 3.7). Enter the cousins, Atif Mirza and Sohail Rauf - They shared in an unbroken partnership of 60, with much eccentric calling and running between the wickets, in just seven overs and two balls as Hyde Heath finally romped home with two full overs to spare. Atif made 37 not out (3 fours) from 43 balls while Sohail was the more forceful with 36 not out (3 fours and 2 sixes) from 23 balls. For the home side Ireson had the best bowling figures with three wickets for 29 runs from six overs.

Result: BISHOPS CANNINGS 171-8 HYDE HEATH 173- 6 Hyde Heath won by 4 wickets

Next Sunday ( 31st July ) at Bourne End ... 2.00 start

July 17th - Chesham Bois - home

On yet another warm and sunny Sunday (17th.July) we welcomed to the Common our near neighbours from Chesham Bois, who won the toss and surprisingly opted to field first.

The home side batted in a manner which was steady but bordered on the cautious as they cantered along during the first half or so of the innings at a rate of less than three an over. They found it difficult to pierce the well-set field, although occasional lapses by the visitors did help. Richard Cousins (45) added 57 for the second wicket with Henry Capper, who then began to assert himself and was the major influence in a partnership of 72 for the fourth wicket with Simon Napier-Munn (23), who was stumped off the last ball before tea. Henry made an excellent 68 not out (8 fours) and the declaration came at 161 for 4 wickets from 40 overs.

Teatime displayed a variety of mouth-watering cakes; they were so good that the chairman was moved to take the pieces remaining for distribution on the morrow among the needy of his operating theatre staff .. (retractor ... scalpel ... chocolate and banana ... ). Back to the match ... Chesham Bois lost their first wicket at 19 and this brought to the crease Ashwell, who made his intentions clear, striking the ball to all parts; search parties were in constant use, retrieving the ball from the boundary undergrowth. When he had reached 66 (12 fours and 2 sixes) he exchanged his cap for a helmet. This action must have disturbed his vision or concentration, for he straightway tried another late cut and was caught. At this point Sohail Rauf and Jeremy Stevens began to bowl with some rare miserliness, making the target appear to the visitors a little more distant. However, skipper Kemp (25 not out) steadied his ship and Chesham Bois reached 162 for 6 wickets with 10 balls to spare. Sohail finished with 4 wickets for 32 runs from 11.2 overs. He was supported by Jeremy with 2 for 35 from 11. This is our third consecutive defeat and the playing record presently stands at P. 12 W.5 D.2 L.5 One matter on which the Club may be happy is the presentation of the wicket by Mike Thompson 11 ... today there were 323 runs scored on it for the loss of 10 wickets.

HYDE HEATH 161-4 dec. CHESHAM BOIS 162-6 Chesham Bois won by 4 wickets

For those waiting for news of Rosie the Rottweiler ... on Sunday, I0th July she got a bed for the night with Jilly Bowman and the following day she was picked up by the Dog Warden, who handed her over to the police. Having helped them with their enquiries she was happily re-united almost immediately with her owner.

Sunday, 24th.July at Turville Park 2.00 p.m. start

July 10th - Ballinger Waggoners - home

On a warm and sunny afternoon Ballinger Waggoners were the visitors to the Common. They won the toss and decided to bat first The afternoon provided some canine interest, for, in addition to the regular gang of dogs on view at a home match, a seemingly stray Rottweiler wandered around for much of the game, even going so far as to inspect certain parts of the playing area. Since this type of dog generally does not enjoy a good press there was an understandable reluctance to approach it and ascertain, if possible, its identity and place of residence.

Forget the Kennel Club ... we're here for the cricket. Ballinger lost an early wicket, but their second wicket pair of Webster ( 74 - twelve fours ) and Branigan ( 32 ) added 116 runs in thirty overs. The former was finally out a couple of overs before tea when skipper Charlie gratefully hung onto a catch at mid-off All in all it had been a good batting performance by the visitors who reached 156 for 4 wickets from 43 overs.

For Hyde Heath the most successful bowler was Jeremy Stevens with 2 wickets for 24 runs from 11 overs. Mike Thompson is to be complimented on preparing his wickets, where the ball still occasionally comes through low, but plenty of runs appear to be on offer.

Teatime ... and a minor disaster to report, in that the ambient temperature had affected the attractive chocolate cake so that it now appeared to be welded to its serving dish. It could only be handled with necessary items of cutlery; fingers were of no use at all.

Hyde Heath began their reply fairly briskly, with Richard Cousins (17) and Dominic Haddock (23) adding 44 for the first wicket in 9 overs. Henry Capper ( also 23 ) helped the rate along, but then visiting skipper, Davies, made inroads with his spin, and from 95 for 3, with a win a distinct possibility, the home side's innings subsided to 137 all out, with only Andy Williamson (39 ) showing any resistance at the end. For the visitors Davies finished with 5 for 24 and Rushforth 3 for 17.

BALLINGER WAGGONERS 156 - 4 dec. HYDE HEATH 137 Ballinger won by 19 runs.

Sunday, 17th.July 2005 at the Common v. Chesham Bois 2.00 p.m.

Playing record to date: P 11 W 5 D 2 L 4

The dog warden, having been called, failed to appear, so Sue Brigden kindly took the Rottweiler home with her for the night. Watch this space...

July 3rd - Southwell Ramblers - home

After the exciting events of the previous weekend we reverted to our regular Sunday fixtures list with a match at the Common against Southwell Ramblers. They had entered a six in our tournament, but did not get past the "Group" stage. Would they be more successful today ? To his undisguised annoyance Charlie lost the toss, and the home side was invited to bat first. For this fixture only the temporary defection to the opposition is permitted for all males bearing the surname, Haddock.

Hyde Heath lost its first wicket with no runs on the board; this inauspicious start was remedied by Matt.Sims (23) and Henry Capper (24). Then came the further loss of 5 wickets cheaply, and suddenly Richard Austin found himself with just the "tail" for company. He made the most of his time at the wicket, smacking seven fours in a defiant 43 not out, but he ran out of partners, and the new scoreboard clock (well done, Charlie) registered teatime as Hyde Heath reached the disappointing total of 130 all out. It was a wicket which had more runs in it than that, and for the visitors Robert Spencer enjoyed a long bowling stint, taking five for forty-seven with his "dobbers".

The Ramblers' reply was begun by Haddock and Haddock, who were dismissed by Aird and Aird as the home attack set about its task in determined fashion. At 70 for 6 wickets the visitors' position looked precarious, in fact the balance was probably now in favour of the home side. However, an obdurate unbroken stand of 61 by messrs. Turner (29 not out) and Warner (24 not out) for the seventh wicket proved a match-winner. For Hyde Heath James Aird finished with 2 wickets for 52 runs from 12 overs and Jeremy Stevens 3 for 18 from 7.

RESULT: HYDE HEATH 130 SOUTHWELL RAMBLERS 131-6 Southwell Ramblers won by 4 wickets.

Forthcoming attraction ... Sunday 10th July

v. Ballinger Waggoners 2.00 p.m. at the Common

June 26th - Six - a - side tournament

Early start today for our third annual six-a-side tournament; arrive at the Common just after nine to find our public address team busy setting up their equipment, chairman John Capper making final preparations to the wicket and skipper Charlie Samuels doing all the odd jobs that he can find. Ten o'clock approaches; Hyde Heath "B" does not appear to be ready to start their match with Chartridge ... come along, lads. Your correspondent's nerves are soothed with a Dave Sanders bacon roll and a cup of coffee. At last we make a start; enthusiastic effort is to be seen on the field, announcer Chris.intones information passed to him by the harassed scorer and chivvies the teams for the following match.

We start to get seriously behind schedule mostly because the penalty of two runs for a wide is insufficient deterrent, and in one case an over took twenty-one deliveries to complete! Nevertheless a general good spirit is maintained and the group matches and play-offs are completed, and we are now at the semi-finals stage, where Yeading Cavaliers and Hyde Heath "A' are triumphant over Rutland Exiles and Hyde Heath "B".

So to the final, where the home side makes a steady 69-2 and then restricts the visitors to 41-3, thereby winning by 28 runs. Scenes of jubilation, followed by the presentations made by president, Colin Heck ... a £20 gift voucher to Mike Green of the Cavaliers for scoring the most runs during the tournament, and a case of lager for the runners-up. For the winners it's the R.R. silver cup, a bottle of champagne and an individual engraved trophy.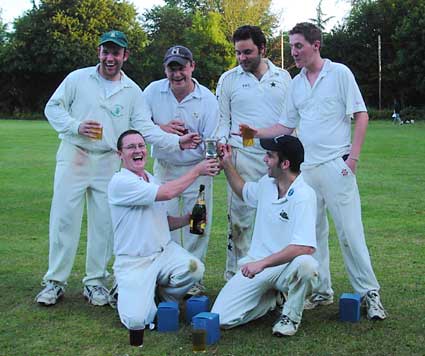 Three cheers for the Hyde Heath "A' squad ... James Aird, Henry Capper, Richard Howard, Sohail Rauf, Alistair Richards and Jeremy Stevens.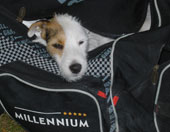 I need to say a few thank-yous to those who helped to make the event run as well as it did:- to the groundstaff, to the umpires, the catering ladies, the bar personnel and the public address team. I thank you all most warmly. Can we do it again next year ?
Attached is a summary of the results on the day :

Group A
| | | |
| --- | --- | --- |
| Hyde Heath "B" (64-4) | beat Chartridge (57-1) | by 7 runs |
| Yeading Cavaliers (60-2) | beat Chartridge (43-3) | by 17 runs |
| Yeading Cavaliers (50-1) | beat Hyde Heath 'B' (49-2) | by 4 wkts |
Group B
| | | |
| --- | --- | --- |
| Hyde Heath'A' (98-1) | beat Rutland Exiles (38-5) | by 60 runs |
| Hyde Heath'A' (111-1) | beat Southwell Ramb.(48-3) | by 63 runs |
| Rutland Exiles (76-4) | beat Southwell Ramb.(72-2) | by 4 runs |
Play-offs
| | | |
| --- | --- | --- |
| Rutland Exiles (53-1) | beat Chartridge (52-3) | by 4 wkts |
| Hyde Heath'B' (73-5) | beat Southwell Ramb.(66-1) | by 7 runs |
Semi-finals
| | | |
| --- | --- | --- |
| Yeading Cavaliers (83-4) | beat Rutland Exiles (42-5) | by 41 runs |
| Hyde Heath 'A' (69-4) | beat Hyde Heath 'B' (51-5) | by 18 runs |
Final
| | | |
| --- | --- | --- |
| Hyde Heath 'A' (69-2) | beat Yeading Cavaliers (41-3) | by 28 runs |
President's Day ( 25th June ... only six months to Christmas ). How pleasant to be re-aquainted with old friends ... the soft clink of the claret cup and Pimms glass - for those who could cope after the excesses of yesterday evening's Beer Festival, with music by the Amersham Band and the Dennis Ruff Wall of Sound. And so to lunch ... top-notch steak and salad, followed by a little cheese, and the desire for a bijou napette, but there is action on the field. Charlie has won the toss, not that it matters, because the President's XI, by tradition, always bats first.

And a fair fist they made of it at the start, with Matt Chicken striking a belligerent 44 ( seven fours and one six ) and the Kiwi, Richard Howard, 22. At 80 for 3 wickets after 17 overs the visitors looked well set, but then the sky fell in as Sohail Rauf ( 4 for 12 and James Aird ( 2 for 9 ) destroyed their middle order, and it was left to Atif Mirza ( 19 ) and Alistair Richards, hitting the biggest six of the game, to restore a little pride. In the final over Alistair was dropped twice at long-on by his old buddy, Jeremy Stevens, so he tried hitting to long-off, where Charlie Samuels gratefully accepted the chance. Richard Cousins, bowling his looping spinners, finished with 2 for 19, and the President's XI were all out for 119 on the stroke of teatime.

By this time your correspondent was gagging for a cup of tea, if for no other reason than to warm up. 1 have promised not to mention individuals, but the quality of sandwiches and cakes was, as ever, five star. Now, let's get back to the cricket.

The Club moved along steadily to 18 for no wicket, but then Alistair struck. With the fifth ball of his fourth over he bowled Richard Cousins and with the sixth he caught and bowled Henry Capper. He had to wait until the first ball of his fifth over, but then he induced Matt Sims to give a catch to Charlie Vermeylen, having placed the latter in the exact desired location at shortish leg. Cuddles all round ... Alistair has now taken a hat-trick for and against the Club. At 21 for 3 Hyde Heath's position looked a bit shaky, but the ever-reliable Tim Barnsley steadied the ship, sharing in stands of 47 with Danny Samuels and 52 unbroken with Richard Austin ( 26 not out). Tim finished on 45 not out ( 4 fours ) and Alistair with 3 wickets for 15 runs from 10 overs ( 6 maidens ) as the Club reached their target of 120 with 6 wickets and 6.1 overs in hand. Three threes were run during the match, which is unusual at the Common. Thank you, Mr President; see you next year.

RESULT: PRESIDENT'S XI 119 HYDE HEATH 120-4 Hyde Heath won by 6 wickets

Sunday, 3rd. July v. Southwell Ramblers at the Common 2.30 start

June 19th - Lt Missenden Misfits - home

Father's Day ( 19th.June ) ... how very agreeable that no. 1 son has arrived from Edinburgh to be with the old aged parent, and he bears gifts, all of the flat circular variety. Thank goodness they are of the compact disc type, which we can easily handle, not the digital video disc, whose player presents problems of technical sophistication to the elderly operator. He has of course also come down for the cricket ... here we are on the hottest Sunday of the year so far at the Common, entertaining our near neighbours, from the other end of the parish, Little Missenden "Misfits". Charlie won the toss and invited the visitors to bat first.

They started fairly well and were soon rattling along at four-and-a-half runs per over until opener Partridge was caught behind by Danny Samuels for 25. The next man up was the left-handed Fry who hit two sixes and three fours in his brief but violent 29. Meanwhile Connor was going about his task of run accumulation in a most efficient manner, farming the bowling and finding gaps in the field with great regularity. One pavilion sage opined that the way to dismiss him was not to bowl round the wicket to him, he being another left-hander, but to continue over the wicket and drift the ball across him, tempting him to "have a nibble". Sure enough, he gave a chance in exactly this manner, but a regulation catch was put down at slip. He survived another chance to backward square leg, but by this time he must have had a century on his mind. Sadly he was bowled shortly before tea for the splendid score of 95 ( fourteen fours ) and the visitors' declaration of 202 for 4 wickets followed shortly after. For Hyde Heath James Aird had the best bowling return with one wicket for 37 runs from 10 overs.

Tea was the usual top-notch catering treat. I shall have to stop praising any individual culinary highlights, as 1 have been admonished for failing to mention the baked product of a particular young lady from Australia, which only goes to prove that you can't please all of the people all of the time. Where were we ? ... oh, yes, the Hyde Heath reply stuttered to 30 for 2, but then our own import, the kiwi, Richard Howard (26 ) and Simon Napier-Munn ( 21 ) briskly moved the total on to 74 when they were both dismissed on that same score. By now the home side's total was well behind the clock, yes, that temperamental thing again, but Richard Austin ( 25 not out ) and the whirling bat of Sohail Rauf helped them to the reasonably respectable final score of 138 for 5 wickets. In an effort to winkle out any stubborn batsman the visiting captain used nine bowlers, including their frontline man, Matt Line, whom your correspondent had faced some twenty-five years previously...

RESULT: LITTLE MISSENDEN MISFITS 202 - 4 dec. HYDE HEATH 138 – 5 Match drawn

Friday, June 20th Beer Festival (tickets from Mrs.C.P.Capper)

Saturday, June 25th v. President's XI ( 2.00 start )

Sunday, June 26th

Six-a-Side Tournament ( 10.00 start)

June 12th - Full Tossers - Home

Sunday,12th June on the Common ... cloudy with sunny intervals. It's 2 o'clock and the opposition, Full Tossers C.C., are not ready to start the match. Eventually we get going n-n-nineteen minutes late with a prospect of continuous calculation of the difference between match time ( as shown by the temperamental pavilion clock ) and Central Hyde Heath Time ( per the scorer's thirty-five year old analogue wristwatch ). The visitors won the toss and chose to bat first.

They scored at the gentle rate of three per over for the first twenty overs or so, but then the extra pace of James Aird ( 2 for 14 ) started the collapse, and his good work was followed up by more pace ( Sohail Rauf 3 for 19 ) and some gentle spin ( Atif Mirza 3 for 21 ). Only the left-handed Doyle, who had opened the innings for the visitors, provided any real resistance with an obdurate 36, but his was not the highest score, Mr. Extras being top dog with 41 ( 15 byes, 9 leg byes and 17 wides ). Bowlers from the pavilion end seemed to have the more gremlins in their direction-finding equipment. The Full Tossers all out total was 119 from 36.5 overs. And so to tea ... with the promise of lashings of Mrs.Cousins' five star chocolate cake, and lemon drizzle cake as well ... bliss.

Hyde Heath set off at a gentle rate in pursuit of the target, with Dominic Haddock showing occasional aggression with a drive or pull. In the twenty-second over the first wicket fell with the total on 69, Richard Cousins being bowled for 25. Now Dominic was joined by his younger brother, Oliver. ( if kippers may be found in pairs, what is the term for a multiple of haddocks ? ) As Dominic neared his half-century an expectant father type figure could be seen pacing along the boundary. It was of course none other than Paul Haddock and his patience was rewarded when Dominic struck a six and a four to reach that milestone. He was out shortly afterwards for 55, his highest score for the Club. He was a victim to the only catch the visitors held (they had previously dropped five ! ) Dominic's innings included eight fours and one six. Meanwhile Ollie went quietly about his business, reaching 23 not out in a total of 120 for 2 wickets in 27 overs.

RESULT: FULL TOSSERS 119 HYDE HEATH 120 for 2 wickets. Hyde Heath won by 8 wickets

Sunday, 19th. June v. Little Missenden Misfits 2.00 at The Common

Saturday, 25th.June v. President's Xl 2.00 at The Common

Sunday, 26th June Six-A-Side Tournament 10.00 at The Common

June 5th - Ley Hill - Away

Auld acquaintance was renewed after a gap of many years last Sunday (5th

June) when Hyde Heath played at Ley Hill, which was looking picturesque in the afternoon sunshine and was punctuated by the occasional thwack as misguided golf ball met immovable tree.

Charlie lost the toss in what had been agreed as a forty-overs match (no bowler to have more than eight overs) and so the visitors took the field. Each of the opening bowlers met with an early success, and in the eleventh over, at 42 for 2, the first bowling change was made. James Aird's opening over cost 16 runs, but some adjustments, to delivery and field, soon put matters to rights as his next six overs cost just eleven runs and gained him four wickets. The ground fielding, as ever, was excellent, but three catches were put down. Sohail Ratif took three wickets for four runs to polish off the tail as the home side was put out for just ninety-four

Tea was a healthy event, with fresh fruit available, and afterwards the visitors set off for the target of ninety-five. They lost Dominic Haddock (10) at 24 for one, but Tim Barnsley continued at an unhurried pace, firstly with Atif Mirza (17), then with Henry Capper. The target was reached for the loss of just two wickets with Tim (five fours) and Henry (six fours) each on 29 not out.

RESULT: LEY HILL 94 HYDE HEATH 95 for 2. Hyde Heath won by 8 wickets.

Sunday, 5th.June v. Full Tossers - 2.00pm start at Hyde Heath Common

May 29th - Chipperfield - Away

A new fixture ... at Chipperfield, where a pleasant ground appears to have a crossfield slope on the playing square and falls away slightly towards the road end. An overcast day did not prevent a fair number of spectators from taking up station at many points round the generous boundary. The home skipper won the toss and decided to bat first. Hyde Heath were pleased to welcome back to their ranks the prodigal Kiwi, Richard Howard, here on holiday with Annette.

Chipperfield were soon cruising along at four-plus runs per over, thanks mainly to their Australian guest player, Hutchinson, who knew where the gaps were in the field, and how to maintain the strike; he is the registered overseas player this season with Finchampstead C.C.

At 75 the home side lost their first wicket (the other opener, bowled by Atif Mirza), but Hutchinson went serenely on his way, adding 110 for the second wicket, before being caught by Simon Napier-Munn off the bowling of, guess who, Richard Howard. His 132 contained sixteen fours and had been very entertaining.(for the spectators, if not the fielders) You dismiss one Australian, then another steps up to take his place. Losing McNichol (34) at 208 for 3 did not faze Chipperfield's Howard and he was particularly brutal on Tim Barnsley, hitting him for 18 in the last over before tea, and finishing on 46 not out (five fours and three sixes ). The home side declared at 249 for three wickets from 42 overs, and the visitors were glad to get off the field, with only R.H. (him, again ) having bowling figures to brag about, one wicket for eight runs. James Aird also bowled well.

Tea was a very pleasant affair... separate table for umpires and scorers ... then back to the monumental task in hand. Wickets fell at annoyingly regular intervals, with only Henry Capper (47 - six fours and one six) making any serious impression until he was adjudged 1.b.w. When the ninth wicket fell at 104 there were eleven-plus overs to go; would we be able to bat out ? Our innings was in the very safe hands of the pugnacious Jeremy Stevens (19 not out) and skipper Charlie "they shall not pass " Samuels (0 not out) who saw the visitors safely to 126 for 9 wickets after 43 overs. Ellse was the best of the home bowlers with 3 wickets for 23 runs.

RESULT: CHIPPERFIELD 249-3 dec. HYDE HEATH 126-9 Match Drawn

Sunday, 5th June, 2005 at Ley Hill 2.00 p.m. start

May 22nd - Gt Missenden Pelicans - Away

After plenty of rain during the week culminating with a deluge the day before the game it was mildly surprising that the Great Missenden Pelicans pitch was playable ... all credit to them for making it so. All Charlie needed was to win the toss, but he didn't, so Hyde Heath got first use of an apparently untrustworthy track.

Suspicions were confirmed under an overcast sky as the visitors lost wickets at regular intervals. Only Henry Capper ( 31 ) and Simon Napier-Munn ( 30 not out) offered any real resistance, although they were given token support by Richard Austin ( 16 ) and Jeremy Stevens ( 17 ). There was seemingly no answer to the bowling of Hull ( 4-18), Tickler(2-26) and Bailey (2-34 )as Hyde Heath were bowled out for 119 in 37.4 overs.

This proved not to be a formidable target as Bailey ( 63 not out), showing his all-round ability, and Gallash ( 25 not out) formed the backbone of the innings as the Pelicans cruised to 120 for 3 wickets off 28.2overs. Jeremy Stevens had the best return for Hyde Heath with 1 wicket for 13 runs.

RESULT: HYDEHEATH 119 GREAT MISSENDEN PELICANS 120-3. Pelicans won by 7 wickets

So, that's won 2 and lost 2 so far this season. Maybe we'll have better luck next Sunday with the new fixture at Chipperfield ( 2.00 start).

May 15th - Gt Gaddesden - Away

It was a warm bright afternoon at Great Gaddesden, except in the scorebox, where the sun never shines, and anybody in occupation for five hours or so is advised to wear suitable clothing. Skipper Charlie lost the toss and was invited to bat first on a wicket that always looked as if it might "do a bit ".

True enough, Hyde Heath lost an early wicket, but then Atif Mirza (19) and young Luke Brennan (22), batting with a maturity way beyond his years, steadied the ship, albeit temporarily until Simon Napier‑Munn (40) was joined by Bradley Holt (34). Up to this point Simon had found it difficult to make clean contact with the ball, let alone place it where a fielder was not stationed, but perseverance was ultimately rewarded as this pair added 62 runs for the seventh wicket. Bradley scored heavily in the untenanted area of deep backward square leg while Simon exercised the cover fielders. After their departure there was a jolly stand by the last wicket pair, but the innings was wrapped up at a couple of minutes to tea o'clock with Hyde Heath on 163. Three of the home bowlers each took three wickets.

After tea, which boasted a most unusual sandwich, egg and onion, the Hyde Heath attack of Sohail Rauf (3 wickets for 7 runs) and James Aird (3 for 14) reduced the home side to 26 for 6, so some judicious bowling changes were the order of the day. While all this was going on home skipper, Towler, and wicket‑ keeper, Rowland, added 52 for their seventh wicket, but it was not to last as the home side lost their remaining four wickets on the total score of 78. Atif Mirza (2 for 8) and Bradley Walsh (2 for 5), showing his all‑round ability, did the final damage. Danny Samuels again kept wicket and again athletically. All the wickets in this innings were bowled, a fairly unusual feature.

RESULT: HYDE HEATH 163 GREAT GADDESDEN 78. Hyde Heath won by 85 runs.

Next Sunday (22nd.May) GREAT MISSENDEN v. HYDE HEATH (2.00 start) – at Gt Missenden

May 8th - The Lee - Away

As a postscript to last week's little debacle when our village side was dismissed for the paltry total of just fifty-five runs 1 thought it worth mentioning that two days later a side representing a whole nation was bowled out for fifty-six, just one run more. All right, so the national side was Denmark, but the real mystery was not their achievement of such a low score, but why were they in our domestic Cheltenham & Gloucester Trophy competition in the first place ?

And so to The Lee, where on a bright afternoon skipper Charlie won the toss and invited the home side to bat first. In the beginning they made a reasonable fist of it, reaching 81 for 3 wickets, the substance of the innings being a stand of 42 between P.Neal ( 45 ) and A.Knott ( 36 ). Thereafter, however, the Hyde Heath change bowlers took command and in the next ten overs there was a clattering of the seven remaining wickets as James Aird ( 3 for28 )and Sohail Rauf (4 for 17 ) finished off The Lee for 123 (off 26.5overs). Eight batsmen had been clean bowled, five of them for ducks, and the other two dismissals were catches by Danny Samuels, who had been press-ganged into keeping wicket, because of late withdrawals due to injury of other more likely candidates.

The Hyde Heath reply was but a few minutes old when play was suspended thanks to a heavy-ish rain shower, and so to tea, where the presence of chocolate cake was noted. On the resumption the visitors scored their runs at less than two an over, and, although Richard Cousins performed the role of sheet anchor to perfection, wickets were being lost at the other end. At 63 for 5 Sohail Rauf entered the fray and the tempo of the game was changed immediately; he struck 43 runs from 27 deliveries ( 6 fours and 2 sixes ) until he was caught on the cover boundary with seven runs needed for victory. Richard then got the message and was soon clipping a smart four for the winning run in his total of 37 not out. Sohail's compatriot, Atif Mirza, was heard to mutter that a jug-dodging charge should be brought. (one wicket short of five, and seven runs short of fifty ... hmmm..he might have a case ... still, an excellent debut for an all-rounder ! )

Result : The Lee 123 Hyde Heath 125 for 6 wkts Hyde Heath won by 4 wkts

Sunday, 15th. May, 2005 HYDE HEATH will be away at GREAT GADDESDEN

What, another cricket season starting ... seems like only a few weeks ago that we were laying the old season to rest ... but here we are; 1st.May 2005 ( how appropriate that date now seems, the international distress signal – Mayday - Hyde Heath certainly needed the benefit of a rescue mission.)

Despite the midweek heavy rain and the overnight thunderstorm the pitch looked fair, if a little green; Charlie was keen to get first use of it, but he did not win the toss, and so it was that the visitors, Chartridge C.C., took the field on a warm and sunny afternoon.

The bowling was tight, but made to look better by some fairly inept Hyde Heath batting as they crawled to 20 for 4 wickets off twenty overs! Mercifully the innings was done by four o'clock ... 55 all out off 31.2 overs, with only Matt Sims ( 14 ) and Jeremy Stevens ( 16 ) getting into double figures. Clearly, the bowling machine has been seriously underused at net practice-For the visitors Mustafa ( 3 wickets for 6 runs from 11 overs Thompson ( 4 for 14 from 7 ) and Connelly ( 3 for 20 fl-orn 4.2 ) shared the wickets.

The one satisfying element of the day was tea ... prawn sandwiches and chocolate cake... excellent ... but back to the matter at hand ... the home bowlers stuck to their task manfully, but the target of 56 was too small to be defended. At the fall of the first and only wicket Mustafa arrived at the crease and displayed his all-round ability by scoring a well-made 38, including 3 fours and 2 sixes, as the visitors cantered home in 15.4 overs to 59 forjust the one wicket, and with plenty of time to spare.

Charlie was bitterly disappointed, but at least that's the first defeat of the season out of the way ... we can concentrate on giving The Lee a hard time next Sunday. ( 2.00 at The Lee ).

RESULT: HYDE HEATH 55 CHARTRIDGE 59 for 1. Chartridge won by 9 wickets