September 24th - Ivinghoe & Pitstone - Home
Last Sunday of the season ... awoken by thunder ... draw curtains to behold slate-grey skies and moderate precipitation. Return from invigorating shower to note that the rain is much heavier now ... only thing to do is ignore it and have some breakfast. Fetch the newspaper ("Good boy!") and call at the Common to find Mike T, and his two trusty companions, hard at work on the square, China Charlie white-lining the boundary and Chairman John on the tractor mowing the outfield while being followed at a respectful distance by the trotting Angus. All this extra work for switching the fixture from Ivinghoe & Pitstone ... thanks, lads. The sun is now shining ... game on ... with a 12.30 start.
Charlie won the toss, invited the visitors to bat first and the match was under way by 12.42. Not surprisingly the track was a bit slow after so much rain, but the visiting batsmen, Rice (40) and Badrick (27), took them to 97 in the 27th.over, at which score each lost his wicket. By now Sohail Rauf had changed ends and wickets began to fall more regularly; Atif Mirza grabbed two (for 33) from the Plough end, followed by Jeremy Stevens with two more (for 25 from 12 overs). After two and a half hours, and 40 overs, came the tea declaration at 140 for 8 wickets. Sohail, sporting a severe, bordering on the military, haircut, presumably to afford him less wind resistance, finished with 3 wickets for 27 from 11 overs. The fielding had, as ever, been enthusiastic, even to the point of conceding overthrows on some quick, if not entirely accurate, return throws.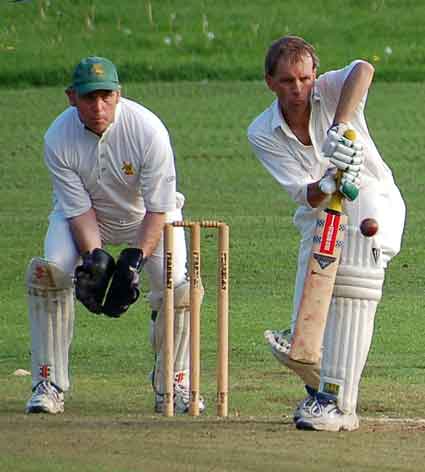 Tea, with several sorts of sponge cake, was the usual delight ... thanks to the ladies for organising it at such short notice. Today's earlier start must have thrown out Mr.WebbeMaster's body clock, for when he, and his photographic equipment, arrived tea was over ... not to worry, some had been saved for him. A collage of some of his best shots of the year would make a splendid display at the dinner.
The Hyde Heath reply was going along nicely...they were halfway to the target in the 17th.over, and still had 8 wickets in hand, thanks to openers Henry Capper (35) and Matt Sims (25), but the next 17 overs yielded just 30 runs and the loss of 5 wickets as the home side's innings displayed the same level of excitement as drying paint. When the ninth wicket fell 22 deliveries had yet to be negotiated, but Charlie (They Shall Not Pass) Samuels and Sohail Rauf saw them to safety at 121 for 9 in 40 overs. For the visitors the chief wicket-takers were -guess who- Rice with 5 for 22 from 17 overs and Badrick with 3 for 34 from 11. Thanks to Paul Haddock for a long-ish spell of umpiring.
Result:. IVINGHOE & PITSTONE 140-8 HYDE HEATH 121-9 Match drawn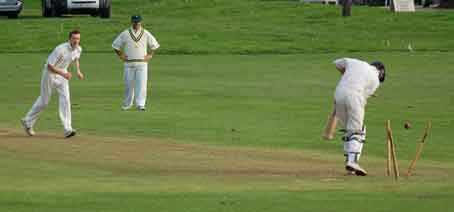 So, another season passes, and a good one it was for Hyde Heath ... Played 23, Won 14, Drawn 7, Lost 2 ... probably the best season since the Club was formed in 1963...
Henry Capper scored 904 runs; there were countless batting partnerships in excess of 50 runs; Jeremy Stevens took 48 wickets and there was much excellence in the field, but who are the main contenders for the duck cup ?? All shall be revealed when the stats. are given general publication at this year's dinner (28th.October ... hon.sec.has details)
September 17th -Abbots Langley - Home
We are almost at the end of a very successful season and are pleased to welcome new visitors to the Common, Abbots Langley C.C ... (Monks last week, Abbots this week... has the hon.fixtures sec., belatedly, got religion ??) The visitors won the toss, opted for first use of the wicket and their innings was under way at 1.12 pm.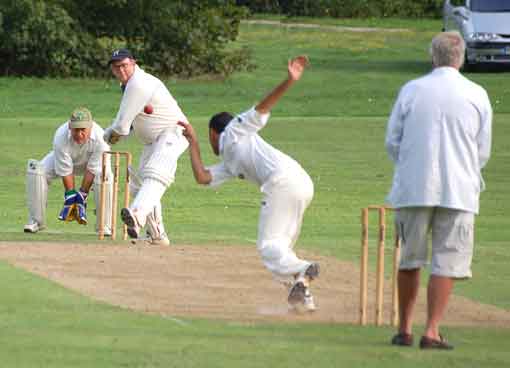 Things began to go wrong for them from the moment in the third over when both opening batsmen found themselves at the wicketkeeper's end. Some in-depth discussion was required to determine which of them was run out at the bowler's end, and even though the umpires made a thoroughly honest decision on the field (which your correspondent thought was the correct one) the discussion continued for some time, in academic mode, off the field. In the meantime the visitors were continuing to lose wickets and by the fifteenth over half the side was out for 5 1, thanks to Jeremy Stevens (2 for 13) and James Aird (2 for 19 up to

this point). It's always difficult to judge the strength in depth of a new opponent; Charlie considered now was the time to switch to an all-spin attack, but this move was not entirely successful. Although Atif Mirza bowled craftily enough to allow just 34 runs from his 10 overs visiting batsman Foster, aided firstly by Malik, then by Khan, began to display some aggression, in fact 110 rims were added for the next two wickets. Matters were not helped by the home side appearing unable to hold their catches, but the throwing-in was accurate, as highlighted by James Shrimpton, who achieved the second run-out of the innings with a direct hit from the deep square leg boundary. The tea declaration came at 161 for 7 wickets with Foster on 59 not out; Khan made 39 and was bowled by Jeremy (3 for 17) with the last ball before the interval.

Tea contained several different chocolate-coated confections and some delightful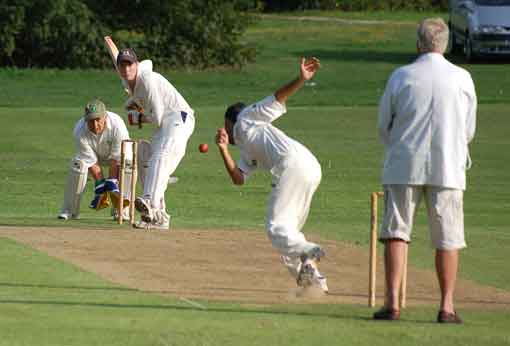 strawberries and cream tartlets. Mr.Webbe-Master paid us another visit and took yet more all-action piccies.
The Hyde Heath reply was slow and there was disappointment that star batsman Henry Capper was dismissed for just 19. After 20 overs 4 wickets were down and the scoring rate to date was a paltry 2.85 per over. Dominic Haddock (22-2 fours and 2 sixes ... no mistaking his intentions), Tom Jeffreys (29) and James Aird (28) each injected a sense of urgency into the proceedings, but what was needed was someone to hold the tail together. The eighth wicket fell in the penultimate over and no.10 batsman was sent out with the instruction to block everything. He flicked the first ball to long leg for two and chipped the second for a return catch; the subsequent sound of rage and breakage in the pavilion meant that he was on a charge twice over, for disobeying an order and incurring barrack room damages.
| | |
| --- | --- |
| | |
| | Shrimpton bowled Malik for 2 |
With 9 balls to be safely negotiated China Charlie joined Jeremy and these two did what was required as Hyde Heath finished on 139 for 9. Abbots Langley's best bowler was, guess who, Foster with 3 for 20. Thanks to John Capper for again umpiring the entire match.

Result: ABBOTS LANGLEY 161 for 7 HYDE HEATH 139 for 9 Match drawn.

Next Sunday (definitely the last match of the season) Ivinghoe and Pitstone appear to have problems, so the game has been transferred to the Common with a 12.30 start

September 10th - Monks Risborough - Away

On a warm, sunny September afternoon (10th) Hyde Heath C.C. were the visitors at Monks Risborough whose ground enjoys the eccentric charm of several levels wedged into Whiteleaf Hill and extensive views over the Chilterns towards north-west Bucks. China Charlie won the toss and, not wishing to spoil a winning formula, invited the home side to bat first. Despite some previous misgivings we were actually under way by eleven minutes past one and the Risborough opening pair appeared to experience few problems as they added 38 runs in the first half -hour. Acting skipper Brown was the first to lose his wicket after an enterprising 26, and thereafter it was a procession from pavilion to wicket and back. Monks Risborough seemed to have no answer to the seam and speed of Jeremy Stevens and Sohail Ratif, making a rare welcome appearance, and for the addition of just 37 further runs they lost their nine remaining wickets ... I am sure that they in no way did themselves justice with the bat. Jeremy finished with 4 wickets for 24 runs from his 8 allotted overs, Sohail 4 for 14 from 4, and James Aird, coming on towards the end, 2 for 1 from 2.1. Stand-in wicket-keeper Dominic Haddock had a hand in the first and last wickets to fall with two excellent catches and the home side was all out for 75 in 21.1 overs.

And so at ten minutes to three Hyde Heath began their reply, which proved to be untroubled as Henry Capper (47 not out) and Matt Sims (28 not out) leisurely stroked them to the target reaching 77 for no wicket in 15.5 overs, which occupied 46 minutes. It was easy to forget that this was designated a 40 overs per side match ... thanks to John Capper for umpiring.

Result: MONKS RISBOROUGH 75 HYDE HEATH 77-0 Hyde Heath won by 10 wickets

By now it was very nearly teatime so we had a very nearly tea, and then returned to the Common for some real cut-throat competition in the form of a Club Match where Team B (James Aird, Atif Mirza, Henry Capper, Tim Nutman, Danny Samuels and James Shrimpton) lost by 3 wickets to the A Team (Richard Austin, Dominic Haddock, Charlie Samuels, Matt Sims, Sohail Ratif and Jeremy Stevens). Mr.Webbe-Master took many action shots with his digital camera, motor-drive and heavy-duty tripod.

The only person who was unhappy that such fun had taken place was groundsman, Mike Thompson, who, having prepared one wicket for next week's match with Abbots Langley, would now have to repair it or make another ... Sorry, Mike. Thanks to John and Caroline Capper for umpiring.

Next Sunday (Sept. 17th.) v. Abbots Langley at The Common 1.00 pm. start

September 3rd - Cublington - Away

Saturday (2nd

. Sept.) slate-grey skies and rain ... Sunday 3rd - early morning, ditto ... prospects for the match at Cublington do not appear good, but, thanks to a stiff-ish drying breeze, we get started at twelve minutes past one. China Charlie has won the toss and invited the home side to bat first. It is to be a forty overs per side contest with a limit on each bowler of eight overs. As it is still quite windy the heavy-duty bails are in position.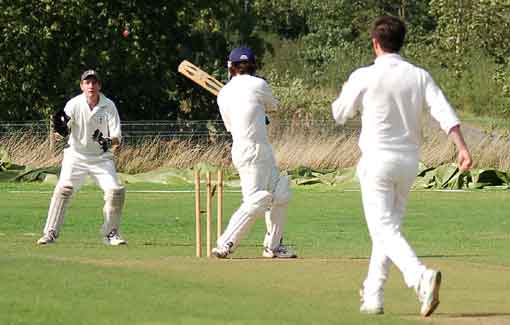 Cublington started steadily and were ticking along nicely at about 4.5 runs per over. Their main striker was the young opener, Osborne, who shared in stands of 83 and 45 for the second and fourth wickets; he had employed the drive to good effect, but, due to the damp outfield, many of his strokes did not reach the boundary. He was fourth out at 142, having compiled 95 entertaining runs (9 fours and 3 sixes). That he had not made a well deserved century was a disappointment, especially to him, but the good work was continued by Chastney (27). Richard Austin joined the attack and he bowled well to wreck the Cublington tail as they finished their 40 overs at 194 for 8 wickets. Richard took 5 wickets for 44 runs from his eight overs and he was well supported by James Shrimpton with 2 for 35 from 8.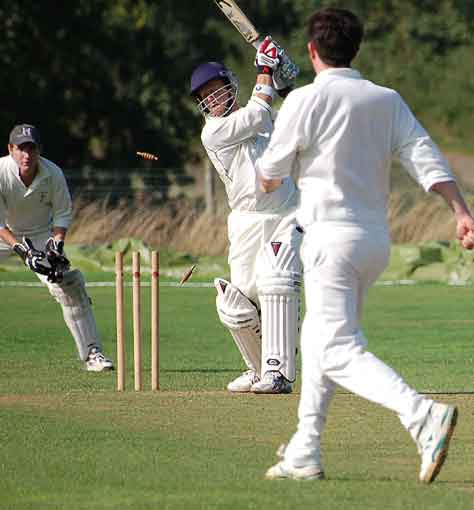 Before tea we were pleased to receive a visit from Mr.Webbe-Master, who was having a solo awayday and clearly keen to take action photos on a foreign field. And so to tea, where the scones with jam and cream looked particularly appetising.
Henry Capper started the reply at an alarming pace, taking 14 off the first over, but that rate clearly could not last. The opening partnership, worth 50, was broken in the eighth over, but Henry continued in attack mode, striking the ball to all parts, and was sixth man out with the innings total on 154, of which his contribution had been 87 (9 fours, 2 sixes and a five !) 87 is the Australian unlucky number, because it is thirteen short of one hundred. What was needed now was another batsman to take control of the Hyde Heath innings; runs were needed at 5 per over, and for a while it looked doubtful that this could be achieved, but Richard Austin, with the all-round performance of the day, saw the visitors to their target at 195 for 7 wickets, with 2.4 overs to spare. Richard scored 44 (6 fours and 1 six) with some judicious strokeplay, and, coincidentally, that was exactly the number of runs which he had conceded in his bowling spell.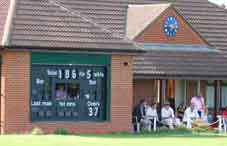 Congratulations to Cublington C.C. on their new and well-appointed scorebox; it gave your correspondent excellent shelter on a windy day.
Result: CUBLINGTON 194-8 (40 overs) HYDE HEATH 195-7 (37.2 overs) Hyde Heath Won
Charlie, as captain, has already achieved one more win than in 2005 and Henry Capper has scored 803 runs.
Pictures: Richard Austin taking two of his five wickets - those of Farr & Squires
Next Sunday: at Monks Risborough 1.00 pm. start (if the opposition arrive punctually)
August 27th - Bank of England Touring - Home
27th August and the end of another season in sight ... next Sunday we shall be into September with early, and very early, starts. Today we welcome again the Bank of England Touring squad, who won the toss and asked Hyde Heath to bat first.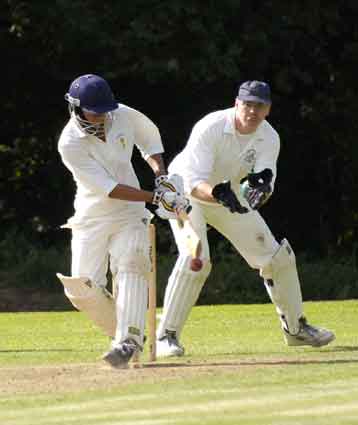 It was situation normal with Henry Capper in dominant mood. He shared in a stand of 57 with Dominic Haddock (19) for the first wicket and then 56 with James Shrimpton (23) for the second. Henry's was the fifth wicket to fall for a disappointing 93 (14 fours and 1 six), unlucky seven short of a hundred, and he'd looked a certainty centurion. There was some late belligerence from Atif Mirza (22) and Bradley Holt (28 not out) and Henry was able to declare on the fall of the eighth wicket at 221 after 37.5 overs. For the visitors White had the best return with 3 wickets for 25 runs, and he was well supported by Hussain with 3 for 61.
Tea was of the usual high-class Hyde Heath standard, thanks to Caroline Cousins and Michelle Holt; your correspondent is distraught to learn that he missed the high-octane chocolate gateau.
The Bank were soon in trouble after tea as the opening attack partnership of Bradley and Tim Nutman had half their side out for 54. Changes in the bowling gave all the spinners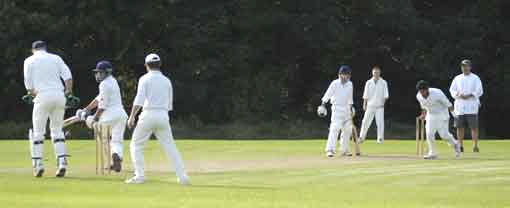 the opportunity to show their wares, but it was the batsmen who triumphed. Austin-theirs, not ours-held the tail together with a well-struck 81, and although Jeremy Stevens grabbed a couple of late wickets the last pair, White and Hussain-who else- stood firm. The visitors ended 68 runs short of their target, but with an honourable draw, at 154 for 9 wickets from 40 overs.

For Hyde Heath Bradley bowled well to finish with 4 wickets for 21 runs from 13 overs, while Tim had 2 for 25 from 8 and Jeremy 2 for 14 from 6.

Result: HYDE HEATH 221-8 dec. BANK OF ENGLAND TOURING 154-9. Match drawn

Next fixture: at Cublington Sunday, Sept.3rd. 1.00 pm.start

August 20th - Gamecox - Home

The monsoon visited Hyde Heath on Saturday afternoon, 19th

August, which did not bode well for Sunday's match. Promptly at 10.00 hrs.on Sunday my telephone rang ... I knew who was calling long before I reached the handset ... the captain of the day's opposition, Gamecocks C.C. I hurried to The Common to find Mike Thompson II giving the playing square its regular dose of t.l.c. and worrying that the ends were looking "sticky". No need to fret when we have the healing power of ... sawdust, oh, and some gentle drying conditions. So, the chairman and the captain took an executive decision, that the match should go ahead, and we began only fifteen minutes after the scheduled start.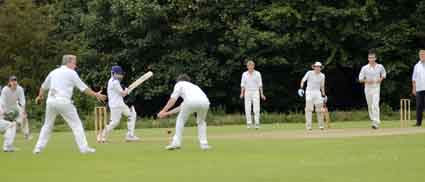 China Charlie won the toss and asked the visitors to bat first, an experience which they clearly did not enjoy as the ball stayed low and slow on the damp wicket. James Aird was getting the ball to hustle through, and he got good support from his opening bowling partner, Tim Nutman. After 20 overs the visitors were 50 for 4 wickets and after 30 overs 79 for 8 ; the magic of Atif Mirza had been unleashed from the Plough End and he effectively put a brake on the scoring to bring a crumbling Gamecocks innings to 106 all out (off 45 overs) at tea o'clock. Atif took 4 wickets for 22 runs from 12 overs and James took 3 for 29 from 14. There had been some good catches ... two for the acrobatic keeper, Danny Samuels, and a nice tumbling one at deep square leg by Dave Brennan, who was playing only because son, Luke, appeared to have gone a.w.o.l.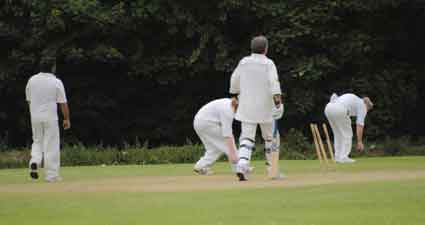 Tea, with a splendid assortment of sandwiches and creamy sponge cakes, thanks to Charlotte and Kirstie, was, as ever, a delight.
The Hyde Heath reply got off to a rollicking start as Dom.Haddock, fresh from theatrical success in Edinburgh, clipped an enterprising 26, but the run rate began to slow. Despite a well-considered 44 ( 6 fours) from James Shrimpton the relatively low target was not achieved until 34.5 overs had passed, i.e. we had 3.1 overs to spare and five wickets in hand. For the visitors Adams bowled a containing role, taking 3 wickets for 38 runs from 13 overs. Our thanks to Chris.Simpson for donning the umpire's coat.
Result: GAMECOCKS 106 HYDE HEATH 107-5 Hyde Heath won by 5 wickets.
Next Sunday sees the last of our norirnal start times, 2.00 pm., in a match at The Common v. Bank of England Touring. (All start times in September shall be 1.00 pin.)
August 13th - Longwick - Away
Sunday morning, August 13'h. Draw back curtains ... ugh ... return from invigorating shower to find that the rain is falling even harder ... this is not permitted on a match day, surely. The words of one of Granny's old sayings filter down through the ether... "Rain before seven, clear before eleven." And so it proves. The Longwick wicket is made occasionally lively by the extra moisture, but we are pleased to get a game in when many other local matches are being cancelled. The skipper is back from his missionary work in China; he loses the toss, and Hyde Heath is asked to bat first in a 40 overs per side game.
Henry Capper has also returned to us after his tour of transatlantic territories and he shares a stand of 84 with Tim Barnsley (36 - 5 fours) for the third wicket. His own contribution is 65 which includes 12 fours and some elegant strokeplay, but after his dismissal the run rate goes into serious decline, thanks to a good bowling spell by home captain, Edwards (4 for 35). Jeremy Stevens (34 not out - 5 fours) then adds 74 runs in an unbroken stand with James Aird (41 not out - 6 fours, 1 six) to bring the visitors' total score to 218 for 6 wickets after 40 overs. Elworthy also bowled well for Longwick to finish with 2 for 13 from his 8 overs.
After tea the home side was always behind the clock despite the efforts of Morton (4 1) and, strong contender for man of the match, this, Elworthy (67). With four overs remaining Longwick needed 42 runs for victory and they had 6 wickets in hand, but it was not to be as James (2 for 23) and Jeremy (3 for 35) bowled tightly enough to restrict them to 189 for 8 wickets after 40 overs. The difference between the two sides was the fifth bowler, but all were agreed that both teams had been fortunate in not having a single break in play due to rain.
Result: HYDE HEATH 218-6 LONGWICK 189-8 Hyde Heath won by 29 runs.
Next Sunday (20th.August) at The Common v. Gamecocks 2.00 start
August 6th - Bourne End - Home
Another warm Sunday, but this one with a generous amount of cloud cover. Visitors to The Common today are Bourne End (the Hertfordshire one) and they also seem to have difficulty in grasping the laws of time, giving the excuse of lack of communication from their fixtures secretary. Their skipper is the last to arrive, and our captain for the day, Richard Austin, meets him at the wicket, wins the toss and invites the visitors to bat first.
We are finally under way thirty-eight minutes late and after five overs Bourne End are 20 for 2 wickets, but this brings to the crease Yousuf, who employs the drive to great effect, together with some wristy work on the legside.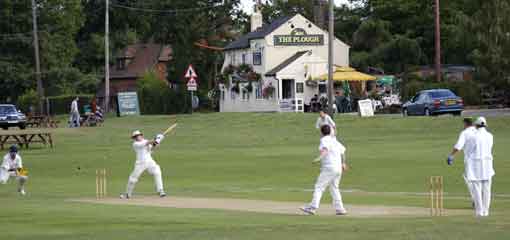 He shares in a stand of 128 for the third wicket with Goodinson (49 off 93 balls inc.nine fours) and when he is finally out to a solid catch on the long-on boundary he has scored 90 from 65 deliveries with nineteen fours. This is the backbone of the visitors' innings enabling them to reach a teatime declaration of 193 for 5 wickets. The bowling figures are a bit of a curate's egg (good in parts), so we shall gloss over them.
Teatime, with brie and grape sandwiches, brownies and personal attention from a limping handmaiden who delivers cups of tea before, during and after the interval ... thank you. Mr.and Mrs.Webbe-Master are again in evidence, he taking many action shots to make these reports appear more interesting.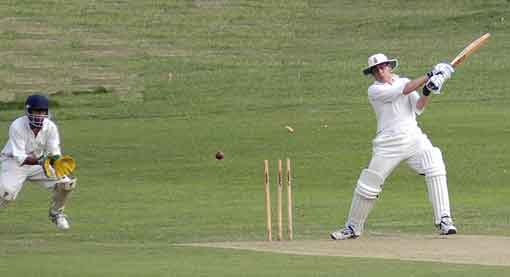 Hyde Heath's reply is a workmanlike performance; each of the first five batsmen get into the twenties or thirties, but we require someone to score a fifty and hold the innings together. At 161 for 3 we need 33 from the 7 overs remaining, and we look favourites to win. (We lost that third wicket because Richard Cousins decided to hand his steamed-up spectacles to the square-leg umpire, rather than clean them, and he was caught behind the very next ball.)
The pavilion end attack now causes a clatter of wickets and a dose of the jitters as we are suddenly down to the last pair of Will Reynolds and Tim Nutman, who bravely stand firm, with the latter cheekily clipping the last ball of the innings to the square-leg boundary as the home side reaches 188 for 9, just six runs short of the target.
For Bourne End G.Scillitoe bowled steadily to take 3 for 36 from 9 overs, but the real devastation was caused by W.Hill who took 4 for 7 in 2 !! There were good knocks for Hyde Heath from Richard Cousins (35), Tom Jeffreys (33) and James Shrimpton (32), but they were not quite enough to get us over the line...
Result: BOURNE END 193-5 HYDE HEATH 188-9 Match drawn.
Pictures: Bourne End's Turpin bowled Stevens for 2
That's the third consecutive Sunday drawn match ... let's see what happens next week at Longwick (2.00 start).
Top of page Home

July 30th - Turville Park - Home
After the wonders of Wiltshire it was home again to a regular weekend fixture and on this Sunday (30th July) Hyde Heath was at home to Turville Park, who were finally ready to start the match twenty-two minutes late. China Charlie won the toss and asked the visitors to bat first. They lost their first wicket at 13, but there then followed two long stands, and Australians were involved in each. Flakelar and Wade put on 87 (the Australian unlucky number, because it is 13 runs short of a century) for the second wicket and then Wade and Buys added a further 79 for the third wicket.
Flakelar hit eight fours in his 51 and Wade, who was eventually out for 116, amassed twenty-one fours and one six. The home attack had not been put to the sword in such a fashion since the match at Chipperfield in 2005, and although James Aird took two wickets they had cost him dearly. Tom Jeffreys was happy, because his three overs had cost him less than ten runs apiece, but, all told, Hyde Heath was pleased to see the tea interval and a declaration at 224 for 5 wickets after 39 overs.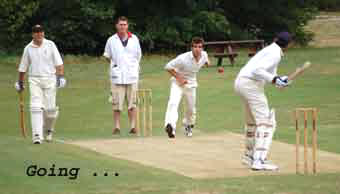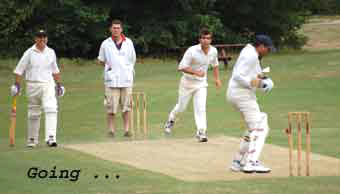 The tea interval, being a little later than usual, caught Mr and Mrs.Webbe-Master slightly unawares, but we were soon to hear the merry whirr and click of the motor drive in action. By the way, there was chocolate sponge again...
After tea the pitch changed character, and batting on it became difficult for all, except for James Shrimpton. He hit a splendid 54 (eight fours and one six),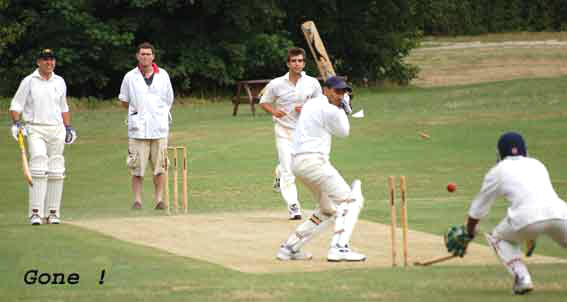 but wickets were falling all around him and at 86 for 6, with thirteen overs remaining, defeat looked a distinct possibility. However, those two bowling stalwarts, Alistair Richards and James Aird, came together and negotiated this tricky period. it wasn't pretty to watch, but at least the draw was achieved at 106 for 6 wickets, also after 39 overs. For the visitors the young spinner, Thornton, bowled well to take 4 for 32 from 13 overs. We can only ascribe such an abject batting performance to "post-tour" stress; it was too much to ask a team to reach a target in excess of 200 runs for a third consecutive match ... where was Alex Davidson when you needed him ??
Result: TURVILLE PARK 224-5 dec. HYDE HEATH 106-6. Match drawn.
Pictures: Turville's Ganapathy bowled Aird for 8
Next week ( Sun., 6th. August) at the Common 2.00 start v. Boume End.
July 26th & 28th - annual tour - Box & Bishops Cannings - Wiltshire - Away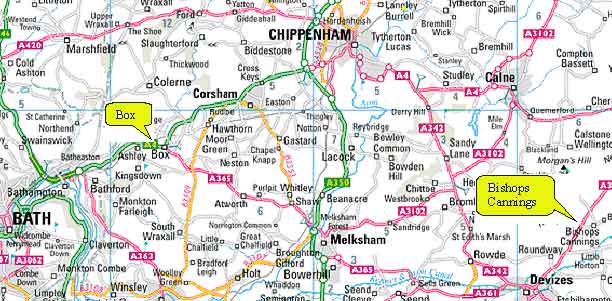 Wagons westward ... to Wiltshire ... for the annual tour. This year China Charlie had assembled a very fit, very able and very young squad. Jeremy Stevens was entrusted with the captaincy and Charlie himself stood as umpire, doubtless so that he could witness at first hand the actions and decisions of his nominated deputy. Each of the matches was a 40 overs-per-side affair and seemed to follow a set pattern, starting with Jeremy winning the toss and asking the home side to bat first. At Box ( where that great briton, I.K.Brunel, built his famous tunnel ) on Wednesday at Box the home side amassed a formidable 220 all out in 36.4 overs, thanks mainly to good knocks by ex-Wiltshire star, Foley (30), Bond (56) and their Australian import, Grammatikos (77).
For Hyde Heath Jeremy took 4 wickets for 27 runs from 11 overs, and James Shrimpton 3 for 19 from 5.4. They were backed up by some good fielding on what is not a particularly large ground. After tea the visitors were always above the required rate with excellent contributions from Alex Davidson (5 1 -from only 23 balls), James Shrimpton (47, more sedately, from 76) and Luke Brennan (33 from 27). There then followed a mini-collapse but this brought together Atif Mirza (22*) and James Aird (22*) in a quickfire partnership of 36 for the ninth wicket.
With three balls of the innings remaining James hit a six to see the visitors home by two wickets. Joy was unconfined ... this was the first time that we had beaten Box.
At Bishops Cannings on Friday there was a restriction of 8 overs per bowler. The home batsmen jogged along at 4 runs per over with opener Cottis (44) and Moss junior being the major scorers. Unfortunately young Charlie Moss seriously damaged a cruciate ligament in hitting his final six and was obliged to retire hurt on 77. The loss of further wickets meant that the home side needed runs, and quickly, and these came courtesy of Rapson (43) and a guest (SNM-22), enabling the home side to reach 219 for 7 wickets from their 40 overs.
For the visitors Alistair Richards had the best bowling return from his 8 overs ... 5 maidens and 3 wickets (all bowled) for 27 runs. Hyde Heath lost 2 wickets at 13, but this brought together Alex Davidson and James Shrimpton and whilst the latter was happy to slip into a support role Alex was in mayhem mode at the other end. He reached 50 in 29 balls, 100 in 64 balls and, though he tried to get himself out, he eventually retired on 123 (from 74 balls with 9 sixes and 13 fours). James' contribution to their partnership of 147 was 35, and the good work was continued by Chris.Simpson and Luke Brennan (22*) who finished the match with a six and 9.3 overs to spare.
Results: BOX 220 (36.4 overs) HYDE HEATH 225-8 (39.4 overs)
Hyde Heath won by 2 wickets
BISHOPS CANNINGS 219-7 (40 overs) HYDE HEATH 220-3 (30.3 overs)
Hyde heath won by 7 wickets
Player of the tour: James Shrimpton
So, just when we think we have the measure of Wiltshire, there is talk of the 2007 Tour taking place in the uncharted reaches of darkest Kent...

July 23rd - Woodley - Home
Thursday pm. telephone Club Cricket Conference emergency fixtures bureau, again... still no joy re. a match for Sunday. Resolve to ring again at midday on the morrow. Get back from the gym. at 11.45 on Friday to find three messages waiting, one of them from Woodley (near Reading). Telephone their secretary and arrange the fixture, confirming it and directions to The Common by e-mail. So, a 2.30 start has been agreed, to allow our visitors enough time to find us ... They win the toss and ask Hyde Heath to bat first on a day which is cloudy, but still warm.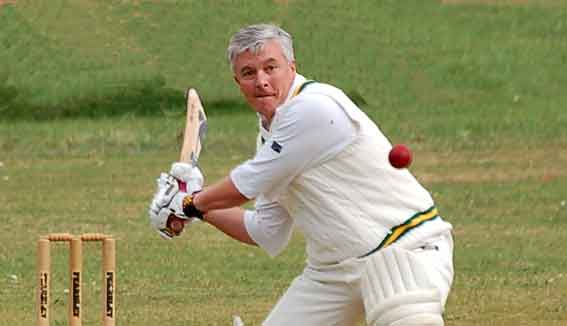 Henry Capper and Dominic Haddock carried on from where they had left off the previous Sunday, when they shared an unbroken opening partnership of 116 in 63 minutes. Today they weren't quite so flamboyant ... just 75 in 55 minutes, with Henry notching 66 and Dominic 27. After they were out Hyde Heath found the going a bit tough, but Tim Bamsley held the innings together with a timely knock of 53 (including two sixes) and he shared a stand of 44 for the seventh wicket with Tom Jeffreys (24). Even the captain got to the wicket, as the accompanying photograph of a determined China Charlie shows, and the tea declaration came at 207 for 9 wickets from 38 overs. For the visitors Ellis bowled well to finish with 4 wickets for 46.

Tea, with egg and bacon sandwiches, various flavours of cake (carrot, lemon and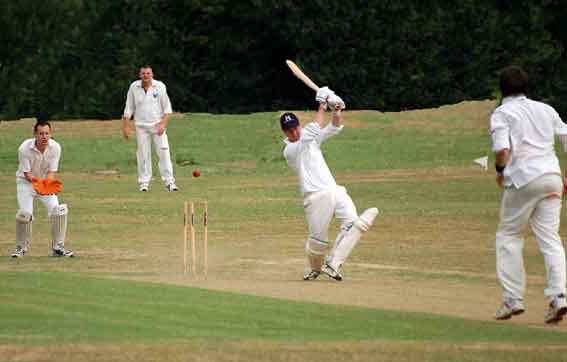 chocolate) and yet another visit from Mr.and Mrs.Webbe-Master, together with grandson, tripod and motor-drive. Photographs are a very welcome addition to the website text, and it keeps our correspondent in New Zealand happy...
Afterwards Woodley were ticking along contentedly at three runs per over. At 44 for 2 Ellis joined the left-handed opener, Stanley, and together they plundered 107 runs from an apparently tiring home attack. With his change bowlers getting no reward, and the match slipping out of control, Charlie recalled the opening bowlers to the fray, and was immediately rewarded as Jeremy Stevens in his second spell grabbed 6 wickets for 13 runs in just four overs. Woodley now needed 30 runs with two wickets and four overs in hand, so suddenly Hyde Heath were favourites again. But the visitors held out to finish on 187 for 9 wickets, as fluctuating and exciting a draw as you could wish for. Jeremy finished with 6 wickets for 35 runs from 10 overs and he got good support from James Aird (2 for 49 from 14). For the visitors Stanley hit 51 (nine fours) and Ellis (prime candidate for man of th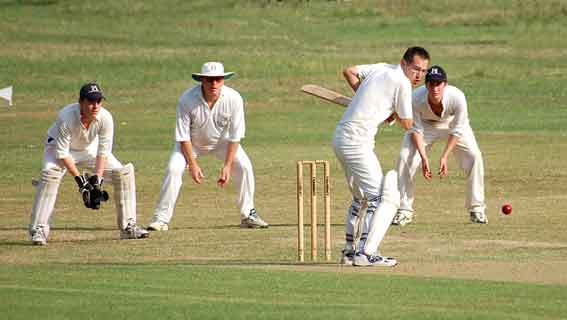 e match, 64 with eleven fours and one six)
Result: HYDE HEATH 207-9 dec. WOODLEY 187-9 Match drawn.
Pictures: China Charlie in determined mood,
Tom Jeffries wicket falls, Woodley opener Stanley in action with Henry Capper Tim Barnsley & Tom Jeffries
Sunday, 30th July v. Turville Park at home (2.00 start)
July 16th - Chesham Bois - Away
Another glorious Sunday, 16th.July, and here we are among the trees at Chesham Bois. They beat us quite soundly last year, so we shall have to produce something special in today's performance to gain a reverse result. China Charlie, as 1 recently suggested he might, had clearly brushed up on his calling technique, won the toss and invited the home side to bat first, which they were pleased to do, rather than roast in the field. Our man, however, must have seen something in the wicket, because our bowlers were getting good movement from it. Jeremy Stevens started the collapse in the fourth over and he was joined in his efforts by Alistair Richards, so that by the fifteenth over half the home side were outfor 42. Withams, who had opened the innings, was joined by O'Brien and together they put on the best stand of the day so far, 39, but once it had been broken, Atif Mirza got at the tail, bringing about an all-out total of 112 in 36 overs. Jeremy finished with 4 wickets for 30 runs from 11 overs, Alistair 3 for 30 from 10 and Atif 3 for 20 from 7. For Chesham Bois Withams and O'Brien batted well, scoring 41 and 30 respectively.
After tea it was a different story as Henry Capper and Dominic Haddock put the home bowlers to the sword. Henry was particularly brutal on the legside and almost decapitated an innocent bystanding little dog ... boo ... but our two lads were galloping along in excess of six an over and in 63 minutes they had the match sewn up at 116 for 0. Henry hit ten fours and one six in his 59 not out and Dominic seven fours and two sixes. John Capper umpired during this innings and he was later joined in white coat by Paul Haddock ... the odds on a home bowler getting an 1.b.w. decision must have been very long indeed. Funny sight of the day, so 1 am told, was the scorer, seated at his table and surrounded by score and numbers boards, as if in his own machine-gun nest ... all that could be seen of him was his panama hat and occasional wave of acknowledgement.
Result CHESHAM BOIS 112 (36 overs) HYDE HEATH 116-0.(17.3 overs)
Hyde Heath won by 10 wickets
The entertainment next Sunday was to have been a double-wicket competition, accompanied by a pig-roast, but the latter part has been cancelled, so we shall be going to the Club Cricket Conference for a fixture from their emergency bureau.
So far this season Henry has scored 492 runs from 6 completed innings ( av. 82.00)
July 9th - Ballinger Waggoners - Away
Sunday, 9h.July ... opened curtains to behold leaden skies and heavy rain ... never mind about today's Wimbledon and World Cup finals, what about our match this afternoon at Ballinger !! Clearing skies and a blustery drying wind ensured that the game was started on time, or near enough; 2.07 p.m. being within the range of reasonable. Ballinger Waggoners won the toss and invited Hyde Heath to bat first ... must have a word with China Charlie about his calling technique, because, according to my records, he hasn't won the toss since 28th.May...
Our batsmen found the going tough on the rain-affected wicket and initially saw a rate of three runs per over difficult to maintain, despite a dashing opening 60 ( 12 fours ) from the in-form Henry Capper. He had put on 52 runs for the second wicket with Andy Williamson, but when the latter was unluckily run out the innings seemed to lose its way until Richard Austin played his usual quickfire knock ( 3 fours and 2 sixes in his 32 ). His departure at 124 for 6 wickets brought together two more bowler/batsmen and, as last week, another reviving stand took place. This time the participants were James Aird ( 41 not out, 5 fours and 2 sixes ) and Jeremy Stevens ( 18 not out, 3 fours ). Together they added 55 runs in an unbroken partnership for the eighth wicket, enabling the teatime declaration at 179 for 7 wickets off exactly 40 overs. Lloyd and McDonald had bowled economically for the home side with 2 for 29 and 2 for 14 respectively.
Tea ... your correspondent was slow to the table due to his attempts at balancing the batting and bowling figures. When he got there he found that a swarm of locusts had beaten him to it, and he thought of the delights of the home ground teatable where caring handmaidens attended upon his every gastric need ... ah, well...
Back on the field Jeremy Stevens snatched the first three Ballinger wickets to put them in trouble at 17 for 3. Three batsmen subsequently made twenties, but couldn't build that necessary big innings, and it was left to Salisbury to play the captain's part by holding the tail together whilst still going for the win. James Aird had bowled steadily to take 4 wickets for 51 runs in 13 overs, but he and the other seamers seemed unable to bowl fast and straight at no. 11's stumps. It was left to Tom Jeffreys to buy the last wicket with his own brand of spin, and it worked as a steepling shot found its way into the hands of Andy Williamson at deep square leg. So Ballinger were all out for 159 with 8 balls remaining, and lost by 20 runs.
This had been a nicely-balanced game throughout. Salisbury hit 44 runs ( 5 fours ), Jeremy took 3 wickets for 21 runs from his 9 overs, and Tom ( congratulations on your first at Oxford ) finished with 3 for 34. Seven catches were held and five put down ... Quite a good ratio, really. Most frustrated man present was Alistair Richards, who could not arrive in time for the match because his car had suffered a little Lancastrian larceny, but, repairs completed, arrived just before tea. There had been an extremely adequate replacement for him in the team, and he found that several tours of the boundary were better therapy than just watching.
Result: HYDE HEATH 179-7 dec. BALLINGER WAGGONERS 159
Hyde Heath won by 20 runs
Sunday, 16th.July at Chesham Bois 2.00 start
July 2nd - Southwell Ramblers - Home
After all the hustle and bustle of last weekend the more sedate pace of a pre-match barbecue lunch chez Haddock, and very pleasant it was too ! So, which of today's two teams would Dominic play for ? Neither, since he was involved with some stage activity, which will, apparently, take him to the Edinburgh Festival Fringe ... break a leg, or whatever it is that thespians wish each other ...
On arrival at the Common the hon.scorer noticed something which he wished he had seen before, namely that the current scorebook had become full with the completion of the match against the President's Xl. Into the home changing room lockers where many an old scorebook is stored and we found one of 1971 vintage with many blank pages. So we took our place with Blayney, Godfrey, Lowe, Merrick, Stevens and Thomson, R ... all our yesterdays...
On the field on yet another scorcher of a day the visitors, Southwell Ramblers, won the toss, invited Hyde Heath to bat first and were initially successful, in that during the 16th. over they had half the home side out with just 68 runs on the board. Chief executioners were the opening bowlers, both left-armers, McEwan and Fitt. Richard Austin had hit a quickfire 35 and was the cause of an embarrassing incident. It seems that the ball flew skyward off the shoulder of his bat and that the likely recipient would be Paul Haddock at slip. Wicketkeeper Turner, although he had enough time, declined to shove PH out of the way and guarantee safe re-entry into his gloved hand. Of course, the chance went down. Meanwhile the home side was in sore need of runs, and it got some in useful knocks from Jeremy Stevens and Atif Mirza. At 138 for 8 Alistair Richards, who had been holding the tail together, was joined by Will Reynolds, a young man of 17 who is more used to the second row at Chiltern than the batting crease. Together, with patience and careful shots, they added 68 runs unbroken for the ninth wicket in 11 overs and saw the home side to a teatime total of 206 for 8 wickets declared.
Alistair's chanceless innings of 43 not out was from 58 balls and contained seven fours and one six, whilst Will's haul of 17 not out contained two fours and was from 31 balls.
For the Ramblers Fitt took 3 wickets for 36 runs from 12 overs and McEwan 2 for 51 from 9.
After a delicious tea (highlight-poppy seed cake ... hmmmm..) the visitors' reply was soon in trouble at 2 for 2 as Will, using his height well, found two quick yorkers. This brought to the wicket visiting skipper, Alistair Turner, who made his intentions clear from the start. The ball in the outfield had been running well for the batsmen and it continued to do so with interest as it was now despatched to all parts-he was particularly hard on Atif Mirza whose three overs yielded 30 runs, but down at the other end he was gradually running out of partners as Richard Austin and Alistair Richards bowled tightly. Turner reached his century just before the fall of the final wicket; his 104 not out contained one six and eighteen fours and was from 76 balls; such an achievement could not have been reached by a nicer chap.
The visitors' final total was 153 and the bowlers to do well were Alistair Richards ( 3 for 32 from 7.5 overs ), Will Reynolds ( 2 for 20 from 5 ) and Richard Austin ( 2 for 38 from 7 )
Thanks to Mike Thompson for producing a wicket in which there was something for everyone, and also to Chris Simpson, who stood as umpire for the entire match.
Result: HYDE HEATH 206 - 8 dec. SOUTHWELL RAMBLERS 153
Hyde Heath won by 53 runs
June 25th - Six a side competition
Sunday, 25th.June ... 6 months to Christmas Day ... the Annual Six-a-Side Tournament was blighted by late, in some cases very late, withdrawals due to England's participation in the soccer (!!!) World Cup on that day. In the event a "round robin" competition was held between the remaining four teams i.e. Hyde Heath, ASBOs, Southwell Ramblers and the Colts, with the Colts coming top of the table and Hyde Heath runners-up.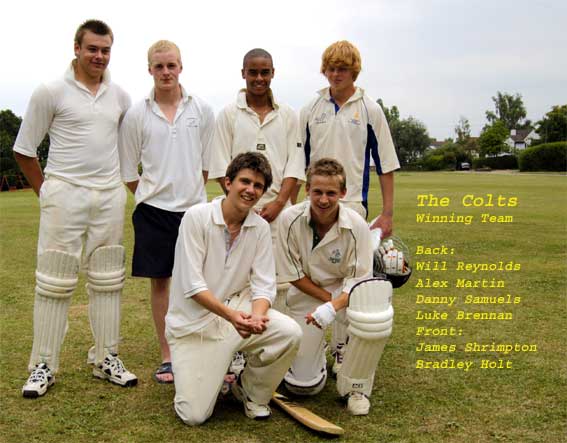 The Six-aSide Cup, together with individual trophies, was presented afterwards by the Club's general secretary and organiser of this event. He was delighted that such a young squad had won the Cup, although identifying them individually when batting proved difficult for the scorer, because they are all of an age that requires the wearing of a helmet. The event would not have been such a success without the sterling work of certain persons. The umpires performed a splendid job, as did the ball-finding squads and those operators of the P.A., Chris.and Margaret. The catering, as ever, was superb ... Grateful thanks to you all.





Results summary:
ASBOs 70-2 Hyde Heath 71-4.
Southwell Ram. 57-2 Colts 60-0.
ASBOs 58-3 Colts 59-2.
Southwell Ram. 57-2 H.H. 58-0.
ASBOs 71-1 S outhwell R.53-1.
Hyde Heath 46-3 Colts 47-1.
Robin Richards
Saturday, 24th June: President's Day ... warm and sunny and a good match in prospect... We look forward to the meeting of old friends and a glass or two of conviviality. After the usual splendid lunch ... thank you, ladies ... the President's Xl, as is the custom, batted first. They lost their first wicket with the total on 31, but the second wicket did not go down until a further 138 runs had been added. This was mainly due to some handsome striking by Clive Bourne, of Stoke Green, aided and abetted by the solid Andy Williamson. Clive hit 15 fours and 4 sixes, and when he reached his century (102) he retired. At the other end Andy struck 6 fours in his knock of 53. There was so much searching for the ball in the woods that the home side managed to send just 33 overs down before tea, and the best of the bowlers was Jeremy Stevens with one wicket for 30 runs from nine overs. The President's XI declared at 192 for 4 wickets.
Tea ... with sandwiches on granary bread and sponge cake with runny chocolate ... mmn.
The Hyde Heath reply was never far behind the asking rate, thanks to three good stands. Henry Capper (43) and Matt Sims (2 1) added 74 as the opening pair. Then Simon NapierMunn and Richard Austin (43) put on 52 for the third wicket and this was followed by an unbroken partnership of 65 between Richard Cousins and James Aird (41 not out). Thus the target was reached with four balls to spare. Thank you, Mr.President ... shall we do it again next year ??
Result: PRESIDENT'S XI 192-4 dec. HYDE HEATH 196-4.
Robin Richards
June 18th - Lt Missenden Misfits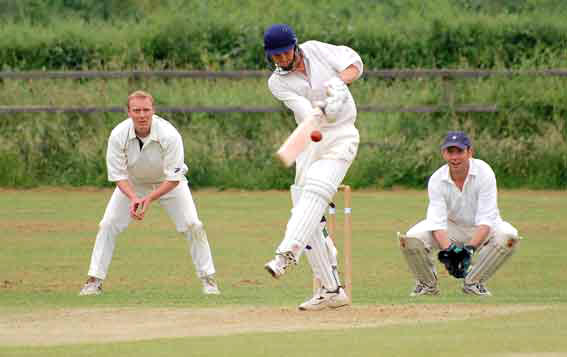 Fathers' Day, and a visit before lunch from no. 1 son, bearing gifts, none of which were of an alcoholic or electro‑technical nature, thanks be. Father reigned supreme also in the Samuels household as Charlie claimed the only pair of "whites" that the duo had brought with them to Little Missenden. So, Danny took the field in a pair of baggy shorts and a bad temper. Not for long, though, for at the end of the fourth over a vehicle arrived from International Rescue, Cricket Trousers Division, Ballinger Branch and all was well again.
On the field Little Missenden Misfits, having won the toss, were proceeding serenely and had reached 47 for no wicket in 14 overs, but then a double bowling change altered the situation. James Aird took a wicket with his first delivery, and then grabbed another, while at the other end Alistair Richards plundered two more, including the dangerous Hugh Connor. This left the Misfits on 48 for 4 after 20 overs and needing to steady the ship.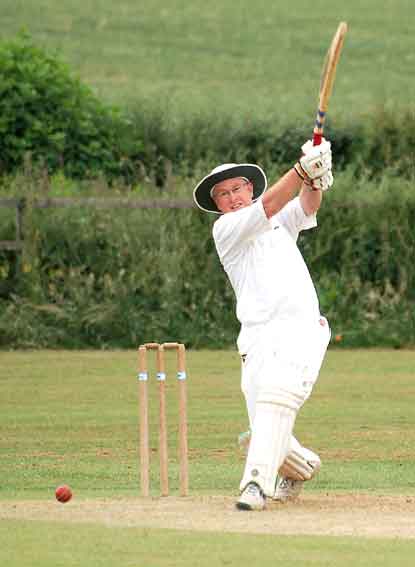 This was done by Matt Line, who held the tail together for 15 overs and struck 36 invaluable runs, but the scoring rate was slow and made even more so by Jeremy Stevens, who returned for a second spell and snatched three wickets. Teatime arrived after 39 overs with the home side's score 108 for 8 wickets. For Hyde Heath James Aird took 3 wickets for 15 runs in 9 overs, Jeremy Stevens 3 for 41 in 11 and Alistair Richards 2 for 26 in 9.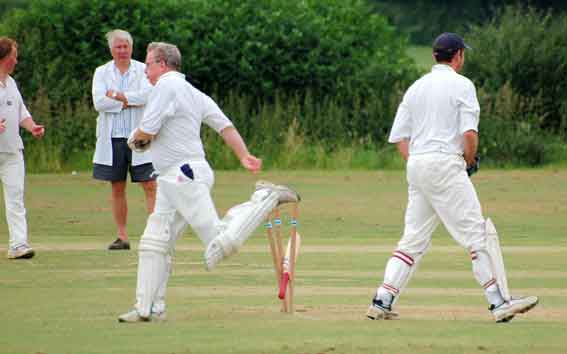 Alfresco tea was enjoyable and we were pleased to see Mr. and Mrs. Webbe‑Master with their camera, taking action shots in a foreign field ... more snaps for our website, which should satisfy our fan in New Zealand. On field Henry Capper (27) was threatening to cut loose, but having got the run rate to a comfortable five an over, both our opening batsmen got themselves run out, and the subsequent order found the going a bit tough, until Atif Mirza arrived at 83 for 5 and immediately changed the tempo of the innings. He struck a quick 20 not out and saw Hyde Heath home to 110 for 6 in the thirtieth over.
Result, LITTLE MISSENDEN MISFITS 108 ‑ 8 dec HYDE HEATH 110 ‑ 6. Hyde Heath won by 4 wickets
Next week: Friday, 23rd June 19.30 Beer Festival
Sat., 24th 14.00 President's XI
Sun., 25th. 10.00 Six‑a‑Side Tournament

Pictures: (clockwise from top) James Shrimpton batting for Hyde Heath with Hugh Connor keeping wicket, Tom Barnsley in full flight, .... then being run out - bat ending up between the stumps !
Robin Richards
June 11th - Full Tossers - Home
Last Sunday afternoon HHCC entertained The Full Tossers on a gloriously warm and sunny afternoon at the common. It was to be an afternoon which contained many "firsts". Robin Richards, for instance, was missing his first match of the season so all scribing duties, in true mafia "keeping it in the family" fashion fell to the first born…
Even before the match had begun we were treated to the remarkable sight of Jeremy Stevens arriving almost on time and before any of the opposition. Surely a first. It's a minor point that the opposition were still in the pub, but a moment worthy of note nonetheless.
The visitors won the toss and, quite rightly, decided to make first use of yet another belter of a track prepared by Mike Thompson, who is plying his craft to great effect in turning the Heath wicket into a joy for batsmen. The visitors put on 30 for the first wicket without any real alarm before first change bowler Atif Mirza convinced opener Doyle to advance down the track only to be stumped by Henry Capper. Atif again deceived number 3 batsman Lennon, who threatened to advance down the track and was thwarted by a much faster ball and was trapped lbw. To round off his three card trick, Atif, minding his own business at backward square leg, had the ball hit directly to him and the batsmen set off for a run. Ogle, the number 4, was slow to react and Atif's throw proved to be too good for him (yes you read that correctly) and was run out. A first time for everything it would appear.
Amongst this fall of wickets the remaining opener, Dolling, continued going about his business, reaching 49 until Bradley Holt got one to leave him and a slashing drive was very smartly taken at first gulley by Tim Barnsley. From here on the visitors continued to make slow progress before the 8th wicket pair of Wright and Stammers made a lively 40 to give them a grand total of 143 for 7 from 39 overs. Atif's whiles brought him figures of 3 for 58 from 13 overs whilst at the other end Bradley bowled with great intelligence and hostility for finish with 3 for 29 from 10 overs.
Tea was up to its usual first class standard, with the chocolate squares being a particular favourite.
Richard Cousins and Henry Capper launched the HHCC reply, reaching 19 before the first change bowler, Wright, knocked back Richard's off stump with his first delivery. More firsts. Cue celebrations from the visitors, but these were to be extremely short lived as James Shrimpton joined Henry and together they set about the bowling in dominating fashion. Henry in particular was extremely brutal on new ball bowler Dolling with the highlight being 3 consecutive fours, the second of which was a very hard hit straight drive, hit the heel of the bowler and yet still had sufficient pace to cross the boundary in front of the pavilion.
Growing in confidence and assurance as his partner's quick scoring, James batted with great maturity and was no doubt delighted to register his maiden (another first) half century in any form of cricket, reaching 53 not out from 59 balls with eight fours. Henry, who seems to be relishing his new role at the top of the order, finished 73 not out from 56 balls with 13 fours (taking his season average to a mere 149.5) and together their unbeaten partnership of 125 saw HHCC home by 9 wickets. The visitors used seven bowlers in all, yet none of them bowled any more than 5 overs… strange.
Result: Full Tossers 143-7. HHCC 144-1. HHCC won by 9 wickets.
Next Match: Little Missenden "Misfits" Away. 2pm.
Mental note – next week is away…not home, but away!
Alistair Richards
Sunday, 4th.June ... warm and sunny ... how pleasant to sit at the scoretable and not be attired like Nanook of the North. We welcomed to the Common our near-neighbours, Ley Hill C.C., who won the toss and asked us to bat first. Henry Capper and Matt Sims had no problem in adding 64 runs for the first wicket in 18 overs. Henry made 36 (which brings his average down to a miserable 113 ! ) while Matt, who was looking good for at least a half-century, was disappointingly dismissed for 45. After their departure there didn't seem to be much to follow, until James Aird and Alistair Richards (nos.7&8 ) laid about them to good-ish effect.
They were followed by an aggressive little cameo from Bradley Holt, who made a quickfire 27 not out, enabling Hyde Heath to reach the comparatively safe waters at tea of 160 for 8 wickets, but it had taken 44 overs to get there ... the visitors had stuck to their task well and Phillips was their best bowler with 3 wickets for 25 runs from 10 overs.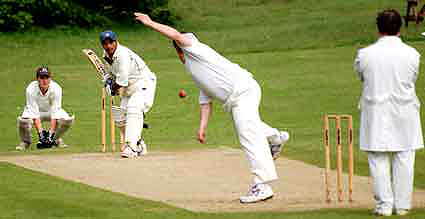 Tea where the top taste-bud tickler was the banana cake, closely followed by the jam and cream scones ... delicious.
During the tea interval we received another visit from Mr & Mrs.Webbe-Master. He, dissatisfied with the piece of photographic kit he had recently purchased, had returned it in favour of a more sophisticated, and therefore more expensive, item. We were treated after tea to the sounds of high-speed motor drive and rapid shutter-clicking, as he sought to take some good action shots. There was action a-plenty on the field, for after the visitors had lost their first wicket at 38, Ottaway began to assert himself, striking 15 fours and 1 six in a dominating innings of 91, which was approximately 70 % of the total at the point of his dismissal. ( Such aggression may well have been sparked by some unwarranted "sledging" by two of the younger members of the fielding side ).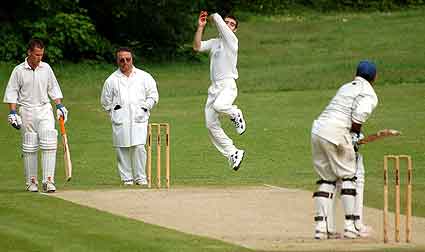 Whatever the cause, Ottaway's knock gave the impetus that Ley Hill needed to reach their target of 165 for 4 offjust 32 overs. Unluckiest man on the field was Holman, the visitors' no.3 bat. He was run out for 13 when the ball was driven smartly back to the bowler, Holt, who inadvertently diverted it from his legs to the stumps with Holman well out of his ground.

(Pictures: above - Jeremy Stevens bowling to A Shakoor
right - a James Aird delivery)

Result: HYDE HEATH 160-8 dec. LEY HILL 165-4. Ley Hill won by 6 wickets

Next week, Sunday 11 th.June; Hyde Heath v. Full Tossers at the Common ( 2.00 )

May 28th - Aston Rowant - Home

Thursday, 6.45 pm ... Kiwis C.C. ( who approached us for the fixture ) telephone to say that due to illness and injury they are unable to raise a side against us this coming Sunday. Never mind, the emergency fixtures bureau at the Club Cricket Conference is open on Fridays, so we still have time to get a replacement match. Ring them, then look at weekend weather forecast on Ceefax ... is this to be an exercise in futility ? Aston Rowant 11 telephone at lunchtime and we agree to play them at Hyde Heath. Despite some moderate to heavy rain on Friday night, and for a good part of Saturday, Mike T. works wonders on the wicket, so that we are ready to start at 2.00 pm.on Sunday. Not surprisingly, the playing square and the outfield are still a bit darnp !

China Charlie wins the toss, invites the visitors to bat first and is immediately rewarded when their no. 1 chases a wide-ish delivery and is caught at gully. This is the start of a bad afternoon for Aston Rowant, as, after seventeen overs, they take a drinks break to survey the wreckage of their innings at 27 for 6 wickets. The damage has been done by Jeremy Stevens ( 3 for 16 ) and Alistair Richards ( 3 for 10 ), allied to a piece of smart thinking by Charlie in bringing up fine leg to second slip where two regulation catches were immediately pouched. Visiting skipper Donner then set about damage limitation. He added 42 vital runs with Majkut and a further 23 with the rest of the tail before Simon Napier-Munn, using flight and other forms of trickery, captured the last three wickets for just 10 runs in two and a half overs. Aston Rowant were all out for 92 in 38.3 overs.

And so to tea .. top-notch, as always, but by the time your scorer got to the table all the brownies had disappeared .. pity !

After tea we were given a lesson by Henry Capper in how to bat on a damp wicket. He shared in an opening stand of 43 with Matt Sims and had other useful partnerships with Chris.Simpson and Simon Napier-Munn. Without any alarms and excursions the target was reached in 26.2 overs, Henry's contribution being 55 not out ( 8 fours ).

From his first three innings of the season Henry has an average of one hundred and ninety yes, 190 !! - 1 shall be interested to monitor his progress.

Result: ASTON ROWANT II 92 HYDE HEATH 94-3

Hyde Heath won by 7 wickets

Sunday, 4th June Hyde Heath v. Ley Hill at the Common 2.00 pm. start

May 14th - On call Medics - Home

There had been no fixture scheduled for last Sunday ( 14th.May ) - the hon.sec.had been keeping that date free in case the previous Sunday's npower village cup match was postponed due to bad weather. By midweek we had picked up a fixture with a band of strolling doctors, and it seemed that they had travelled from such exotic places as Eastbourne, Lancaster, Leicester and Liverpool. They were not exactly

medecins sans frontieres, but they call their team "On Call Medics". On a cool overcast afternoon at Hyde Heath they won the toss and invited the home side to take first use of the wicket.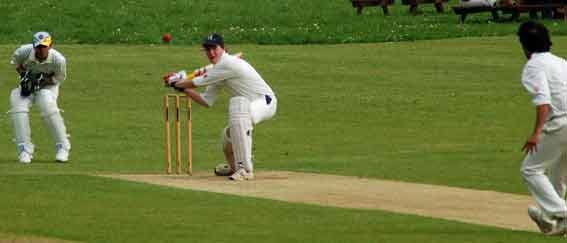 Against bowling of inconsistent accuracy the Hyde Heath opening pair were soon trotting along at a rate in excess of four runs per over. They had added 54 for the first wicket when Tim Barnsley unwisely tried a lofted cover drive and was caught. This brought to the wicket Simon Napier-Munn. He and Henry Capper shared a splendid second-wicket stand of 145 in 21 overs, which formed the backbone of the Hyde Heath innings. Simon's 51 contained six fours and came from 58 deliveries; it was his second half-century for the Club. (Picture: Henry Capper powering towards his century)

After Simon had been bowled Richard Austin took his place at the wicket and from 13 deliveries he hit a quick 30 runs ( six fours ) before the tea declaration after 36 overs at 235 for 2. Henry meanwhile had been going about his business in a commanding fashion, reaching 127 not out by the declaration. This knock included twenty-four fours, was his highest score for the Club, his second century and a pleasure to watch.

Tea ... a splendid assortment of sandwiches and cakes, the coffee gateau being particularly appetising. During this interval we were pleased to receive a visit from Mr.and Mrs. Webbe-Master; he had come to take some action shots with a recently-acquired piece of photographic hardware, and they both deserved a cup of tea to keep out the cold. For your scorer it had so far been a two-sweater day; these were augmented after tea with a forest coat.

The visitors' reply was ticking along at 4 runs per over, but then Jeremy Stevens struck; he had their first four batsmen back in the pavilion with just 21 runs on the board and at a personal cost of only four runs. Then there was a double bowling change. James Shrimpton, operating from the pavilion end took a further four wickets for no runs at all, and this helped to condemn the "On Call Medics" to the unflattering total of 38 all out. They had been cheerful and sociable opponents and we wished them well on their long journeys home.

HYDE HEATH 235-2 dec. ON CALL MEDICS 38 Hyde heath won by 197 runs.

Sunday, 21st.May, 2006 Hyde Heath v. Great Missenden Pelicans ( 2.00 start )

May 7th - Stoke Green - Home

Despite the various weather forecasts it was bright and sunny on Sunday, 7

ffi May. It was the second preliminary round of the npower village cup (we had a bye in the first round) and we had been drawn at home to Stoke Green, which lies between Stoke Poges and Slough. It is a club which plays league cricket both on Saturdays and Sundays, so we needed to show a matching competitive edge.

Mike Thompson II had done an excellent job in preparing the wicket, and he had covered it during the rain of the previous day. China Charlie was back with us after his oriental travels; he lost the toss and Hyde Heath was invited to take first use of the wicket.

The opening batsmen moved sedately along at just under three runs per over and lost the first wicket at

21 in the ninth over. Despite a nice early-season knock of 26 from Andy Williamson the run rate remained around three, and was not improved until some middle-order urgency from Simon Napier-Munn (15), James Aird (22) and Alistair Richards (17), who had the pleasure of striking the first Hyde Heath six of the season. On his departure the innings fell away and the home side was all out for 146 in 38of the allotted 40 overs. All told a rather disappointing batting display - how we missed the positive strokeplay of Henry Capper!

For the visitors Ward bowled cleverly to take

3 wickets for 23 from his 9 overs.

And so to tea, with excellent sandwiches ( I liked the brie and apple ), lemon drizzle cake, Victoria sponge and compliments a-plenty from opposition and home teams alike.

When Stoke Green batted an inspired Tim Nutman first over had them at 9 for

2... game on! Shortly afterwards there was an extremely confident appeal from the close field for a catch at the wicket, but the umpire didn't see it, and the batsman was not minded to walk. ( 25 for 3 would have been a very interesting situation ... ) It was not to be, however, and the escaping batsman, Hussain, went on to make 56 not out. The visitors lost three further wickets, including an involuntary stumping by Matt Sims, but the result was never in doubt as they cruised home by 5 wickets after just 22 overs.

What did we learn from this fairly hefty defeat ? a). Bat through all your allotted overs. b). Plan your run rate, and try to stick to it. c). Catches win matches is an adage which applies even more in limited-overs games. d). Control your bowling-we delivered

23 wides in this match. MT has made a good wicket for us ... we might do him the honour of using it properly !

RESULT: Hyde Heath

146 Stoke Green 153-5 Stoke Green won by 5 wickets


April 30th - Chartridge CC - Home

Sunday, 30th.April, and another season about to begin ... there was early morning rain (of course) but Mike Thompson II had anticipated the capriciousness of our climate and put covers on the wicket. By start time (2.00 pm) the weather had brightened and the opposition, Chartridge C.C., were all assembled. Unfortunately, the Hyde Heath player who lives nearest to the Common did not appear until 2.04 pm., with a consequence that, having won the toss the home side took the field at 2.11 pm.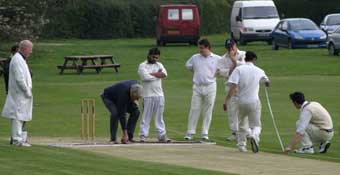 In China Charlie's absence Henry Cappertain was in charge of proceedings and he became ever so slightly irritable in the matter of bowling that was consistently short-pitched. At 2.27 pm., with the visitors' score 22 for no wicket off three and a half overs, he asked that the dimensions of the pitch be checked; sure enough, the length was found to be four yards too great !!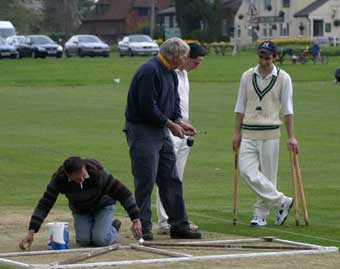 Hasty fetching of the crease-marking frame, and whitewash, ensured that this entertaining interlude occupied just thirteen minutes; not bad, although hardly in the Grand Prix pitstop league ... incidentally no complaint had been heard from the visiting batsmen about having to run the extra distance, an increase of 18 % !
The match continued, and just to show how pleased he was about bowling on a track of the correct length Jeremy Stevens promptly delivered two more wides. Chartridge chugged along at about three runs per over. Their skipper, Golding, was dismissed by a wonderful catch, which was taken one-handed, at the second diving attempt, by new recruit, Babar Ayub. The visitors' innings was given some added impetus by their middle-order batsmen, Mustafa (27), Ali (40) and Connolly (16 not out), each of whom hit freely and frequently. This enabled the tea declaration to be made at 156 for 7 wickets. For the home side James Aird bowled well to finish with 2 wickets for 39 runs from 12 overs. He was well supported by Jeremy Stevens with 2 for 25 from 10 ( how much better those figures would be without the 12 wides ... ) and Andy Williamson with 3 for 39 from 8.
Tea ... slices of healthy melon, delicious brownie cakes, but, most of all, a warming cup of tea ... By now the cloudbase had descended; the temperature fell and so did the wickets. In no time at all - well, fourteen overs to be precise - the home side, full of early-season uncertainties, had tottered to 17 runs for six wickets and, after a further 10 overs had limped to 39 for 8. But Simon Napier-Munn, who had been at the wicket since the twelfth over, when the score was 14 for 4, was now joined by James Aird. With some thirteen overs remaining they attacked selectively and added 52 runs in an unbroken partnership for the ninth wicket, Simon scoring 33 not out ( 4 fours ) and James 25 not out ( also 4 fours ). This splendid rearguard action enabled the home side to reach 91 for 8 wickets. For the visitors Mustafa took 3 wickets for 16 runs and Thompson 5 for 13.
CHARTRIDGE 156-7 HYDE HEATH 91-8 Match drawn
Next Sunday, 7th.May 2 nd preliminary round of the n-power national village cup
v. STOKE GREEN at Hyde Heath ( 2.00 start)