Tom Jeffreys' 2008 Tour Blog ....
September 21st - Ivinghoe & Pitstone
Last match of the season and we had a sunny day for it. We welcomed to the Common Ivinghoe & Pitstone. Charlie, back from yet another trip to China, won the toss and asked the visitors to bat first. They were soon in trouble at 38 for three, but relief arrived in the not insubstantial form of Paul Culley, who, in one minute short of two hours hit eleven fours and three sixes in a sterling innings of 95…he looked certain to make a century but instead he lobbed a soft catch to James Shrimpton at mid-off. He had shared in a useful stand of 60 with John Groom (19) and earlier Dave Frankum had made a helpful 20. These factors, together with 22 extras, allowed the visitors to rack up a teatime total of 171 (from 37 overs). For Hyde Heath Jeremy Stevens bowled well to take 3 wickets for 39 runs from 11 overs, Sohail Rauf 2 for 38 from 8, Atif Mirza 2 for 27 from 7 and Tom Jeffreys 3 for 33 from 6. Henry Capper used the gloves well to take two stumpings and two catches, and there were also two catches for James Shrimpton.
Teatime…on the one hand delicious sandwiches and cakes on offer…on the other hand a disaster…it seems that the scorer's tea "bowl" has disappeared ! Thank you to all the ladies who have catered for us this season…
Mr.Webbe-Master arrived to take some more actionpix… (see below) thanks to him for the continuing excellent illustrations on www.hydeheath.com.
The Hyde Heath reply began at the very brisk pace of almost two runs per minute. The best was yet to come as James Shrimpton (74 not out – fourteen fours) and Nick Burgham (52 – six fours, two sixes) enjoyed a partnership of 105 for the fourth wicket. This was James' fourth consecutive half-century and Nick's maiden one for the Club – double celebration. It was also the sixth batting partnership this term of more than 100 runs…we seem to be getting it right now that the season is ending…After 26 overs, and with 10 to spare, the home side reached its target at 172 for 4 wickets. For the visitors S.Culley had the best bowling return of of 2 wickets for 21 runs.
Result: IVINGHOE & PITSTONE 171 HYDE HEATH 172-4. Hyde Heath won by 6 wickets
Next report: Probably of the annual dinner on 25th.October at Ballinger Village Hall, but for those readers who are impatient for more information here's a piece of statistical digest to be getting on with…
BIG HITTERS in 2008
J.Shrimpton 7 sixes
H.Capper 6
J.Aird 2
N.Burgham 2
D.Haddock 2
R.Austin 1
T.Barnsley 1
S.Napier-Munn 1
S.North 1
J.Stevens 1
24 (25 in 2007)
Robin Richards
September 14th - Abbots Langley - Home
Surprise, surprise…the quagmire (groundsman Mike's description) of Saturday has been transformed by him, and Chris.Stanier-Davis, into an adequate playing surface by Sunday. So, changes of plan and haste made to be present for a one o'clock start at the Common. The visitors are Abbots Langley who are pleased to be asked to bat first, because not all their players have arrived, some having unwisely travelled via Amersham old town and been hampered by the Heritage Day celebrations.
Abbots Langley started very slowly-after six overs they had just one run on the board, but it would be fair to say that at this point the wicket was not easy to bat on, with the ball occasionally staying lower than usual. The bowling was tight and the fielding was sharp…it's amazing what three weeks' lack of cricket can do. The mainstay of the visitors' innings was opening bat, Lewins, who defended stoutly for 103 minutes and thirteen runs; he received good support from Cox (33 – two fours and one six) and Carlisle (37 – five fours), but it wasn't enough, and at tea o'clock the Abbots Langley total had reached 120 for 9 wickets declared from 45 overs. The home bowlers shared the wickets…Jeremy Stevens with 2 for 20 from 13 overs, Atif Mirza with 2 for 24 from 11, Richard Austin with 2 for 28 from 11, Sohail Rauf with 1 for 32 from 8 and skipper for the day, Tom Jeffreys, ferret-hunting, with 2 for 7 from 2 (he was, in fact, on a hat-trick with the last ball of the innings).
Tea – a delight to behold and digest – apart from the delicious sandwiches there were rock cakes, cream scones and an especially tempting chocolate cake, which was good for my taste buds, but not my blood sugar reading !
Hyde Heath's reply was at a run a minute with Dominic Haddock, clearly on the promise of a hot date and therefore in a hurry, and Simon Napier-Munn proceeding more sedately. However, at 37 for 2 wickets they had both been dismissed by skipper Carlisle, but this brought to the wicket James Shrimpton and Nick Burgham who shared a potentially match-winning partnership of 55. With the sun drying the wicket runs flowed more easily than before. Nick made 19 (two fours), but the knock of the day came from James with ten fours in his 58. This was his third half-century in successive innings (and if he had had more luck against Bourne End, when he made 47, it would have been four in four). Then Hyde Heath lost three quick wickets and batting again appeared difficult, but Mr. Direct (Will Reynolds) clipped 10 off six deliveries and it was left to James to administer the coup de grace. With the scores level he was dismissed by an excellent catch on the square leg boundary, but two balls later the target was reached with 8.5 overs to spare. For the visitors Lewis bowled well to capture 3 wickets for 19 runs.
Thanks to Mike Thompson for getting the square prepared for this match.
Result: ABBOTS LANGLEY 120-9 dec. (45 overs) HYDE HEATH 122-6 (32.1 overs)
Hyde Heath won by 4 wickets.
Next Sunday: (21st.Sept.) v. Ivinghoe & Pitstone 1.00 p.m. at the Common.
Last scheduled match of the season…weather forecast is reasonable…
Robin Richards
August 17th - Gamecocks - Home
On a bright but breezy afternoon at the Common China Charlie lost the toss, allowing the visitors, Gamecocks C.C., the pleasure of fielding first. Messrs. Barnsley and Haddock were the ninth different opening pair tried this season and Tim managed to retain the strike for the first three overs, which meant that Dominic didn't get to "face" until the first ball of the fourth over, and for the second ball he was back in the pavilion…bad luck
for getting a tricky straight one first off. There then followed a stand of 87, which was to prove the backbone of the Hyde Heath innings; it was between Tim (didn't he retire from cricket this time last year ?) 45 – four fours, one six and a charge of jug-dodging – and James Shrimpton 62 – eight fours. Together they took the score to 99 for two wickets, at which point James Aird entered the fray, stroking a neat 36 ( three fours and two crisp sixes ) and helping the home side to a teatime declaration of 168 for 6 wickets. For the visitors Langley bowled best to finish with two wickets for 16 runs; he received much verbal support from the pavilion and his fans included an old working colleague, our own Brian Hartley, looking chipper as ever.
Tea. The highlight was a delicious strawberry sponge cake…thank you, Ladies. After four overs of the Gamecocks' reply regrettably your reporter had to leave…to collect the Home Secretary from the Marlow Band headquarters where the coach had deposited her after a weekend playing in Bournemouth. So, the facts are these, as gleaned from our scorebook:- we bowled 42 overs at our visitors (one less than we received), conceded 37 extras, achieved not one, but two, run outs and restricted them to 150 for 7 wickets. Atif Mirza was our best bowler with three wickets for 40 runs from nine overs.
Result: HYDE HEATH 168 – 6 dec. GAMECOCKS 150 – 7. Match drawn.
Next Sunday (24th.August) v. Bank of England Touring 2.00 at the Common
With the season's end just five possible matches away it would be interesting to review achievements to date…Leading the batting is of course Henry Capper, with 619 runs at an average of 56.27. He is followed by James Shrimpton , Richard Cousins and Jeremy Stevens, who has the surprising average of 104.00, but has played just two completed innings… Jeremy is out on his own in the bowling stats. with 33 wickets…next comes Atif with 17, and leading the outfield catchers is Nick Burgham with 7. How will the season end ? Abysmally, if we don't get some better weather…
Robin Richards
After continuous rain on Saturday it was surprising and welcome news that the pitch at Longwick was playable on Sunday nevertheless…well done, them. China Charlie won the toss under a cloudy sky and asked the home side to bat first. It was to be a 40 overs per side match, with a maximum of eight overs per bowler. Jeremy Stevens and Richard Austin began in parsimonious fashion, conceding just 16 runs in the first ten overs and taking one wicket.
Frewin (32 – three fours) and Marshall (28 – one four, two sixes) moved the score along to 76 for 4 wickets in the twenty-fourth over, but the playing strip was proving a mite difficult, from the batsman's viewpoint, in between the showers. Elworthy showed how it should be done…he hit 47 (seven fours, one six ) and found a willing partner in skipper Edwards (19 not out) so that at the end of their 40 overs Longwick had reached 161 for 6 wickets.
For Hyde Heath Jeremy took 2 wickets for 23 runs in his eight overs, Richard Austin none for eleven in eight and James Shrimpton two for 28 in six, including one near-disastrous over in which he was struck for two sixes. James Aird and Richard Cousins each bowled their allotment of eight overs well, and the fielding was fairly smart.
Hyde Heath's reply began fairly quietly. They lost Richard Austin (20 –three fours,one six) in the eleventh over, but it was off the first ball of the fifteenth over that three things happened: a).Richard Cousins clipped it smartly to the square leg boundary, b).something went "twang" in the leg department and c).he fell over. This appeared to be inappropriate preparation for a trip to Edinburgh, where he would doubtless be required to climb up to Arthur's Seat and walk the many alleyways and lanes that Ian Rankin has written as spots for regular visits by Inspector John Rebus, not forgetting the Oxford Bar. Where were we ? ah, yes…Richard was helped up, off the field and into his car. Nick Burgham did not tarry overlong, and so Shrimpy was joined by Dominic Haddock. Together they added 119 unbroken for the third wicket…they are a contrast in batting styles, James smoothly stroking the ball about the field and Dom being more aggressive…and a right hand / left hand combination often works well. In this partnership James scored 51 not out (six fours, one six) and Dominic 68 not out (ten fours) and they got Hyde Heath to the target with six overs to spare.
Result: LONGWICK 161 – 6 HYDE HEATH 162 – 2. Hyde Heath won by 8 wickets.
Next Sunday (17th.August) v. Gamecocks 2.00 p.m. at the Common
Robin Richards
August 3rd - Bourne End - Home




On a dull overcast day, with a threat of showers, Hyde Heath welcomed to the Common Bourne End, a side against whom we usually under-perform, probably because we are suffering from "Tour Lag". Charlie won the toss and asked them to bat first; they were initially grateful, since not all their team had arrived…two of them were in contact by telephone but not at one with their satellite navigation system.

The match eventually got under way at a quarter to three, and Bourne End wickets fell at regular intervals leaving them at 55 for 5 in the eighteenth over. Only Duncombe (26 - four fours and one six) had demonstrated any resistance, but at 69 for 8 the visitors were in crisis. Enter the two stragglers, just in time at six minutes past four, to add a modicum of respectability to the score. A.Redwan Snr. (25 – four fours) joined R.Scillitoe (21 – also four fours), and the last two wickets managed to bring the score to116 all out in 30.5 overs. For Hyde Heath Jeremy Stevens, fresh (?) from his maiden century on tour bowled well to finish with 4 wickets for 25 runs from 13 overs, while Atif Mirza took 3 for 29 from 7 and Richard Cousins 2 for 8 from 1.5. There were two well-taken catches each for Jeremy and Dominic Haddock.

After the customary excellent tea Hyde Heath began their reply in light drizzle and soon lost a wicket , but Henry Capper (24 – three fours) and James Shrimpton (47 – six fours, one six) added 55 for the second wicket. James found a willing ally in Dominic (33 not out – four fours) and together they almost got us to the target. Then Duncombe took two quick wickets, but it was not enough to stop the final push as four byes saw the home side to 117 for 4 wickets in 21.1 overs. The rain had got steadily heavier during the Hyde Heath innings and much credit must go to Bourne End for remaining cheerful in the field.

Result: BOURNE END 116 HYDE HEATH 117 – 4. Hyde Heath won by 6 wickets.

Next Sunday ( 10th. August ): at Longwick 2.00 start

Picture Gallery ...

Robin Richards


July 30th - August 1st - Kent Tour - Meopham, Harvil & Petts Wood - Away

The trip to Kent included a new fixture, that on the Wednesday at Meopham, where the ground is the village green and it is very picturesque. The home side batted first and amassed a useful total in 39.1 overs of 263 all out. Both openers had scored half-centuries and there were four more useful scores in the twenties. For Hyde Heath Atif Mirza took three wickets for 56 runs, Tom Jeffreys three for 43 and Spencer North two for 41. In reply the Hyde Heath innings was always behind the clock, despite good knocks of 44 from Henry Capper and 43 from James Shrimpton, plus useful contributions from Tom and Spencer. After 35 overs Hyde Heath's total had reached a slightly disappointing 155 all out.


Result: MEOPHAM 263 HYDE HEATH 155 Meopham won by 108 runs.

On the Thursday at Harvil the visitors won the toss and opted to bat first. Matt.Sims (35) and James Shrimpton (27)

led the way and there was good support further down the order from Atif Mirza (46) and Tom Jeffreys (41 not out), with another useful knock from Spencer North, enabling the total to reach exactly 200. Turbut had bowled well for the home side to finish with five wickets for 31 runs. Wickets fell regularly after tea to the bowling of Jeremy Stevens (3 for 59) and Richard Austin (3 for 36), and to the supporting attack of Atif (2 for 50) and James (2 for 22).

Harvil's innings ended at 178 to give Hyde Heath a welcome victory.


Result: HYDE HEATH 200 HARVIL 178 Hyde Heath won by 22 runs.

And so to Petts Wood on Friday...Caroline Capper drove us (your correspondent, Jay Lakhani and his pal Andrew),

and I navigated us through some urban Kentish by-ways to the Bulls Head for lunch. Back at the ground Caroline dispensed neurofen to those in need, Charlie won the toss (again...) and Hyde Heath batted first, rattling up the very healthy score of 210 for 4 wickets in just 30.5 overs. Such riches had their foundation in a second-wicket stand of 151 between Henry Capper (88-15 fours) and Jeremy Stevens (101 not out-16 fours). Earlier in the season, at The Lee, Jeremy notched his maiden half-century for the Club; now, here he was, having his maiden century lauded all round the ground...well done ! After tea the visiting bowlers toiled in the strong cross-wind and their first success came at 93 when they had the pleasure of witnessing both batsmen at the same end, and did not mess up the run- out. The other opening batsman, Peatfield, continued on his way, making the most of the untenanted space at cow corner, reaching one hundred exactly before spooning a catch to young Andrew Tebboth at short mid-wicket. At this point 36 overs had been bowled and a mere 37 runs were required for victory, but that would take a further 8.3 overs,

in fact until ten minutes to eight. We shall draw a veil over the Hyde Heath bowling figures...


Result: HYDE HEATH 210-4 dec. PETTS WOOD 211-3 Petts Wood won by 7 wickets.

A pleasant day out ( thanks, Caroline.) and an enjoyable tour...

Robin Richards

...... and now - what really happened !! - Tom Jeffreys' Tour Blog

Hyde Heath's second tour to Kent kicked off with a rather one-sided match against a strong Meopham outfit. We all arrived at the attractive ground in time for a spot of lunch, which was taken not – as you might expect – at the pub with the massive cricket ball sign called 'The Long Hop' but rather at the less obviously cricket-affiliated King's Arms. This might go some way to explaining our distinctly average performance in the field. When we got to Meopham's pavilion, Tour Manager Matt Sims handed out some rather snazzy black tour polo-shirts and a selection of Primark's finest sunglasses, from the women's department.

Winning the toss, Charlie Samuels elected to bowl and it very quickly became evident that the Meopham top order was rather good. Hyde Heath's opening bowlers received a bit of a pasting, with Jeremy Stevens unusually expensive. And, despite some good work by Simon Napier-Munn, our fielding was as poor as had been since, well, the last time we came to Kent: Henry Capper dropped two very tough chances behind the wicket and a pretty straightforward one running forward, while Tour Manager Matt Sims failed even to get a hand to a dolly at midwicket. Perhaps we should have kept those sunglasses on.

So it fell to the spinners to put the breaks on and Atif Mirza and Tom Jeffreys (don't laugh) took three wickets apiece, Atif removing the dangerous top order and Jeffreys mopping up the less talented. A tidy spell from young Oscar Hutchins also helped to restrict Meopham to 240 from their 40 overs – not bad, considering that at one stage it looked like they might get well over 300.

Tea was excellent, but Hyde Heath's response was anything but. We were dismissed for about 150 with only a brace of 40s from Capper and James Shrimpton by way of resistance. Chasing a challenging total we needed one of those two to go big, but it was not to be and the rest of the batting collapsed in a heap. Atif (bless him) provided the only memorable moment of the innings when – perhaps influence by Kevin Pietersen's famous switch-hitting – he attempted a reverse sweep of his own from the second ball he faced. It was a gentle full toss, but, importantly, it was straight. Atif struck only thin air and was comprehensively bowled. For that he was awarded a particularly foul pair of pink and black zebra striped trousers to wear, again courtesy of a Matt Sims visit to Primark women's department: he's getting quite a reputation there, apparently.

That evening we went for the customary first-night curry before heading to the cricketing Mecca that is the Lashings pub (a place we had singularly failed to locate last year). Arriving at about midnight we were firmly informed that our chances of entry were approximately nil. Step forward Tour Manager Matt Sims who cunningly mentioned that we were on a cricket tour.

'All the way from Hyde Heath no less.'

'Hyde Heath cricketers?' the Landlord said. 'Well do come in.'

Round the back of the pub was a rather smart decking area, complete with a covered section crammed with bean bags. The squad quickly made themselves comfortable and the conversation gradually moved away from cricket to a discussion concerning the possible gender of a rather large person standing a metre or two away. After some time, she (for that is what it turned out to be) approached us and initiated what now seems a rather bizarre conversation. After having admired the size of Will Reynolds' biceps, Boot Camp Betty, as her friends referred to her, began to try to guess our ages. She was pretty much spot on until she turned to Jez.

'I'd say you're the daddy of the group,' she declared. 'You look like a 45 year-old Frenchman.'

He looked confused, and not a little offended, while the rest of us roared with laughter.

The following day we made our way to Harvel for an 11:30 start. They had given us a fearful drubbing the previous year, so this time round they had picked a much younger team, but they were still extremely talented. Captain for the day Matt Sims won the toss and elected to bat first. A top-order collapse, including two run-outs, left Hyde Heath in the unenviable position of 84 for 6, despite an entertaining 30-odd from the stand-in skipper. Matt's innings was studded with square drives either side of the point fielder and he looked poised to go big until rather sawn off by the opposition's umpire, who upheld an LBW appeal for one that looked both high and leg-side.

The same umpire also had a hand in one of run-outs, giving our Kiwi overseas player, Nick Bergham out despite an impressive dive from the batsman. He was none too chuffed: understandably, given that he looked well in. The other run-out victim, Richard Austin, was also none too chuffed, but could only have himself (and possible his opening partner) to blame. His throwing of the bat was unseemly and he was justifiably fined a percentage of his match fee for bringing Hyde Heath into disrepute.

Again the Heath were rescued by their two spinners, not, as yesterday, with the ball, but with the bat. Jeffreys and Atif batted calmly to take the team to lunch – which was notable for an excellent home-made steak pie – before opening up a little after the break. Neither batsman was keen on the quick single, and twos were almost non-existent. Instead Atif played some aggressively wristy shots over the covers, whilst Jeffreys sought merely to bore the opposition into submission. He received a torrent of generally not particularly clever banter for his efforts, although the cry of 'more blocks than Legoland' from the chap in the gulley was pretty funny. After Atif's dismissal for 46, Spencer North played a few big shots before the tail subsided, leaving Jeffreys unbeaten with 41 and Hyde Heath to defend 200.

Responding well to shouts of 'Well bowled Papa Jean-Pierre!' and 'Vive la différance!', Jez held his nerve against a quality top order, and in particular an opener who seemed keen to finish the match in ten overs by charging every delivery. Having hit some scorching drives, he eventually lobbed a catch off Stevens to Will at mid-off who took it safely.

At the other end, Richard Austin was bowling superbly, getting the odd one to really bounce and zip through. After several plays and misses, Austin requested that the short leg be moved to second slip. Much to the bowler's obvious annoyance, the captain, Sims, refused. But what should happen two balls later? Austin pitched one up on middle and leg, the batsmen tried to flick it through midwicket, instead hitting straight to Jeffreys, at the disputed short leg position, who held the sharp chance. Truly it was Brearley-esque.

If at this stage it sounds like Capper was having a quiet game, do not be fooled. After having been dismissed for 1, he sank five pints to alleviate the boredom of Jeffreys' innings and so by the time we took the field he was in fine voice. Their young ginger-haired number three, who had spouted his fair share of inane nonsense at our batsmen, now found himself subject to a wave of, um, constructive advice. Again and again Capper and the slip fielders challenged him to drive through the covers for four. Eventually he caved in and had a go, but couldn't time it. Our 'mental disintegration' tactics worked and he was dismissed soon after.

After a good tea – Harvel really know how to put on a spread – the Heath were back out in the field. Wickets for Atif and Shrimpton took us to within a single dismissal of victory. But some lusty blows from their number 11 (one of which was painfully dropped by Jeffreys and effectively ended his match) brought the scores closer, and the tension began to mount. The captain then brought back Austin, who polished it off with one that ripped out off stump, and the victory was ours. Harvel were no doubt the better side, but were outdone by a thoughtful and committed performance from the Heath.

After a Chinese, the younger members of the squad returned for a second night at the Lashings. The only people of note encountered were a dreary Scouse chap with a think accent and his boring fiancée, ten years his senior. The Landlord wittered on about how we'd just missed Herschelle Gibbs and Jimmy Adams: one got the impression he says this every night. Apparently WG Grace had stopped in for a quick half the week before…The night was memorable, however, for a Singing in the Rain-style jig performed by Will Reynolds down Maidstone high street. The reason for this display of delight will alas have to remain undisclosed. 'What goes on tour' etc.

Friday was the last match of the tour and saw the team head to Petts Wood, the side captained by Matt's brother, Toby. We had given them a fair old pasting last year, and after Thursday's victory, we arrived full of confidence. It has been said however that pride often comes before a fall. Jeffreys, Capper and Stevens turned up at the designated lunch pub a little too late to eat there – muttered excuses about broken alarm clocks were understandably ignored. Thankfully, Matt made up some excellent sandwiches and we were ready to go. Charlie won the toss, and with the pitch as flat as a pancake, we batted.

Matt's sandwiches were more successful than his batting today and he was dismissed for a drawn-out 0. This ushered in Stevens, promoted to number 3 and he and Henry Capper put on around 180 in double-quick time. Stevens was particularly strong through the covers off the back foot, whilst Capper was typically severe on anything too straight. It was an entertaining partnership helped by some hapless bowling and terrible fielding. Capper eventually fell for 88: he gave Toby Sims the charge, tried to pad up and got bowled between his legs, to the amusement of all involved. Stevens continued playing his shots and eventually recorded his maiden hundred before retiring. It was a cracking innings and a joy to watch.

With the score at 210, Charlie decided to declare and we all took an early tea. At the time it looked like a slightly over-confident decision and Petts Wood proceeded to teach us a lesson.

Tea was very nice again and was served in Petts Wood's pleasant pavilion, which also doubles as a nursery school, an area of which was curtained off. The reason for this was explained entertainingly by a sign that read: 'Danger. Stacked school furniture. Do not enter.' Suitably warned, we steered well clear

In the field things didn't quite go to plan. With their opener making an even hundred, and the only breakthroughs coming by way of a run out and two wickets for Petts Wood spinner, Geoff Dix, kindly making up our XI, it was pretty demoralising stuff. We were very poor in the field and never really looked threatening on such a flat pitch. About as dangerous as stacked school furniture, you might say. Petts Wood won comfortably. The only real challenge faced by their centurion was ignoring the Anglo-Saxon language directed his way by the local yoof: ex-pupils of his, he informed us. You wouldn't get that back at the Heath!

After the match we adjourned, as is customary, to the local pub. Spencer took possession of the nastily striped trousers after Will had kept them warm the previous day. Fines and awards were then meted out in equal measure. Matt was on the receiving end of both: fined for turning up at Petts Wood at the wrong time, with no match ball and only ten players. But he was rewarded with a few bottles of wine for organising another excellent tour. During this time it emerged that Matt's father is a knight of the realm, something Matt himself has kept rather quiet about. When asked how he had achieved this, the Tour Manager explained that he had managed to be a local MP for over 25 years without even a hint of a sex scandal. Rumour has it he's not exactly a looker.

With most of the squad heading homewards that evening, it was left to Stevens, Capper, Jeffreys and Reynolds to finish the tour in style. This entailed ordering pizza and watching the cricket highlights in the lounge of the hotel. (How did we never find that room last year?) A subdued but enjoyable end to a great tour, one that will be remembered mainly for Atif's pathetic attempt at a reverse-sweep and the maiden ton of a middle-aged Frenchman.

Tom Jeffreys

July 27th - Turville Park - Home

Sunday, 27th July. My feeling of well-being continues ... could it be because the county which I have supported since boyhood, Middlesex, has at long last won something, namely the final of the Twenty 20 competition. 'Twas but a few short weeks ago that the membership severely criticised the management, captain and players for poor performance, and now look what's happened ... they have qualified for possible future paydays worth squillions... Funny old game, Saint ... Here we are at the Common on a cloudy but very warm afternoon, waiting for Turville Park C.C. to appear ... they say that their fixture card proclaims a two-thirty start, but I know who confirmed the match as a two o'clock job ... they win the toss, elect to bat, and we eventually get under way at 2.43...

They began to lose wickets steadily, and by the seventeenth over half the side was out for 39; only Gunn had shown any stickability with a well-worked, if not explosive, 29 (4 fours). There then followed a partial recovery as Runkel 31 (4 fours) and Bazell 21 (also 4 fours) added 45 for the seventh wicket. The visitors were not yet done; going to the wicket at number ten was skipper Wade, who in 2007 took 92 off our attack, and 116 the year before that ! It appears that he is suffering from tennis elbow from playing too much golf, not tennis, and it affects his batting (oh,woe) ... can't say that it was noticeable as he hit 26 not out (4 fours, 1 six) in fifteen deliveries. Last man in, Oliver Napier-Munn, a late recruit, was cruelly undone by a "surprise" ball from Tom Jeffreys ... it was straight! And so Turville Park were all out for a creditable 144, off 42.3 overs. James Aird bowled well to finish with four wickets for 25 runs from eleven overs , Jeremy Stevens three for 32 from 13 and Simon Napier-Munn grabbed the other two. There was some smart fielding, highlighted by the three outfield catches snapped up by Nick Burgham.

Tea, and a plateful of delight ... excellent sandwiches, followed by apple cake, chocolate brownie and a delicious scone overflowing with jam and cream, accompanied by two bowlsful of tea ... thank you, ladies.

Yet another different opening pair of batsmen went to the wicket for Hyde Heath's reply ... Richard Cousins and Simon Napier-Munn ... they were not separated until the twenty-fifth over when Simon fell for 51 (7 fours) ... a splendid half-century, his second for the Club. Richard carried on, and when the target was reached with six overs to spare, he was on 72 not out (11 fours from 104 deliveries in 116 minutes). He received good support towards the end of his innings from Nick Burgham. For Turville Park Powell took both wickets at a personal cost of 18 runs.

Result: TURVILLE PARK 144 HYDE HEATH 147-2 Hyde Heath won by 8 wickets.

Wednesday, 30th.July v. Meopham - Kentish Tour 2.30

Thursday 31st v. Harvil 11.30

Friday 1st.Aug. v. Petts Wood 2.30

Sunday 3rd v. Bourne End 2.30 at the Common

Robin Richards

On an overcast afternoon which was accompanied by a light breeze Hyde Heath welcomed Woodley to the Common. The start was scheduled to be 30 minutes later than usual, to allow the visitors ample time to reach us from that darkest outpost of Reading. China Charlie won the toss, and, as is his habit, invited them to bat first.

James Aird, bowling from the Plough end, had dismissed both openers by the tenth over, and when the third wicket pair looked like they were staging a recovery Richard Austin stepped in, removing them both. In fact he took four wickets for just ten runs, but after six overs, he deemed himself unfit to continue ... he needs to work on his stamina ... At the wicket now was visiting skipper, Ali; he and his number 8 and 9 batsmen added 95 further runs, his contribution being 69 not out-six fours and one six-in eighty minutes, enabling the visitors to declare at tea on 188 for 7 wickets, from 39 overs. After Richard Austin's haul James Aird had the best bowling return with 2 wickets for 61 runs from 12 overs.

Tea, and the delight of a strawberry sponge cake, populated by fresh strawberries - delicious ! After 12 overs Hyde Heath found themselves at 38 for 4 wickets but then a typically cavalier innings by Dominic Haddock (36-seven fours), gave new hope to the home side. When he was dismissed 1.b.w. 85 runs were still needed and there were 13.4 overs in which to get them, with 4 wickets in hand. The situation appeared to favour the fielding side, but cometh the hour cometh the man ... Will Reynolds, previous highest score 17 not out, hit out boldly and encouraged his batting partners to run quickly between the wickets He was aided in his task by Richard Austin, Jeremy Stevens and James Aird. And so we came to the last over ... two to win and two wickets in hand ... still anybody's game ... a single and a leg bye were scampered, and Hyde Heath were home with two balls to spare. Will's contribution ? his maiden half-century at 50 not out (four fours). For Woodley Ali bowled well to finish with 3 wickets for 34 from 8.4 overs and Bind 3 for 38 from 9.

Result: WOODLEY 188-7 dec. HYDE HEATH 189-8 Hyde Heath won by 2 wickets .....

Next Sunday (27th.July) at the Common v. Turville Park 2.00 start.

Robin Richards

July 13th - Chesham Bois - Away

Sunday, 13th.July...awake early...again...these industrial strength sleeping tablets are clearly not working...the weather appears to be bright, not like last Sunday at Ballinger, which was a complete washout. Today we are due at Chesham Bois, so that's two straight Sundays off for groundsman Mike. China Charlie wins the toss and elects to insert the opposition.

It is soon clear that Chesham Bois are not as strong as they once were; by the twenty-first over half their side is out for 41, but then P.O'Brien (32) and R.Jacobs (20) add a little respectability to the score by doubling it. A few more runs are added, but the home side is eventually all out for 96...off 42.4 overs. There was one victim bowled, one l.b.w. and 8 out to catches, some from quite injudicious shots. Jeremy Stevens finished with 6 wickets for 20 runs from 13.4 overs and Richard Austin 3 for 25 from 8. There were two catches each for Nick Burgham and Henry Capper.

The Hyde Heath opening pair of Henry Capper and Richard Cousins took 14.3 overs and 54 minutes to knock off the runs,

Henry hitting 72 not out ( 8 fours and 4 sixes ) and Richard 18 not out ( 2 fours ).

Result: CHESHAM BOIS 96 HYDE HEATH 97 for no wicket. Hyde Heath won by ten wickets.

Next Sunday: ( 20th.July ) at home to Woodley 2.30 start

Robin Richards

June 29th - Southwell Ramblers - Home

Sun.June 29"'. On a reasonably pleasant afternoon up at the Common Southwell Ramblers won the toss and invited the home side to bat first. It transpired that Mike T. had provided for us a track as flat as a pancake which allowed our batsmen to "fill their boots" and this they did, making their innings score at seven an over.

Henry Capper and Richard Cousins (34 ... four fours) added 68 for the first wicket from 13 overs, then Henry and James Shrimpton (40...eight fours) shared a partnership of 105 off the following 11 overs... really motoring along. James was rather unlucky to be run out when the bowler failed to hold a return catch, but deflected it onto the stumps. Henry became the fourth victim at 196. His 96 contained 17 fours and one six, and he was disappointed that he had just missed his second century of the season. However, only 27 overs had been bowled and there was still time for some more fireworks; these were supplied by Atif Mirza (23 not out ... three fours) and Simon Napier-Munn (31 ... five fours, one six) Simon, pushing his luck, was run out off the last ball before tea, bringing the total to a huge 264 for 6 wickets from 37.5 overs. The visitors' most successful bowler was a young man on a temporary transfer, Spencer North, who took two wickets for 38 runs.

After tea (which included Smartie cakes... delicious as well as colourful) wickets fell at regular intervals as the visitors seemed to have little answer to the speed of Brad. Holt or the guile of Jeremy Stevens and Atif Mirza. Only Unwin with 81 (twelve fours, one six in exactly an hour and a half) was able to make any headway, and his contribution was the main reason that the visitors were able to reach respectability at 170 all out from 33.1 overs. Spencer North was second highest scorer with 17. For Hyde Heath Jeremy took 5 wickets for 45 runs from 11. 1 overs, Brad. 3 for 47 from 9 and Atif 2 for 38 from 5.

Result: HYDE HEATH 264 - 6 dec. SOUTHWELL RAMBLERS 170 Hyde Heath won by 94 runs.

Next Sunday 6th.July vs Ballinger Waggoners - Away - 2.00 start

Robin Richards


June 22nd - Six a side competition

Sunday, 22nd

June ... awake early again ... I shall need to get a heavier grade sleeping tablet ... still, things to be done ... the home secretary returns today after a few days away, so I must be sure that the house is reasonably in order before venturing to the Common for the six-a-side tournament. Arrive to be fortified by coffee and a bacon roll, then compute the order of play and try to get the show started by 10.30 ... only half an hour late! I have allowed the usual forty minutes per match of five six-ball overs per side, but it becomes clear that as, we continue, that we are falling further and further behind schedule. (probably due to an excess number of wides bowled ... )

Eventually we arrive at 18.54 and every side has played each other once. Southwell Ramblers have won four from four and the Hyde Heath Colts have won three from four, so they play a final match. The Ramblers bat first and lose a wicket in the second over, run out by a direct hit from Will Reynolds on the square leg boundary. They recover through Valentine (23) and Turner (16 not out), but 42 for 2 doesn't look to be a large enough target, and so it proves as the Colts get home at 44 for 3 with just one ball to spare, thanks to Shrimpton (15) and Reynolds (16 not out).

Colts VI Bradley Holt, Jay Lakhani, Spencer North, Will Reynolds, Danny Samuels and James Shrimpton.

In presenting the winners with the cup and individual trophies chairman John Capper highlighted the performances with the bat of Mike Green (Yeading Cavaliers) 108 runs for once out and James Shrimpton 100 runs, also for once out. He also mentioned the consistently speedy fielding of Spencer North and thanked all those who had shared the umpiring duties during a long day. He also thanked the ladies for their tireless work in the catering area and Dave Sanders for another good stint at the barbecue.

As for me, my thanks go to Jeremy Stevens for being an excellent stand-in at the scoresheet, while I took comfort and meal breaks, and to Chris Sargeant for providing his usual excellent public address system.


Robin Richards

June 21st - Presidents XI - Home

Saturday, 21st June ... the longest day of the year, and my first President's Day in that exalted office ... awake with the dawn chorus, draw curtains and look out ... yep, it's raining. Arrive at the Common, greet my team, many of whom 1 have not seen for a number of years and one of whom has travelled from North Somerset. Enjoy a good lunch, followed by the ceremony of the team photograph ... and so to the toss, which the President's captain (this year my son, Alistair) is always considered to win.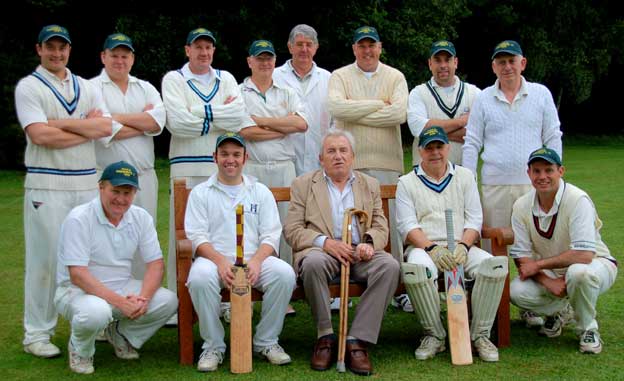 Presidents XI Back Row: Sam Mayne, Alistair Turner, Gavin Evans, Clive Bourne, Chris Cook (Umpire),
Matt Cook, Steve Rubery, Les Hemmings
Front Row: Trevor Crowe, Alistair Richards, El Presidente, Roger Cook, Hugh Connor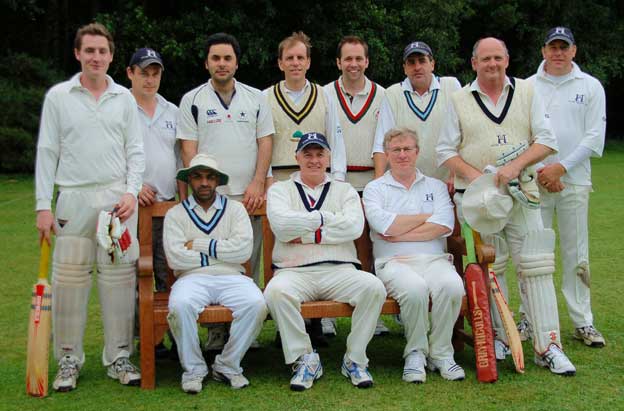 Hyde Heath Back Row: Henry Capper, Jeremy Stevens, Sohail Rauf, Matt sims, Tim Nutman
Nick Burgham, Richard Cousins, Simon Napier-Munn
Front Row: Atif Mirza, Charlie Samuels, Tim Barnsley
And so we elect to bat, and by the 19th.over half the side is out for 76. However, a sixth wicket stand of 80 between Sam Mayne (59 - six fours and two sixes) and Hugh Connor (53 not out - five fours) changed the mood of the innings. Although there was not much more in the way of runs after that, Alistair felt comfortable in declaring at 167 for 8 wickets, despite a disappointing number of overs being bowled (only 36 in two and a half hours), and six of his batsmen had been dismissed 1.b.w. For Hyde Heath Tim Nutman was the best bowler with 5 wickets for 51 runs from 12 overs.
Tea was of course delicious, the highlights being the sponge cakes and the Bakewell tart, and afterwards Henry Capper (65 - twelve fours) and Richard Cousins (19 - three fours) set off in pursuit of the target at a rate approaching five an over, adding 66 for the first wicket. Such riches could not last, and a minor collapse followed; this was alleviated by contributions from Simon Napier-Munn (16 - one four) and Atif Mirza 25 (three fours). It was left to China Charlie to play out time at 150 for 8 wickets. For the President's Xl Gavin Evans bowled well to finish with 4 wickets for 35 runs from 12 overs.
Many thanks to Mike Thompson and willing helpers for covering and producing a more than playable wicket, and to Caroline Capper, and all the ladies, for most excellent catering all day.
Result: PRESIDENT'S Xl 167 - 8 HYDE HEATH 150 - 8 Match drawn
Next Sunday (29th.June) v. Southwell Ramblers 2.30 p.m. at the Common
Robin Richards
June 15th - Lt Missenden Misfits - Away
Where was I ? Ah, yes, Fathers' Day ... 15th.June. Your correspondent took the afternoon off to be transported to the Royal Albert Hall, leaving the team to fend for itself. And what happened while I was away ?
Down at Little Missenden, in the southern half of our parish, the home side won the toss and invited the visitors to bat first. Their innings by and large proceeded at 4 runs per over, and was powered chiefly by Henry Capper's 51 (5 fours and 2 threes). He was given good support by James Shrimpton (24), Nick Burgham (also 24) and Dominic Haddock (19); this enabled a reasonably respectable score to be reached at teatime of 172 for 9 wickets from 43 overs. For the Misfits Hallam took four wickets for 43 runs from 14 overs and Connor four for 59 from 13.
After tea the action was anything but reasonable as five different Hyde Heath bowlers did their level best to separate the Little Missenden opening batsmen. But they laboured in vain as Connor, going for the all‑rounder's crown, with 71 not out, and Mayne, with 85 not out, saw the Misfits to their target at 173 for no wicket in 31 overs.
Result: HYDE HEATH 172‑9 LITTLE MISSENDEN MISFITS 173‑0 Misfits won by 10 wickets
Robin Richards


June 8th - Full Tossers - Home
8th.June ... very warm and sunny ... shirtsleeve order ... super. Today's visitors to the Common are the Full Tossers C.C., who, not unusually, take the field six minutes after the scheduled start time with eight men. The remaining three eventually join their teammates, late, but it doesn't seem to matter. They have won the toss, and once again Hyde Heath find themselves inserted...
After the early loss of Henry Capper the backbone of the innings was a stand of 88 between Richard Cousins (58 ... 6 fours, 103 minutes) and James Shrimpton (44 ... 3 fours, 91 minutes). The wicket wasn't at its easiest, with the ball staying low on occasion, but this pair kept the scoreboard ticking over, and they were helped in their endeavours by Nick Burgham and the "fresh out of retirement" Tim Barnsley, who each upped the tempo, enabling a tea declaration of 162 for 8 wickets. The visitors did well to send down 45 overs with Rubin taking 3 for 31 from twelve and Stammers 2 for 31 from 11.
Tea ... produced and served by Miss Jemima, Miss Harmah and Miss Anna ... was complete with the usual array of delicious confections ... the only thing missing was Mr.Webbe-Master and his photographic apparatus ... back to the action ...
Full Tossers were soon in trouble at nought for two wickets in the third over, and they lost another one soon after, but Johnson (59) and skipper P.Lennon (37) added 94 for the fourth wicket in twenty overs, and it was now anybody's game. Alistair Richards, who had bowled ten overs from the pavilion end, changed to the Plough end and bowled Lennon. At the same score Henry executed a lightning stumping off Tom Jefferys to dismiss Johnson, and seven runs later Alistair claimed two more wickets off consecutive deliveries to leave the visitors needing 46 to win in six and a half overs with three wickets in hand. They opted to play out time and finished on 121 for 7 wickets. For Hyde Heath Alistair bowled with fire throughout to finish with 5 wickets for 35 runs from 18 overs.
Nice to see Chris. Simpson again. Thanks for the long spell of umpiring, which you and Johnny Capper did in the heat of the day.
Result: HYDE HEATH 162-8 dec FULL TOSSERS- 121-7. Match drawn
Next Sunday (15th.June) at Little Missenden Misfits 2.00 start
Robin Richards
June 1st - Ley Hill - Home
First day of June; it's just warm enough at the scorer's table to be able to wear a light overcoat. Today we welcome to the Common our near neighbours from Ley Hill, who won the toss and opted to field first.
The home opening batsmen, Henry Capper and Richard Cousins, started rather slowly - 12 in the first ten overs, 22 in fifteen, but then they accelerated to more than three an over, losing the first wicket at 93 in the thirtieth over when Richard was stumped off Green for 31 ( 3 fours in ninety minutes from 103 deliveries). Henry continued in dominant mode, stroking the ball all round the wicket, as well as his favoured behind square on the leg side. He was fifth out at 167, having made 103 in two hours and twenty minutes ( 15 fours and one six). It had been a splendid innings and Henry's fourth century for the Club, which enabled the tea declaration at 171 for 6 wickets. Ley Hill did extremely well to send down 45 overs in 2 hours and twenty-five minutes with Ottaway taking 3 wickets for 22 runs and Green 2 for 30.
Tea, as delicious as ever, was accompanied by Mr.Webbe-Master, complete with camera and monopod.
The visitors' reply looked a bit shaky after ten overs with both opening batsmen back in the pavilion and just 24 runs on the board. Holman ( 26 ) and Ottaway ( 29 ... 5 fours and one six ... no mistaking his intentions ) then added 56 for the fourth wicket, but after they had departed there was not much firepower left in the locker and Ley Hill finally found themselves on 145 for 9 with their last pair at the wicket. The obdurate Green ensured survival. To be fair, Hyde Heath bowled only 36 overs in the time allotted, which may, or may not have been to the visitors' advantage ... they won the toss, after all. The bowlers, Tim Nutman, Luke Brennan, Atif Mirza and James Aird shared the wickets with two each.
Congratulations to Mike Thompson for producing such a good wicket after all the inclement weather earlier in the week.
Result: HYDE HEATH 171-6 dec. LEY HILL 145-9. Match drawn.
Next Sunday ( 8th.June ) at the Common v. Full Tossers ( 2.00 start )
Robin Richards
May 18th - Gt Missenden Pelicans - Home
Sunday, 18th May ... weather forecast bright but cool ( I think I'll wear my thermals) ... we welcome to the Common our near neighbours, Great Missenden Pelicans, who win the toss and decide to put us in.
We are not fielding a very strong side today, but they are in a worse position, arriving with just eight men, and not a pelican in sight! This involves us lending them two fielders on a continuous rotation system, so with two men batting, two padded up and two umpiring, there are not many left to do the drinks... Dominic Haddock (21) and Richard Austin (28) set off at a spanking rate, with 51 on the board after ten overs, but it was not to last, as a succession of batsmen appeared to have difficulty in hitting the ball off the square, as well as keeping the forceful, and eventually frustrated, Nick Burgharn (27) away from the strike.
The run rate slowed to three an over, was briefly revived by messrs. Mirza, Stevens and Nutman, but finally settled at 3.5 as the home side reached 136 for eight wickets in 39 overs. For the visitors Taylor had the best bowling analysis with 3 wickets for 20 runs from nine overs.
Tea ... have I said it before? ... I like the idea of a tea bowl (with a handle, of course) and sufficient bakewell tart to keep out the cold... Great Missenden's reply began inauspiciously and after seventeen overs they had tottered along to 34 for 5 wickets (bear in mind that they now had just two wickets in hand ... ) However the obdurate opener, Bechevaise, was still there and he was now joined by the left-handed Frank, who made his intentions immediately clear, hitting two boundaries in the first over he received. He continued in this vein, his partner allowing him the strike as often as possible, and before too long he was celebrating his half-century with a six hoisted into the trees at deep square leg. The innings total had now reached one hundred and there were eight overs left, but Frank dispelled any notion of a close finish as he bludgeoned his way to 78 not out (2 sixes and 13 fours), in a winning total of 137 for 5 wickets, with 3.3 overs to spare. Bechevaise finished on 29 not out, made in two hours and thirteen minutes, and the best bowlers for Hyde Heath were Tim Nutman with 3 wickets for 17 runs in ten overs while Jeremy Stevens returned 2 for 36 in 13.3.
Result: HYDE HEATH 136-8 dec. GREAT MISSENDEN PELICANS 137-5 Pelicans won by 2 wickets.
Tim Nutman in full flight ....
Next Sunday (25th May) at the Common v. Nomadic Medics 2.00 start
Robin Richards
May 11th - The Lee - Away
Phew, what a scorcher! A beautiful day greeted us at The Lee ... The best place to sit was under the trees, but the scoreboard is by the pavilion (where else ?) with no shade. Hyde Heath won the toss and, after some consideration, elected to field first.
The pitch looked good, and the outfield fast, and so The Lee set off at a reasonable clip. They lost an early wicket, but John Swain was looking in ominously good form ... until in Bradley Holt's second over he miscued a rank long hop and was caught behind. At the other end Alistair Richards continued to pitch the ball up, to the great enjoyment of home skipper Alistair Flerning, who peppered the off side with some splendid strokes.
Unfortunately no 5 bat, Whittle ruptured an Achilles tendon when setting off for a run; he was rushed to Stoke Mandeville, and, of course, took no further part in the match, although his place was taken by a junior sub at the end of the innings. Bradley and our Alistair now began to make inroads into the home side's batting order, which exposed a few junior members, who, although well-coached, have yet to be battle-hardened, and the home side slipped to 105 all out from 28.2 overs, of which skipper Fleming made a valiant 39. Bradley took 3 for 31 in seven overs and Alistair 4 for 36 in nine.
After tea it was a different story as Henry Capper and newly-promoted in the order, Jeremy Stevens, replied for Hyde Heath at a rate of 6 an over, thus reaching the target in 17.1 overs with Henry on 46 not out (8 fours) and Jeremy recording his maiden half century for the Club in 41 minutes with 50 not out (9 fours). Stand-in captain, Nick Burgham, was naturally delighted.
Result: THE LEE 105 HYDE HEATH 106-0. Hyde Heath won by ten wickets.
Next Sunday: ( May 18th.) at the Common v. Great Missenden Pelicans. 2.00 start.
Robin Richards
May 4th - Chartridge - Home
May 4th and another season starts with hope, and the desire to quickly accustom to the difference in pace between indoor nets and the moisture-laden great outdoors. Earlier in the week Hyde Heath experienced much heavy rain, but up at the Common the square was now playable, and we welcomed our traditional season-opening opponents, Chartridge C.C.

They must have liked the look of the wicket for they had no hesitation in opting to take first use of it when they won the toss. Appearances can be deceiving, however, for they lost a wicket in each of the first two overs ( both "bowled"). It was going to be a long uphill struggle from nought for two, but Mustafa (13) and Mike Adams (13) set about righting the ship by adding 27 in the next seven overs. Thereafter Gilfillan (17 not out) was the main contributor as Chartridge subsided to 54 all out in exactly 20 overs. The chief inflictors of damage were Alistair Richards with 3 wickets for 25 runs from 8 overs and Jeremy Stevens with 4 for 13 in 9.
The ground fielding had been fairly slick and six catches, some very sharp, were taken. The tea interval was still a long way off, but Henry Capper and Matt Sims negotiated the 15-over gap by reaching 23 for 0 wicket.
Tea, with sandwiches of a particular piquancy and "light as air" sponge cakes, was, as usual, a delightful interval. I note with approval the introduction of a tea bowl ... just the right touch for a thirsty scorer! Mr.Webbe-Master visited us with his trusty camera to take some "action" pics. Back to that action ... Henry (10) and Matt (12) enhanced the meaning of the phrase "watching paint dry" as they added 36 for the first wicket in 22.3 overs on a track which appeared to be progressively more difficult, but the arrival of Richard Cousins and Nick Burgham changed the mood, and the target was reached after 27.3 overs at 56 for 2 wickets. It wasn't pretty, but it was a win nevertheless - a good enough start to the season.
CHARTRIDGE 54 HYDE HEATH 56-2. Hyde Heath won by 8 wickets.
| | | | |
| --- | --- | --- | --- |
| | | | |
| Henry Capper | Matt Sims | Nick Burgham | Richard Cousins |
Next Sunday (May 11th.) at The Lee 2.00 p.m. start.
Robin Richards