Sept 20th - Ivinghoe & Pitstone - Home
Last match of the season (Sunday, 20th.September) and we welcome to the Common our final visitors for the year, Ivinghoe & Pitstone C.C. What is slightly unusual about this fixture is that we have already played them in 2009, on their ground (we normally play our opponents home and away in alternate seasons)…anyway, that was an enjoyable close-run thing…they beat us by eight runs and Nick Burgham finished eight runs short of his maiden Hyde Heath century. Ivinghoe and Pitstone is an unusual club, in that it appears to be managed and staffed by the members of four village families…in their batting order today were three players named Badrick,
three named Culley, two named Groom and two named Nice. There was also one called Green, but it was assumed (by me) that he was a Groom, disguised as a typing error.
So, on a pleasant afternoon China Charlie won the toss and asked the visitors to bat first; two of his squad were late (one appeared after an hour, muttering about over-running engineering works on the railway), but Johnny Capper, in his shorts again, stepped out of the Plough to field at first slip. Ivinghoe were progressing quite well at 62 for 1 wicket after 14 overs, with A Groom making a jug-dodging 49 (ten fours) but then disaster, in the form of James Shrimpton, struck as he took four wickets for just two runs from his first eighteen deliveries. Andrew Viney, bowling quite rapidly from the Plough end, hit the stumps three times, and, before they knew it, the visitors were 92 for 8. Recovery came in the person of Robert Culley, who hit nine fours in his entertaining innings of 58 not out. With his batting partners, no.10 Badrick and no.11 Badrick, he managed to double the score by teatime to 184 for 9 from 40 overs. The home bowling and fielding had by this time lost a little of its discipline, witness no 11 Badrick's score including two fives. For Hyde Heath James took 4 wickets for 25 and Andrew three for 39.
Tea, and some splendid sponge sandwich cakes to finish the season…thank you, ladies.
The Hyde Heath reply rattled along at almost six runs per over as Dominic Haddock (53 – nine fours and one six) appeared in a great hurry…he must have had a hot date in prospect. His opening partnership with Henry yielded 90 runs, and James continued the good work with a classy 35 (seven fours) in a partnership of 88. Just ten runs were now needed with six overs remaining and Henry saw us home with an excellent knock of 81 not out (thirteen fours) and with 3.2 overs remaining.
Result: IVINGHOE & PITSTONE 184-9 dec. HYDE HEATH 188-2 Hyde Heath won by 8 wickets.
Thanks, as ever, to Mike M'duck, for producing a wicket which gave us more than 370 runs on a mid-September afternoon. Thanks also to John Capper for donning the umpire's coat after his stint as a sub.fielder.
Next Saturday: Sept.26th Work party, followed by lunchtime barbecue.
Sept 13th - Abbotts Langley - Home
Yesterday, Sat.,12th.Sept., was pleasantly warm as the Home Secretary and I celebrated our (47th.) wedding anniversary. Today (Sunday) the temperature has dropped considerably and your scorer has been obliged to seek out his thermal vest and any other item of clothing which will keep him warm. Today's visitors to the Common are Abbots Langley who lose the toss and are asked by Henry to bat first. Either they have not read the script properly, or Mike M'duck has prepared a belter of a track, because their second-wicket pair of Smith and Lewins added 136 untroubled runs before the latter was removed by a smart Henry stumping for 53 (six fours). Smith continued his chanceless innings, in fact he reached 134 not out at tea…he struck eighteen fours off 128 balls in 150 minutes, and I need to visit our archives to see if a larger score has been made by a home, or visiting player. Smith was helped in the latter stages of his knock by a timely contribution from young Mehta, who made 23 not out (four fours) and together they added 60 unbroken for the fifth wicket. The bowling figures don't bear repeating, but there was one piece of brilliance in the field when Jeremy Stevens' throw from point beat skipper Foster. Thus the visitors were able to declare at 229 for 4 wickets after 43 overs.
Tea…with chocolate cornflake cakes…ah, that takes you back…thank you, ladies.
The Hyde Heath reply rattled along at six an over with Henry making exactly 50 (eight fours), Dominic 37 (seven fours) and Nick 32 (three fours and one six), but there was little else to follow, and from 135 for 2 the total subsided to 183 for 9, due mainly to the left-arm deliveries of captain Foster, who finished with 5 wickets-all bowled-for 46 runs.
At the start of the last over we had one wicket left and needed 36 runs…still do-able, then…but our last pair of Jeremy (21 not out) and Luke Brennan held out comfortably.
Result: ABBOTTS LANGLEY 229-4 dec. (43 overs)
HYDE HEATH 198-9 (39 overs) Match Drawn
To the Plough, to renew auld acquaintance with Jack Daniels…or Johnnie Walker…
Next Sunday ( last match of the season ) v. IVINGHOE & PITSTONE 1.00 pm.start
at the Common
The scheduled match v. Woodley has been cancelled.
Top of Page Match Reports listing Home
Sept 6th - Cublington - Home
September…never mind about mists and mellow fruitfulness…a one o' clock start means disruption to the well-oiled wheels of the domestic catering routine…tut…but here we are, welcoming this week's visitors to the Common, Cublington C.C. They win the toss and insert us, which action does not accord with Plan A, so Henry has to try and remember Plan B, which is "pile on the runs before tea, then let slip the dogs of war, otherwise known as our bowling attack" In the event the runs came at the steady average of five an over, thanks mainly to Henry himself (31 - five fours) and Simon Napier-Munn (28 – also five fours). There is no stopping Nick ("Biff") Burgham now that he has appeared to master the notion of a regular half-century…his 55 contained nine fours and two sixes…I thought he was looking good for the elusive three-figure innings, but not today, as it turned out. The best stand of the day was an unbroken, 83 for the seventh wicket between that chap who retired two years ago, Tim Barnsley, (42 not out – seven fours and one six) and Bradley Holt (26 not out – four fours). This partnership was much appreciated by all who witnessed it, and it took Hyde Heath to a teatime declaration of 225 for six wickets from 42 overs. For Cublington Harrhy was the most successful bowler with 2 for 35 from 9 overs.
Tea, with so many good things on my full plate…thank you, ladies.
After tea wickets fell steadily to the earnest endeavours of James Shrimpton (3 for 27 in 8 overs) and the flighty wiles of Atif Mirza (4 for 26 in 7 overs). After 28 overs Cublington found themselves at 121 for 8 wickets…105 runs short with two wickets left and eleven overs yet to be bowled. In the event they produced the ideal last pair in Orchard and China, who took no risks but saw the visitors to safety at 141 for 9 after 39 overs. For Cublington Goldberg top-scored with 61 and he shared a second-wicket partnership of 75 with Harrhy (20).
Result: HYDE HEATH 225-6 dec. (42 overs) CUBLINGTON 141-9 (39 overs)
Match drawn
Sorry for the delay in this report…computer possibly on the blink…
Sunday, 13th.September ABBOTS LANGLEY 229-4 dec. (43 overs)
HYDE HEATH 198-9 (39 overs)
H.Capper 50, D.Haddock 37, N.Burgham 32.
Match drawn
Next Sunday (20th.September) 1300 hrs at the Common v. Ivinghoe & Pitstone
Last match of the season
Top of Page Match Reports listing Home
Aug 30th- Bank of England Touring - Home
It was on a distinctly cool late summer's afternoon that Bank of England Touring were welcomed to the Common…no jibes about sub-prime mortgages or bankers' bonuses – we're here to play cricket. Henry Capper was skipper; he won the toss and followed standard procedure by putting them in to bat. The opening attack of James Aird and Luke Brennan restricted them to 42 for 3 wickets in the twelfth over…young Luke was bowling quite accurately and rapidly from an easy action…looking good. The fielding was of a far better quality than the previous week…two smart catches behind by Henry and one at slip by Anooj. There was one blooper in the field, just the one, which was in itself remarkable…Tom Jeffreys "fired" one down the legside, "wide" was signalled, the batsmen ran one and the ball was hurled in the general direction of the wicket-keeper, finishing up as four overthrows…net result against the bowler – six wides. The scorer was feeling distinctly chilly by this time, and it was felt that this could be cured by the application of hot tea. Unfortunately there was no milk until the duty tealadies arrived, but one very kind soul went across to the Plough and begged a part-jugful, so that the scorer could thaw out…thank you, Caroline. Meanwhile, out on the field, the visitors' innings was chugging along at less than four runs per over, and its chief contributor was Andrews, who finished on 63 not out (ten fours…didn't that used to be radiospeak on "Highway Patrol"?) Nobody else managed double figures, and so the visitors were all out for 141 after 38 overs. For Hyde Heath Bradley Holt captured 3 wickets for 25 in9 overs, Tom 3 for 49 in 11 and Luke 2 for 23 in 8.
Tea was as refreshing as ever, with a rather nice lemon sponge cake…thank you, ladies.
Mr. Webbe-Master, complete with monopod and black box, visited at this time. A selection of his work is attached to this report.
Hyde Heath set about their reply at a brisk rate, with an opening stand of 78 between Henry and James Shrimpton in a dozen overs. James notched 26 (four fours) and was replaced at the wicket by "Biff" Burgham who carried on where he had left off the previous week with 35 not out (seven fours), sharing a stand of 65 with Henry, whose 74 not out contained fourteen fours and seeing Hyde Heath to the target in just 22 overs.
John Capper umpired wearing a "shortie" coat and sensational shorts, to the obvious delight of the attending female crowds…clearly he was giving his knees a pre-birthday airing…thank you, Johnny.
Result: BANK OF ENGLAND TOURING 141 HYDE HEATH 143-1.
Hyde Heath won by 9 wickets.
Nice to see Henry back in the runs…he last scored a half-century on tour at Harvel.
The scorer was feeling very cold by now, so over to the Plough for a warming Jack Daniels, followed by …another Jack Daniels.
Next Sunday, at the Common 1.00 p.m. start v.Cublington
Tom Jeffreys from the Pavilion end
Bradley Holt
Luke Brennan takes a great catch
Bradley Holt takes a wicket
12th man comes on !
Top of Page Match Reports listing Home
Aug 23rd - Ivinghoe & Pitstone - Away
Sunday, 23rd.August…for the first time we are scheduled to play at Ivinghoe & Pitstone.
It is a very sunny afternoon and would have been unbearably hot, were it not for the capricious zephyr of a breeze threatening to waft spectacles and sundry writing instruments from the scoretable. China Charlie was at a disadvantage, knowing that his opening batsman / wicketkeeper had woken very, very late and was unlikely to join the squad until mid-afternoon…The home side won the toss and opted to bat first. It was to be a 40-overs match with a limitation of eight overs per bowler. Dominic Haddock strapped on the pads of office and young Rees from Pitstone subbed efficiently in the field for an hour and a half…many thanks to him.
You have doubtless heard the soccer maxim…"It's a game of two halves"…well, this was more like a game of four quarters, as each side lost half its wickets for a small-ish score, but then improved greatly in the latter part of its innings. Ivinghoe and Pitstone were 49 for 5 after 12 overs, but then the young left-hander, Groom, began to find his feet, and form, particularly in an eighth wicket stand of 80 with Culley (35-six fours). The visitors meanwhile had become more than a little ragged with several dropped catches and an increasing number of overthrows. These lapses allowed the home side to reach 174 for 9 wickets at the end of their 40 overs, of which Groom's contribution was 54 not out, his maiden half-century (seven fours and a five). The visiting bowlers toiled manfully, the most successful being Jeremy Stevens with three wickets for fifty runs from eight overs and Tom Jeffreys two for eighteen from his eight. Tea, and I thank Caroline Capper for fetching me a plate of goodies, thus saving me the trudge to the pavilion.
A fine example of "déjà vu" then occurred as Hyde Heath collapsed to 36 for 5 in the sixteenth over, but then Nick Burgham and Tom Jeffreys (36 – five fours) added 103 for the sixth wicket, having righted the ship. We now had six overs in which to score the 36 runs we needed to win and we had four wickets left…with Nick still going well, we should do it, but unfortunately he was unable to retain the strike, and opening bowler, Badrick, returned to supervise mopping-up operations, ensuring that Hyde Heath were dismissed for 166 in 38.2 overs. This was a disappointing ending for Nick, who finished only eight runs short of a maiden century…if only somebody had been able to stay at the wicket with him…his 92 not out contained nine fours and five sixes, occupied 107 minutes and was struck off 70 deliveries, an innings to gladden the heart !
Result: IVINGHOE & PITSTONE 174-9 HYDE HEATH 166
Ivinghoe won by 8 runs
Next Sunday (30th.August) v. Bank of England Touring 2.00 pm. at the Common..
Top of Page Match Reports listing Home
Aug 16th - Gamecocks - Home
Sunday, 16th.August brought a pleasantly sunny afternoon to the Common…shirtsleeve order weather…our visitors, the Gamecocks, lost the toss and were of course invited to bat first by China Charlie. They started fairly slowly, never getting above three an over as the bowling maintained its tight grip on proceedings. Number three batsman, Dodge, was dismissed by a splendid reflex catch at ankle height by Tom Jeffreys lurking at square leg. He surprised himself so much that he almost apologised to the batsman. However, luck has a way of evening itself out, and when his turn came to bowl he promptly shelled two relatively easy caught and bowled chances. In my book this is a cardinal sin, for if you can't snap up chances off your own bowling, how can you expect your team mates to do it for you ? The Gamecocks innings plodded along until , with teatime fast approaching and 38 overs having been bowled, their total stood at 115 for 4 wickets. To make any sort of contest either they needed quick runs or we needed quick wickets…the latter proved to be the case as Tom and Richard Austin grabbed the last six wickets, conceding just 15 runs to dismiss the visitors for 130. Mr. Webbe-Master, camera at the ready, was walking from the Plough to the pavilion and captured the fall of all some of these wickets on film. Tom took four for 39 in 15.1 overs, Richard two for 13 from 9 and Nick Burgham two for 18 from 7.
Tea was a very welcome interlude, the highlights being a strawberry cream sponge and the location of the president's special cup and saucer having been discovered.
The Hyde Heath reply was extremely brisk, especially while Dominic Haddock was at the wicket. He shared an opening stand of 81 with Henry Capper (32 - six fours) and his own 67 came from 40 deliveries and included seven fours and three sixes. Hyde Heath reached their target of 131 in 18.5 overs, and with 17.1 overs and seven wickets to spare.
Result: GAMECOCKS 130 HYDE HEATH 131-3. Hyde Heath won by 7 wkts.
Next Sunday: IVINGHOE & PITSTONE v. HYDE HEATH (2.00 start at Ivinghoe)
A wicket for Richard Austin
Dominic Haddock facing
Henry Capper
Dominic caught
James Shrimpton
Tim Barnsley
Simon Napier Munn
Top of Page Match Reports listing Home
Aug 9th - Longwick - Home
Despite the rain of the previous few days Mike Thompson had the ground looking shipshape by start time on Sunday afternoon, 9th.August., when we welcomed Longwick to the Common. China Charlie's back was again giving him problems, so Matt.Sims assumed the role of captain and did all the things expected of a stand-in skipper, namely win the toss and insert the opposition. This proved to be a good decision, for in the ninth
over the visitors had collapsed to twenty-eight for four. This brought to the wicket the burly left-hander, Jason Morton, who held the middle order and tail together with a fighting 59 not out from 87 deliveries faced (eight fours and two sixes). He received little support from his fellow batsmen – John Fuller (13) was the only other one to reach double figures – and so, in the fortieth over, Longwick were all out for 120. The home bowlers had been tidy, Jeremy Stevens taking two for twenty-two in ten overs, Nick Burgham two for twenty in five and James Shrimpton four for twenty-eight in ten. They had been supported by excellent throwing-in, ground-fielding and catching, including a trademark Nick nosedive and scoop close in on the offside. And so to tea…among the splendid items on offer was a favourite confection, apple cake, but the real star of the tea table was the grape and brie sandwiches, minus their crusts…sheer luxury…thank you, ladies.
Steady accumulation was the watchword for the Hyde Heath reply; they were halfway to the target in sixteen overs and home in 36.2, thanks to Dominic Haddock (18), James Shrimpton (23) and Richard Cousins (23 not out). There were some late fireworks from Richard Austin and Jeremy Stevens (14 apiece) to help reach a winning total with 4.4 overs to spare.
Result: LONGWICK 120 (39.4 overs) HYDE HEATH 121-8 (36.2 overs)
Hyde Heath won by 2 wickets.
Back to winning ways…next Sunday (16th.August) v. Gamecocks at the Common
Top of Page Match Reports listing Home
Aug 2nd - Bourne End - Away
Clearly suffering the after-effects of the Maidstone Marine Tour Hyde Heath struggled to a "losing" draw at Bourne End (the Hertfordshire one) on Sunday. The previous day's rain had made the pitch difficult and the outfield slow, but the home side proceeded at the very steady pace of slightly less than four an over. Their main strikers were Pateman (33) and Hill (34), both of whom, curiously, were run-out victims…unusual for Hyde Heath, especially as their fielding had generally been below par. However, the bowlers stuck to the task at hand and on the stroke of five o'clock after 41 overs had dismissed Bourne End for 158. James Aird took 3 wickets for 27 runs from ten overs, and he got good support from James Shrimpton (2 for 18 from nine) and Tim Barnsley (2 for 25 from three). This season we had chased bigger targets than 158 and reached them with overs to spare, so the task did not seem too daunting. However, there was a much different prospect with the total at 25 for 6 after 17 overs, and, with another twenty-two overs to be bowled, would our brave lads be able to stave off defeat ? James Aird lightened the gloom with a pleasing cameo of an innings…24 runs (two fours, one six from 67 deliveries) and he was eventually joined by Charlie "they shall not pass" Samuels. Together they batted out the remaining overs to ensure a draw at the meagre total of 61 for 9 wickets (after 39 overs). Let's hope that the post- Tour "hangover" has now passed.through the system. For Bourne End Richard Scillitoe grabbed three wickets for 12 runs in twelve overs, Sattar two for twelve in eight and Hill two for twenty-one in eight.
Result: BOURNE END 158 HYDE HEATH 61-9 Match Drawn
Top of Page Match Reports listing Home
July 29th - 31st - Maidstone Marine Tour

Wed. 29/07/09 HYDE HEATH 223-8 dec. ( Henry Capper 51, James Shrimpton 64, Will Reynolds 55 not out)
MEOPHAM 103. (Richard Austin 5-19, James Shrimpton 3-37) Hyde Heath won by 120 runs.

Thu. 30/07/09 HYDE HEATH 207-8 dec. ( Henry Capper 59, Tom Jeffreys 41, James Aird 40 not out)
HARVEL 208-4. Harvel won by 6 wickets.

Fri. 31/07/09 HYDE HEATH 235. (James Shrimpton 74, Sohail Rauf 53, Richard Austin 36 not out)
PETTS WOOD 132. (Tom Jeffreys 4-46, James Aird 3-33) Hyde Heath won by 103 runs.
July 26th - Turville Park - Away

TURVILLE PARK 95 (Jeremy Stevens 5-35, James Shrimpton 2-37)
HYDE HEATH 96-8 (James Shrimpton 25, Tim Barnsley 24)
Hyde Heath won by 2 wickets.
Top of Page Match Reports listing Home
July 19th - Harrow Ramblers - Home
........ Rain !
Top of Page Match Reports listing Home
July 12th - Chesham Bois - Home

Sunday, 12th.July. Thanks to Mike Thompson's timely covering and preparation of the square after the downpour of yesterday evening, and later, we were ready to start the match against Chesham Bois on time…well, almost. At seventeen minutes past the hour of the scheduled start China Charlie, having won the toss, was obliged to take the field with just eight men. Two of them had been delayed due to an innocent misunderstanding as to the application and use of a TfL oyster card, and the third for an entirely innocent misunderstanding of the duties of a timelord…
Visiting skipper Paul Withams opened the innings and ultimately was ninth out for 89. There was an ugly rumour that he was going to be charged with "jug-dodging" – I thought that he deserved a century, having contributed more than 67% of his side's runs from the bat, but he was beaten by Simon Napier-Munn, who was enjoying his first competitive bowl of the season. During his innings Paul suffered a minor muscular mishap and was persuaded to call for a runner. A batsman's runner on the field usually signals that we are about to enjoy all the fun of the fair, but it all got a bit too much for the Chesham Bois skipper to cope with, and so, he dispensed with the runner, sending him back to the pavilion. The visitors were eventually all out on the stroke of tea o'clock for 153 from 39.4 overs, for which Paul was at the wicket for 149 minutes and received 126 balls. He struck fourteen fours in his knock of 89 and only two other batsmen reached double figures – just. For the home side two non-regular bowlers grabbed the most wickets…Simon three for twenty-three from seven overs and James Shrimpton three for thirty from six. There was also a good opening spell of two for sixteen from seven by James Aird.
And so to tea, with excellent, healthy "five-a-day"sandwiches and mouth-watering cakes.
Thank you, ladies.
Henry Capper (41 – seven fours) and Richard Cousins (33 – five fours) gave the Hyde Heath reply a good start with an opening stand of 66, made in 14 overs, and this was followed by a carefully-crafted knock of 46 not out (four fours) from Shrimpy, who guided the home side to the target with 4.2 overs to spare. Andy Hinks, the veteran Chesham Bois bowler, recently publicised in the Bucks Examiner for taking one thousand career wickets, failed to add to his tally today, in fact the most successful Bois bowler was a very young Peter Withams (chip off the old block) with two wickets for thirty-five runs from 6.4 overs.
Result: CHESHAM BOIS 153 HYDE HEATH 154-4 Hyde Heath won by 6 wickets.
Next Match: Sunday, 19th.July at the Common 2.00 p.m. start v. Harrow Ramblers
(Matt. has been delving again into the mysteries of the C.C.C. Emergency Fixtures Bureau)
Top of Page Match Reports listing Home
July 5th - Ballinger Waggoners - Home
The forecasters have promised that the heatwave is at an end, but so far today it doesn't feel like it, as we welcome to the Common another local side, Ballinger Waggoners. China Charlie has not won the toss, so, for the second successive Sunday, the Hyde Heath team finds itself in the unaccustomed position of taking first knock.
They were soon ticking along at about four an over, but they lost wickets at regular intervals, and the only partnership of any substance was 51 for the fourth wicket between Anooj Majithia (15 – two fours) and James Shrimpton (74 – sixteen fours). While James was at the wicket 106 runs were scored, so his share was seventy percent. The next best partnership was for the eighth wicket between Bradley Holt (13 – two fours) and James Aird (34 – seven fours). Their enterprising stand of 42 enabled Charlie to declare with confidence at 213 for 9 wickets, from 44 overs. For Ballinger Hankinson took three wickets for 50 runs in eleven overs, Siddle three for 34 from 11 and Humphries two for 41 from 9.
Tea was of the regular high quality, with some succulent fruity sponge cakes…thank you, ladies. Mr.Webbe-Master arrived with his "action-snaps" paraphernalia and the visitors began their innings with a stand of 93, between Humphries (53 – eight fours) and Smith (47 – nine fours). The latter was a real delight to watch…He is 14 years old, looks younger and batted with a maturity beyond his years. At 131 for 2 wickets Ballinger
looked fairly well set, but then a third bowling change was made, James Aird coming on at the Plough end. He soon made his presence felt, making steady inroads into the visitors' batting until they were down to their last pair, with 43 runs still needed and fourteen balls remaining. They batted out time for a draw; James' final figures were very creditable…8 overs, 2 maidens, sixteen runs, six wickets
Result: HYDE HEATH 213-9 dec.(44 overs) BALLINGER WAGGONERS 171-9 (40 overs) match drawn
Next Sunday: v. Chesham Bois at the Common 2.00 p.m. start

Top of Page Match Reports listing Home
June 28th - Southwell Ramblers - Home
It had to happen sooner or later…the unbeaten record for 2009 was a certainty to go at some point of the season…pity it wasn't the week before against the President's XI…The day had begun so pleasantly chez Haddock with lunch and copious amounts of Pimms…the temptation was to remain under the shady tree, which Tim Barnsley declared to be a hornbeam - I'm no dendrologist, so I believed him…and let the score book take care of itself. To the Common, where captain for the day, Tom Jeffreys, lost the toss, and his sense of purpose, as the visitors, Southwell Ramblers, asked Hyde Heath to bat first; and soon had them in trouble at 42 for seven wickets, thanks mainly to the ageless left-arm bowler, David Fitt, and his young accomplice, Jack Kilgannon. At this stage the only way was up, and a recovery was launched by four of the last five batsmen – Ben Sonley (18 not out), Tom (26), Jeremy Stevens (18) and Will Cousins (12) managed to advance the score to 126 all out, a total which had seemed beyond our hopes an hour or so previously. For the visitors David Fitt took 3 wickets for 14 runs in 9 overs, Calum Oliver 3 for 31 in 7.3 and Jack Kilgannon 2 for 1 in 2.
Tea presented an opportunity for respite from the feverish onfield activities, and a splendid selection of sandwich sponge cakes…thank you , ladies. We then had a visit from Mr.Webbe-Master and his all-seeing magic eye. He and Mrs.W-M. had just been to a ruby (wedding anniversary celebration, not a curry !).
The Ramblers' reply began inauspiciously…they lost a wicket in the first over, and then Richard Austin had a splendid spell of ten overs from the Plough end in which he took four wickets for 15 runs to reduce the visitors to 45 for 5. But that was all the meaningful success Hyde Heath could gain. Tom used his bowlers in short bursts and had them changing ends, but, apart from one dropped dolly caught and bowled incident, they looked unlikely to take another wicket as Jamie Fitt (35 not out) and Calum Oliver (31) guided the visitors to their target with eight overs to spare. Jeremy Stevens was the only other successful home bowler with with 2 for 24 from seven overs.
Result: HYDE HEATH 126 SOUTHWELL RAMBLERS 129-6 Southwell Ramblers won by 4 wickets.
Charlie was away for the foregoing disaster, not in China, but South Africa to watch the Lions. He'll be wanting the team to smarten itself up for next Sunday's visit of Ballinger Waggoners…2.00 p.m.start at the Common.
Top of Page Match Reports listing Home
June 21st - Six a side tournament - Home
.... cancelled ..
June 20th - Presidents XI - Home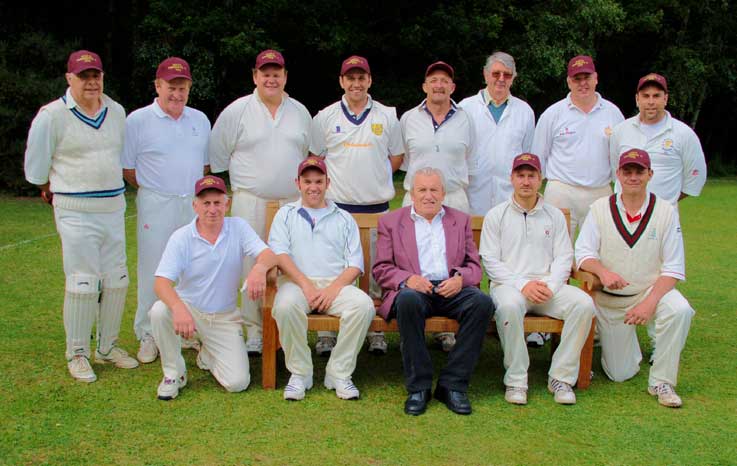 President's XI
back row: Roger Cook, Trevor Crowe, Alastair Turner, Tim Nutman, John Proctor,
Chris.Cook (umpire), Matthew Cook, Steve Rubery.
front row: Les Hemmings, Alistair Richards, the President, Oliver Haddock, Hugh Connor.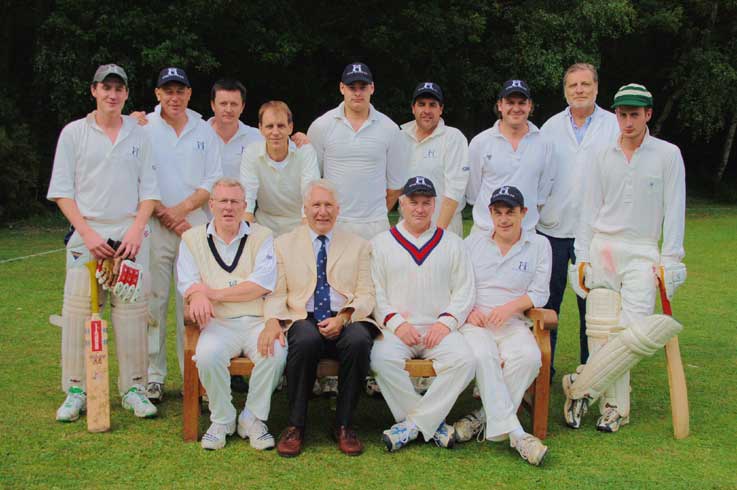 Hyde Heath C.C.
back row: Henry Capper, Simon Napier-Munn, Richard Austin, Matthew Sims, Will Reynolds,
Nick Burgham, Ben Sonley, Chris.Simpson (umpire), Tom Jeffreys.
front row: Tim Barnsley, the Chairman, Charles Samuels, Jeremy Stevens.
Saturday, 20th.June, 2009. Check weather forecast, for no Hyde Heath President's Day can be deemed complete without at least one rainshower… load scorer's paraphernalia and raffle prizes into car and set off for the Common, where the green of the well-tended pitch and outfield contrasts beautifully with the majestic white of the marquee and the new "day/night" stumps. Set up the scorer's position, making room for the match commentator, Mr.Webbe-Master, and set up bar tabs for my team, who have the collective ability to drink my wallet dry. Welcome players and guests, reminisce about old times and cricket in general, prior to the usual splendid lunch. (I felt a trifle sorry for Alastair Turner, who, having been stuck on the M40 for something like three hours, joined us at one minute to two, was told to get changed because he was no.3 in the batting order and therefore forfeited any possibility of a late lunch.)…it's tough at the top…
As is the custom, the President's eleven bats first and soon loses a wicket…Trevor Crowe, of Wrington C.C., becomes the first of five l.b.w. victims…still, not as bad as last year when six of my men were "fingered". Apart from John Proctor (Bourne End) who made a painstaking 38 (seven fours) and Ollie Haddock 25 (three fours), who departed to a spectacular catch by Nick "salmon" Burgham, there was not much to commend the rest of the President's XI batting as, after 31.3 overs, they subsided to 111 all out. (was that a mirage in the distance of a first-class umpire from North Devon hopping backwards on one leg?) For Hyde Heath Richard Austin bowled well to finish with 4 wickets for 25 runs from 7.3 overs and Jeremy Stevens 3 for 27 from 12.
Tea was excellent and was immediately followed by an outbreak of team photographs (see above).
The pitch seemed to have lost some of its bite after the earlier showers, but a less than 100% fit Alistair Richards was difficult to get away and he soon took a smart caught and bowled to dismiss Henry Capper for 13. Tom Jefferys proved an immovable object, sharing stands of 25 with Matt Sims and 58 with Simon Napier-Munn (27 - three fours). His innings was the backbone of the Hyde Heath total; he made 42 not out (six fours and one five-to Alistair's chagrin) from 108 balls and shepherded Hyde Heath to 113 for 3 wickets in 34 overs.
Result: PRESIDENT'S XI 111 HYDE HEATH 113 – 3 Hyde Heath won by 7 wickets.
As president I feel it my duty to thank some people…firstly my team for turning out and being so cheerful about the proceedings…secondly the Club management for providing the stage for the day…thirdly Dave Sanders for his excellent work at the barbecue pit…then Chris. Sargeant for providing the public address and the match commentary (with a little help from me) and lastly, but not leastly, to the Hyde Heath ladies for the continuing super quality of their catering, and to Gill for waiting on me hand and foot…thank you all; you and several glasses of Pimms helped to make it a most enjoyable day. I knew I'd forget somebody…thanks also to Chris.Cook, Chris.Simpson and John Capper for umpiring the match.
Next Sunday 28th.June v. Southwell Ramblers 2.30 at the Common.
also ... read Tom Jeffreys individual view from the pitch - here
and ... the way it looked from the pavilion ...
Top of Page Match Reports listing Home
June 14th - Lt Missenden Misfits - Home
Another sunny and warm Sunday…most agreeable…and we welcomed to the Common our neighbours from the other part of the parish, Little Missenden Misfits. Just-back-from-China Charlie won the toss and, as usual, asked the opposition to bat first. They lost wickets at regular intervals and in little more than an hour half the side was out for 57. Skipper Hugh Connor was well-entrenched . He led by example with a well-crafted 52 (six fours) and his most notable support came from young Owen (24, four fours). With dropped catches and misfields Hyde Heath helped their visitors to the fairly respectable teatime total of 134 all out in 40.3 overs. Jeremy Stevens took five wickets for 33 runs from 11.3 overs and Bradley Holt three for 38 from 9. Nick Burgham bowled a tight but ultimately unrewarding spell of 7 overs, 3 maidens, 11 runs, 0 wickets. Tea included a particularly sticky chocolate cake…thank you, ladies…and, unusually, no sign of Mr.and Mrs.Webbe-Master.
Hyde Heath's reply was formed around a stand of 55 for the third wicket between James Shrimpton (43, nine fours) and Will Reynolds (53 not out, eight fours), but, with the dismissal of James, the pace slowed to that of an arthritic tortoise…would the available overs run out ? Fortunately not, but the next five men added just twelve runs from the bat, so it was a pretty close thing…in the event Hyde Heath got home with four overs and five balls to spare at 138 for 8 wickets. It had been an interesting game with both sides involved in a mid-innings onfield change of wicket keeper and Will scoring his second half-century for the Club.
Result: Little Missenden Misfits 134 (40.3 overs) Hyde Heath 138-8 (32.1 overs) HYDE HEATH won by 2 wickets
Next weekend's fixtures: ( all at the Common )
Friday 7.30 p.m. BEER FESTIVAL
Saturday 2.00 p.m. v. PRESIDENT'S XI
Sunday 10.00 a.m. SIX-A-SIDE TOURNAMENT
Top of Page Match Reports listing Home
June 7th - Full Tossers - Home
They started - but they didn't finish ! Match abandoned due to heavy rain.

Tom Jeffries writes.....
Another captaincy opportunity for yours truly, and another afternoon of deft decision-making and inspirational leadership. I won the toss and elected to field, despite only having a team of nine. How hard is a 2 o'clock start, people?

Apart from the absence of Atif (where has he been this season?) this was probably a full-strength Hyde Heath line-up, with enough skill, power and chutzpah to make any opponent quake. With a six-man bowling attack I always had plenty of options – something that came in handy as Kiwi Nick insisted on pitching consistently short and getting flogged through mid-wicket. He did manage to remove their opener though (sharply caught by Haddock off another long-hop) and produced some probing deliveries thereafter.

With Jez picking up wickets quite regularly at the other end, I turned to the gentle seam-up of HHCC newbie Ben Sonley. He proceeded to bowl ten accurate and incisive overs to pick up the excellent figures of 3 for 25. A hostile spell from Luke Brennan brought two wickets and I cleverly brought myself on to finish the innings off in style – or more accurately, three full tosses on the trot.

So we only had to chase 131 for my third victory out of three. But with the pitch playing a little unusually courtesy of some mid-afternoon rain and the light beginning to fade, it was no foregone conclusion. Their opening bowlers insisted on a short-pitched strategy and Capper and Haddock did well to grind their way to 37 without loss. At that point, with the Heath in a position of calm authority, the heavens opened.

With thunder and lightning encircling the ground the match was sadly abandoned and hands were shaken. Then we all crammed into The Plough to watch England beat a lacklustre Pakistan to ensure their progression to the next round of the 20/20 World Cup.
Tom Jeffries
Top of Page Match Reports listing Home
May 31st - Ley Hill - Home
Sunday, 31st.May and the meteorological promise of another scorcher, just like last week.
Arrive at the ground in shirtsleeve order and witness some sneaky clouds arriving to cover the sun…heigh ho. Today's visitors to the Common are Ley Hill who are doing well in their league…this could be a tough game. They win the toss and choose to bat first. Opening bowlers Jeremy Stevens and Luke Brennan (nice to see him back again) appear unhappy, so after just one over apiece they change ends. This doesn't seem to make much difference as the Ley Hill opening pair go efficiently about their business, scoring at almost five runs an over against occasionally wayward bowling which yielded
28 runs in wides…almost five free overs !! Charlie must have been wondering where his next / first wicket was coming from…in the event it was Luke, in his second spell, who bowled Strickland for 63 (eight fours, one six). He and his partner, Lown, had added 139 for the first wicket in 31 overs, and thus the scene was set for more leather chasing by the fielders. Lown was next to go, for 48 (seven fours), and the only other major contribution, as if one were needed, was by R.Thompson, who crisply struck 31 (five fours and one six), enabling the visitors to declare at tea with their score at 212 for 5 wickets after 39 overs. The Hyde Heath bowling figures don't bear close scrutiny, but Jeremy finished with 2 wickets for 32 runs from eleven overs and Luke 2 for 34 from seven.
Tea…no sign of Mr.Webbe-Master, but I have enough on my plate with the great mound of sustenance provided…thank you, ladies.
Hyde Heath's reply began inauspiciously, with Henry Capper dismissed for a rare duck and three other batsmen falling to the young quick bowler, Helm, who having sent down six rapid overs and taken four wickets for 15 runs, was due to his age, obliged to take a break. At this point the home score was 44 for 4 from eleven overs, which is not particularly helpful when chasing a target of 213, but has the pleasing aspect of mathematical symmetry. At the non-striker's end Simon Napier-Munn had been patiently waiting, and he added 63 with Tim Barnsley (44 – eight fours) and 61 with Luke Brennan (23 – four fours) for the fifth and sixth wickets. When he was dismissed for 68 (twelve fours) Hyde Heath needed another 45 runs, but had just four overs in which to get them…
a tall order, which they were unable to fulfil. And so the match ended as a draw with Hyde Heath on 192 for 7 wickets from 36 overs. Quality memories of the game…Henry Capper's athletic running catch on the long-on boundary, young Sam Helm's excellent bowling stint of 8 overs,1 maiden, 20 runs, 5 wickets and Simon Napier-Munn's purposeful cover-driving, to the verbal encouragement of his family…"run, Daddy, run"
Result: LEY HILL 212-5 dec. (39 overs) HYDE HEATH 192-7 (36 overs) - Match drawn
Next Sunday ( 7th.June ) v. Full Tossers 2.00 at the Common
May 24th - Not Nomadic Medics - but "K C" - Home
For the past two seasons the game against Nomadic Medics has been rained off, and this year it didn't take place either, because they cried off…but our hon fixtures sec, Matt.Sims, bravely plunged in to the Club Cricket Conference emergency fixtures bureau and came up with a club called "K.C." who denied any connection with the Sunshine Band or fried chicken, but admitted to coming from "near Heathrow". Charlie won the toss and asked the visitors to bat first. Opening bat, Farhad, initiated the assault, and the early stands were fairly productive. But then Tom Jefferys, sporting a new severe military hairstyle, began to make inroads into their line-up. Farhad was fourth out for 71 ( eleven fours ) and, apart from Jerry (16) there was not a lot of resistance in the tail as Tom weaved his spinning magic to finish with seven wickets for 55 runs from thirteen overs. The visitors found themselves dismissed for 171 from forty-one overs and one ball, that one ball producing Jeremy Stevens' only wicket as he demolished Iqbal's off stump.
Tea – highlight, a delicious fruit and cream sponge – thank you, ladies – followed by a belated visit from Mr.and Mrs.Webbe-Master, who had been out with their grandsons at the Tring Canal Boat Festival. Mr.W-M was not too late, however, to get some action snaps of the Hyde Heath innings as Henry Capper and Dominic Haddock, the ideal right-hand, left-hand combination, began a solid reply. They both were looking invincible today, and there was great surprise when Imran bowled Henry. Still, he had hit a dozen fours and one six in his 69, and shared in an opening stand of 127 with Dominic, who was then joined by James Shrimpton, and the attack continued. The target was reached in 27.4 overs, with 9.2 overs to spare, for the loss of no further wickets, as the home side cruised to 172 for one wicket. Dominic made 70 not out ( eleven fours ) and James 24 not out ( three fours and one six )
Result: K.C. 171 HYDE HEATH 172-1. Hyde Heath won by 9 wickets
Three wins out of three so far, so good, but we had better be prepared for next Sunday's opponents, Ley Hill, who are currently riding high in their league, according to the Bucks. Examiner.
Sunday, 31st May 2009 v. LEY HILL at the Common 2.00 p.m. start.
Top of Page Match Reports listing Home
May 17th - Gt Missenden Pelicans - Away
Cancelled in the morning due to heavy rain -

Top of Page Match Reports listing Home
May 10th - The Lee - Home
Sunday, 10th.May…sunny intervals, but mostly overcast...today's visitors to the Common are from another very local village, The Lee. They bat first and make a steady start with their openers, Hall (30) and Boakes (31), whose partnership puts on 55 for the first wicket. Home skipper for the day, Tom Jefferys…Charlie has a very important date in Manchester…wonders whom he should introduce to the attack, which is looking a bit threadbare today. He selects that old warhorse who retired two seasons ago, Tim Barnsley, and there is instant success as Tiger Tim grabs a wicket in each of his first two overs. 69 for 3…that's better.
Channer (28) and Elliott (56) then added 73 for the fourth wicket, during which time the home fielding looked distinctly ordinary. But the bowlers stuck to their allotted tasks to keep the visitors' score at a manageable level. There was some late resistance from Morgan (27 not out) and Cook (18). The teatime declaration came after 41 overs as The Lee arrived at 207 for eight wickets. Jeremy Stevens took 2 wickets for 56 from 14 overs, Tim 2 for 43 from 6 and Tom allowed himself the luxury of 12 overs from which he took 2 for 50.
The impact of the crowds and the vintage vehicles the previous day (Village Fete day) on our outfield had made it lightning fast, so we looked forward to our innings…but first tea, of which the highlight was cream scones and chocolate cake…thank you, ladies.
We were pleased to see Mr.Webbe-Master, complete with camera and monopod, but no Mrs.Webbe-Master…he took some good action pix last Sunday…just the job to enliven the stodgiest of reports.
Hyde Heath 's reply began steadily enough; they were 56 for the loss of Richard Cousins (20) after ten overs, and then Henry Capper and new man, Anooj Majithia (18) added 73 for the second wicket. Henry was third out for a well-crafted 62 (twelve fours) and at that point 88 runs were still required with sixteen overs remaining.Will Reynolds (13) and Tom (25) gave it their best shot and there was later urgency from Jeremy (23 not out) as he and his batting partner scampered additional runs, mostly for wides and byes.
The target was reached after 33.1 overs with seventeen balls to spare, and it is interesting to note that the second highest scorer in the innings was extras with 44.
Most successful bowler for the visitors was Channer who took 3 wickets for 13 runs, all catches off full tosses…
Again, this week the hon.scorer staggered from his chair, suffering from hypothermia.
Result: THE LEE 207 – 8 dec. HYDE HEATH 208 – 7 Hyde Heath won by three wickets
Next Sunday (May 17th.) v. Great Missenden Pelicans (away 2.00 start)
Top of Page Match Reports listing Home
May 3rd - Chartridge - Home
You could tell that it was the start of the cricket season…the recent warm and sunny spring weather had given way to cooler overcast conditions as we welcomed local rivals, Chartridge C.C. China Charlie won the toss and invited the visitors to bat. They started slowly and lost their first wicket with just five runs on the board, but then the next nine overs yielded 77 runs as Adams (34) and Rauf (44) cut loose. It was not to last, however. Jeremy Stevens got his direction-finder working, nipping out the next three batsmen, and, not to be left out, Atif Mirza began to get his mesmeric deliveries spinning, removing the next four. Richard Austin finished it off, taking an athletic caught and bowled to remove an under-age no. eleven; this meant that the visitors lost their last nine wickets for 26 runs in 11 overs and were all out for 108 runs in 25 overs. Jeremy took 3 wickets for 39 runs, Atif 4 for 39 and Richard 2 for 2 !!
The taking of tea was delayed by 16 overs as Hyde Heath's reply eased along to 38 for one wicket; then we could appreciate the choc.cake and tea bread. I like my replacement tea bowl (thanks, Johnny).
As the temperature fell, so did the run rate. Most of the batsmen got a start, but failed to capitalise as Rauf (4 for 18) created havoc among the middle order. What was needed was a man of purpose, who eventually arrived in the shape of Will Reynolds; he clipped three fours in his knock of 23 not out and got us to the target at 109 for seven wickets, but it had taken 37 overs…over to the Plough to warm up.
RESULT: Chartridge 108 Hyde Heath 109 – 7. Hyde Heath won by 3 wickets.
Next Sunday (10th. May) v. The Lee at the Common 2.00 p.m. start. Let's hope that the weather, and the thousands likely to attend our village fete, are kind to the outfield
Top of Page Match Reports listing Home