September 14th - Ivinghoe & Pitstone - Home

And so, like that, Hyde Heath's 2014 season came to a close with a match almost completely sullied by some of the worst behaviour I have ever witnessed on a cricket field. You know that thing teachers always say – "It only takes the actions of a few to ruin it for everybody" – well, this was a case in point. We've played Ivinghoe & Pitstone for years, and they're a great side. They play the game like us: hard but fair, trying to win, but having a chat and a laugh at the same time. All, that is, except for a few. Unfortunately, one of those few was the opposition captain, and he behaved not like an adult, and certainly not like the captain of a respected club like I&P, but like a spoilt little infant who had lost his favourite rattle.

The irony is, as Charlie pointed out afterwards, that rather than take his rattle away, we had actually returned it to him. He took our largesse not with gratitude but with the kind of attitude that sees fixtures get dropped.

Anyway, enough rattle metaphors: to the tale itself...

It began, as so often, in farce, as by the scheduled starting time of 1pm Hyde Heath had barely half a team. By 1.15, we had nine, and got started. Soon, the oppo were in a pickle, with new boy Anees bowling beautifully (perfect line, decent pace, a bit of bounce and some movement either way). I made a very easy catch look very difficult (caught between my legs at mid-off) before, much to everyone's amusement, Jez pitched up and immediately snaffled a sharp chance at gulley off Anees. Only the ball before, Capper was querying Charlie's decision to persist with not only one gulley but two. Admittedly, it's the first catch I can recall there since the glory days of James Aird.

Soon they were 12 for 3. So far so good.

And then it happened.

Luke ran into bowl, delivered a knee-high full-toss, which their captain bunted back at him to be safely pouched. We all converged on the bowler to congratulate him. At that point, instead of walking back to the pavilion, the batsman (their captain) appealed against the umpire, crying in no uncertain terms that it ought to have been a no ball. The square leg umpire disagreed, but nonetheless, the fellow umpiring at the bowler's end decided, after concerted pressure from his captain, that it was indeed a no ball. In the most spineless display of umpiring you could wish to see, he held out his left arm. "No ball," he whispered meekly.

Understandable, we were pretty irritated, but Charlie told us that if that was the umpire's decision then we would get on with it. Rattle duly returned.

But that was not the end of it, not by a long shot.

For the rest of the innings, every single time that a fielder made any kind of noise, the batsman, John-boy (as he seems to be known) decided to walk away to square leg and lean on his bat until absolute silence had descended. Ben counted that he did this no less than 43 times over the course of his innings (he eventually made 70 or 80). Assuming each delay used up around 30 seconds, that is 21½ minutes of their innings wasted. As you can imagine it was monumentally tedious for the fielding side, not to mention hypocritical: somehow, "John-boy" was only ever put off by Hyde Heath players (and the occasional plane or distant child). The sporadic din of garbled drivel coming from the his own side seemed not to affect him in the slightest.


It was also counter-productive: we only ended up bowling 32 overs, and that was despite the fact that they didn't bring us any drinks at the half-way stage of their innings. Not that it really mattered: Uzi and I were both expensive (although I finally removed "John-boy" well stumped down the leg side by Capper) and Anees returned to finish things off with a six-wicket haul (including a beauty of a slower ball nicked to Dom at 1st slip). They were all out for 162.

And then the fun really started.

After an excellent tea, the Hyde Heath openers were ready for action. 10 minute early no less. Understandably, "John-boy" was not keen for us to have the extra batting time, but he even refused to allow us to move the clock forwards in order to get on with the game. Instead we all stood and waited for ten minutes, despite protestations from his own team.

Once things got under way, there was time for yet another moment of petulance from "John-boy". I accidentally hit a drive from the nets onto the field of play. "Sorry!" I shouted. He walked towards the ball, picked it up, and chucked it into the trees.

Unsurprisingly, our batsmen received a relentless barracking from this "John-boy" stationed at 1st slip, and several of his cronies, including the half-witted umpire who had caused the problem in the first place. (Amusingly, this chap fielded down at fine leg for a fair amount of their innings and we actually had a bit of a chat. Much to my surprise, Jez even brought him a glass of squash – thereby conclusively securing the moral high ground for the Heath. It was only when in proximity to his captain that he behaved like an oaf once more). Our umpires – Tim Barnsley, Richard Cousins, and Charlie – were also relentlessly heckled. So much so that Richard stepped in to tell their captain in no uncertain terms to keep his mouth shut and stop questioning our umpires. Cue some fantastic finger-waving antics, reminiscent of Shakoor Rana and Mike Gatting all those years ago.

What is funny about situations like this is watching fielding sides get their knickers in a twist. When I came out to bat, they appealed for everything – LBWS when I was halfway down the track and outside the line; caught, when even their own fielders (one of the sane ones) admitted I hadn't hit it – and then got increasingly outraged as none of these ludicrous appeals were given out. It's unfair, they cry! What I&P failed to realise is that Barnsley actually loves giving our players out...

That said, Richard's parting words at the drinks break were hardly likely to pacify matters. And then he got in his car and drove off, leaving us to deal with the aftermath. Thanks Richard!

Fortunately, by the time my batting was needed, we were nearly home. Dom and Henry had laid a solid platform against some high-class bowling and extremely tight fielding. Henry fell clipping to midwicket, but Dom and Shrimpie held firm amid the abuse and built a partnership to break the back of the opposition's total. Dom eventually fell for a well-composed 35, Uzi timed a few blows before getting himself out, and I came in to steal a bit of glory at the end.

All the while, Shrimpie was playing a blinder: impregnable in defence, decisive in attack – his cover drives both elegant and forceful. But it was the mental strength never to rise to the bait that marked this innings apart. Not once did he lose his cool and attempt to whack a few statement boundaries; he simply kept batting until the game was won – fairly comfortably in the end. It was probably the best innings, given the circumstances, that I can remember seeing at the Heath.

Afterwards, like adults, we shook hands with the opposition – all except one. The captain, "John-boy", had already fled to the pavilion. Then, just as they were leaving the pub, he had the cheek to criticise our tea – despite admitting to having not eaten any of it. So not exactly a trustworthy witness then.

The worst/best thing is that the majority of his team were happy to have a drink and a chat in the pub afterwards: they knew he'd behaved disgracefully, and many apologised to us on his behalf.

If a Hyde Heath player ever behaved like that they would never play for us again. I'll be interested to see how Ivinghoe and Pitstone proceed.


Tom Jeffreys


August 31st - Roxbourne - Home
I awoke on Monday morning with a cricket-ball-shaped bruise on my shoulder and an ear covered in blood: the former evidence of my failure to evade a fiercely struck Capper on-drive while standing at the non-striker's end; the latter the result of a collision with a tree of fearsome thorniness on the course of my night-lit stumble home from The Plough. But, oh!, such injuries were nowt compared to the terrible damage wrought upon my already battered bowling figures in the course of one final, fateful over. In need of the three wickets that would have secured a great victory, instead each delivery was crunched to the boundary with increasing inevitability. Was it 24 off the over? Or just the 20? I declined, understandably, to check.
Earlier, despite losing the toss, things had started well against a 10-man Roxbourne team. The oppo's tight bowling and excellent ground fielding allied to a pitch that, while flat, was also a little slow, meant that scoring was tricky – or at least we made it look so. We built a solid enough opening stand, however, until I got bowled for 35. Capper continued on for an important 79 that held the innings together, and as the opposition's fielding crumbled (hundreds of catches were dropped) a middle order of Jez, Luke and Nick gradually upped the run rate in the closing overs.
It was great, in particular, to see Nick back on the cricket field after a lengthy injury break and one huge six proved that class is indeed permanent. Even more impressive was an audacious upper-cut off their opening bowler which sailed away for a one-bounce four. On the back of Nick's hitting, we closed on a solid 200(ish) and repaired to the pavilion for tea, which, in what is surely a first for village cricket, included, yes, CANAPES. True story. Smoked salmon mini-blinis. Take that John Paul Getty.

Perhaps unused to such luxury, neither of our opening bowlers – Ben and Sohail – were quite on-song. With Luke and I also struggling for consistency, Charlie was unable ever really to force the game. Spencer bowled extremely well for three wickets (including a beauty first ball) and Sohail bowled an excellent second spell to pick up another three, but with the pitch starting to slumber and Roxbourne losing interest in the chase, the match began to peter out. Until that final over – from which I feel I shall never recover.
Tom Jeffreys

August 24th - Bank of England - Home
Back in 2004, Andrew Flintoff gave a piece of friendly advice to West Indian all-rounder Dwayne Bravo: "This game's got a funny way of biting you on the arse," he said, before continuing, worldly-wise: "I've seen it all mate. Let's see where you are in three years time."

The irony is that in three years time, Bravo had cemented his place in an (admittedly ropey) West Indies team, while Flintoff, the big man, had just led England to a disastrous 5-0 whitewash against Australia, and been fined for drunken pedalo -bothering. When the teams met next, Bravo performed creditably while Flintoff was nowhere to be seen.

If only Flintoff had realised at the time that his words could also be applied to himself. If only Hyde Heath had realised that too, as we made the most straightforward of run chases somehow into the most nail-biting of farces. Although Bank of England bowled tidily enough, it was over-confidence that nearly did for us. Charlie was so confident that he had showered and changed; I batted like a was still not out from the week before – attempting to drill my first ball back over the bowler's head, missing comfortably, and pottering back to the pavilion.

That, it turned out, was the second dismissal in a hat-trick as Liam got himself LBW first ball; Dom – who had earlier continued his fine recent form with another half-century, and alongside Shrimpie, scored the bulk of the side's runs in another excellent partnership – was the first of the trio. It meant that within just two runs of our target we lost no less than four wickets. It may have been embarrassing cricket but it made for entertaining viewing. I've never seen a changing room laughing so much as the wickets tumbled. There's something hilarious sometimes about inevitability.

Thankfully we weren't chasing many, and it was Charlie's earlier canniness that was to thank for that – especially as several of his batsmen, brimming with (over?)confidence were requesting we "give 'em a few" to make a game of it.

We found ourself in such a position thanks to probably the tightest hour of cricket I've seen from the Heath. The pitch – the same as last week – was a little slow and low but played very true, and we were never going to blast through them. But Sohail was as full and straight as ever, Ben hit that perfect, miserly length, Fiddy found his rhythm, and even my first two overs were pretty tight (obviously the next five were total rubbish). We also fielded brilliantly: Dom made a very difficult chance (coming down over his left shoulder as he ran backwards from mid-off) look easy, while I, ambling forwards from mid-on, made a very straight-forward catch look exceptionally tricky. "I've never seen a thirty year-old look more like a seventy year-old," said Shrimpie, encouragingly.

Perhaps all those teas are finally taking their toll. Devilled eggs, smoked salmon, chikken tikka wraps.... Mmmmm cricket.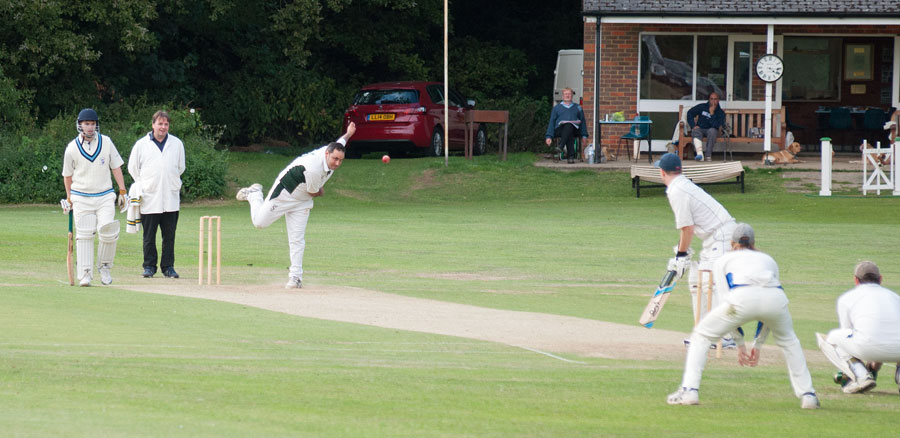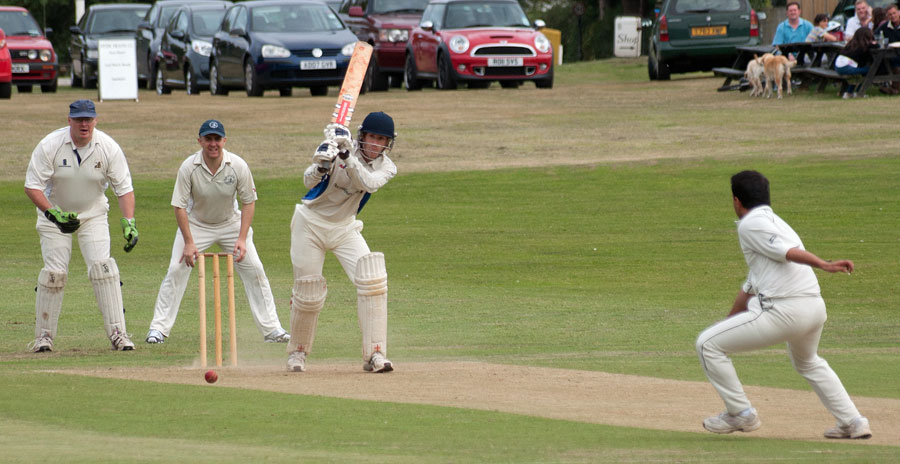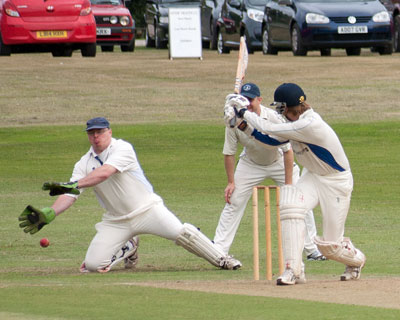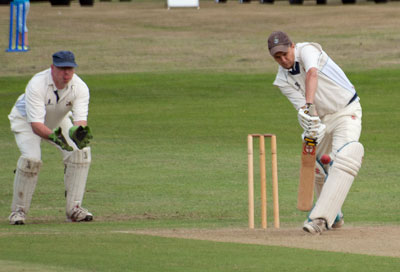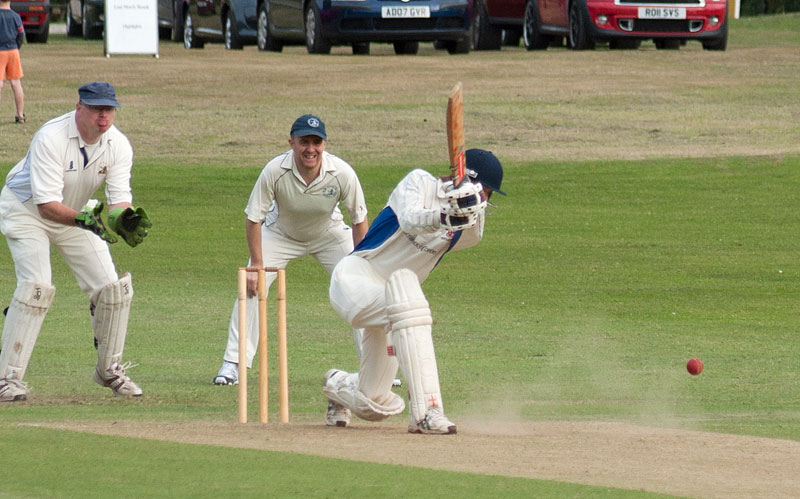 Tom Jeffreys
August 17th - Gamecox - Home
Ah it's good to be back! I have to confess that, as much as I enjoyed reading the match reports while gallivanting around South America, it was not without the odd pang of sadness: to be unable not only to play cricket each week but also to write half-baked rubbish about it afterwards. I'm afraid this season's residence in the realms of factually accurate reporting must take a brief soujourn back into vagues-ville, at least for this week.
One number, however, will be etched in my memory for some time: 71 (with a little star after it for good measure). Yes, I scored my career-best, a match-winning (no need for modesty here) unbeaten innings of 71 (71!) that, in partnership with Liam, saw us chase down what had at one point looked like an imposing target of 198 with several overs to spare. "Hell, yeah!" is, I think, the appropriate phrase.

In pursuit of such a total we needed a quick start. And we got one courtesy of an extremely impressive opening partnership of 90(ish) between Dom and Shrimpy. Shrimpy played some gorgeously timed drives, while Dom was typically severe on anything short and/or leg-side. I've forgotten how Shrimpy was out, but it precipitated the all-too familiar Hyde Heath collapse. Will Cousins came and went; Wade was given out LBW by Tim Barnsley (which led to a distinctly unedifying dressing room tantrum); and Dom was dismissed for 50(odd) after a firm lofted drive saw the bowler dive full stretch into the air to complete a stunning one-handed return catch.
I came to the wicket at number 6 just in time to see Fiddy and Jez depart for not much. All of a sudden we were 118 for 6. But I managed to hit a couple of boundaries and their captain responded by setting some truly atrocious fields: at one point, their (very) slow left-armer had only two on the off side. With the pitch a belter (thanks Mikey!) and the outfield quickening up in the summer sun, it felt almost impossible not to score runs. Meanwhile Liam never looked like getting out (apart from that one ball where he looked like getting out) and we cruised home surprisingly comfortably.
It was quite a turnaround from the first half of the game. Perhaps it is tea that should take the credit. Chicken tikka wraps were a clear highlight, and it was excellent work by Spencer to spot several going uneaten on the oppo's table. It showed the reactions of an athlete and great presence of mind to nip over there before anybody else had noticed and bring them back to the Hyde Heath table. If only we'd showed such commitment in the field…

After Sohail failed to turn up, we were left very light on bowling. Ben was tight early on, and returned at the death (in an excellent piece of captaincy from Charlie) to strike immediately, but he deserved more than his one wicket. Spence struggled with his run-up and was a little erratic, and it was left to me and Shrimpy to get through a sizeable chunk of the overs. I bowled ok-ish given the long lay-off and was happy to finish with 2 for 60 or so off 12. It would have been better had I not been hit for two massive sixes in my last over and dropped a fairly straightforward caught-and-bowled chance.

That drop was not the only one. As the batsmen began to accelerate, the fielders wilted and chances began to go down, including a couple of missed stumpings. I forget how many we dropped but it must have been somewhere in the region of four or five. What I don't forget is Charlie juggling, and then dropping, a nice loopy dolly at mid-off. Always hilarious. As I said, it's good to be back!
Hyde Heath begin the chase .....
Tom Jeffreys
August 3rd - Bourne End
- Home
A lovely Summer's day on the Heath, Charlie won the toss and put in Bourne End. The Heath took to the field with 10 men. The eleventh man never appeared and was last heard of Saturday night in a south London Pizza parlour, C'est La Vie.
Sohail Rauf opened from the Pavilion end, after a difficult Ist over he settled well and took 3 wickets in a spell of 6 overs. He supported well by Ben Sonley who bowled with good accuracy for a spell of 1 for 32 off 9 overs. At this point Bourne End were 55 for 4.
Hyde Heath failed to maintain their strong position, runs came more quickly, Wade Mahmood and Spencer North each picked up a wicket. Spencer executed a great run out from Extra cover. Then Sohail returned to pick up 2 more wickets, ending with fine figures of 5 for 54 in 11 overs. Bourne End ended on 206 for 9. The missing man probably cost HH 40 runs, it amazing how the ball always goes in the gaps of a missing fielder.
Tea was consumed and battle recommenced. HH got off to a steady start, Wade and Henry Capper put on a good 50 runs before Wade was bowled by one that kept low. From then on it became hard work, Henry stayed in for 29 overs scoring 49 runs, he did very well with little support. Liam played well and held out for ages ending 4 not out. He was well supported for a number of overs by Stanley Burgham. Hyde Heath ended 115 for 6.
Bourne End tried to mix it up using 7 bowlers, Asim kept well for Bourne End, standing up throughout the Innings.
Charlie Samuels
July 27th - Cublington
- Away
A great week for HHCC who are in winning form. First came two wins in the Amersham CC hosted six-a-side competition on Wednesday evening, then our six heroes (Shrimpy, Luke, Spencer, Sohail, Uzzi and Adris) completed a clean streak on Friday 'finals' night to win the whole competition, well done boys.

The winning streak continued onto Sunday and to Cublington CC who we beat comfortably, away from home. Being the hosts, Cublington set the format, a 40 over match. Charlie got us off to a good start, by rightly assessing the pitch, winning the toss and (against tradition) decided that we'd bat.

Dom and Henry got off to a good start, until Henry's eyes lit up and in attempting a thundering lofted drive, missed a straight one. This brought Dom and Shrimpy together whose 140 odd run partnership was the foundation of our innings. Cublington's first change bowlers were quick and did just enough with the ball to make things tricky. Dom and James got their heads down against them, concentrated and ran hard, putting pressure on every fielder. They did better than weather this storm, they were taking the oppos secret weapons for 8 an over! By the time Cublington resorted to spin, they had got their eyes in and the scoring rate went up and up. Both were caught on the long on/off boundary, Shrimpy (63) not quite timing his shot as well as he had been, Dom (70) to his surprise and dismay did time his shot and put it down the throat of the man posted on the rope. It was a great platform and we still had 15 overs., but in order to get a really big score it was crucial that we used them all. Farooq was just the man we needed, he looked confident and solid, working the ball around well for his 31 and kept the board ticking. Wickets tumbled for a spell, but the last few overs were tailor made for some Will Cousins destruction and he gave us just that, finishing our innings with great urgency with a 26* which included a huge six over long-on and aggressive running between the wickets (so much so his cap couldn't keep up and would be blown off his head with each single, amusingly). We set an impressive 245 from our 40 overs.

It was always going to be a difficult chase, losing their opening bat and skipper to the third ball of their innings (thanks to a good stock ball by Fiddy and an umpire who took an age to try and come up with a reason why it wasn't out, but couldn't) didn't help their cause. Without Luke, Sohail and Tom H, we didn't have 'blow them away' bowlers, but we did have a host (Fiddy, Ben, Stanley, Shrimpy & Dom) of dependable line and length men, who all ''hit their areas''. Real pressure was built by an excellent standard of fielding and high spirits (the oppo's umpire was heard to remark that he's never seen their guys with as much energy in the field). They say catches win matches and we were about to do just that thanks to four grabs, many of them really excellent, by Will, Shrimpy, Fiddy and Dom.

The bowling performance of the day went to Stanley, who bowled beautifully and recorded his second five-for in two matches, a really incredible feat. The champagne moment in the field however was Ben's roar in a semi-massive-celebration/semi-send-off, having bowled a 12 year old for a golden duck. Yeah, take that kids, Ben came here to WIN, yo!

Cublington got one useful partnership going, which had us worried for a while, but once it was broken, they never looked like getting close. We bowled them out for 172, some 70 runs short, and retired to the closest beer garden to celebrate a week well done.

Dom Haddock
During Amersham CC Cricket week, there are a number of games for Amersham including fixtures against the famous Lashings side and an MCC fixture. However the real highlight for us is the Six a side tournament.
This competition is between 12 local sides. The format is 4 groups of 3 teams, playing a round robin games of 5 overs per innings, each night with each group winners playing Friday night in a semi and Final.
Wednesday, following the Lashings game with Devon Malcolm, Mushtaq Ahmed , Phil Defratas et al The mighty Heath took to the field. Our team was Adris Ahmed, Spencer North , Sohail Rauf, Luke Brennan, Usman Zafar and Captain James Shrimpton
Our 1st game was vs Amersham Little Kingshill. The oppostition managed 56, Hyde Heath knocked off the target in 3.2 overs. Adris bowled with real pace and Uzzi showed a clean straight bat. Spencer suffered a little with 3 straight boundries off his bowling ….but revenge was to come.
Our2nd game was vs a strong Ley Hill team. This was possibly the most difficult game of the Tournament , Hyde Heath set a target of 58, possibly a little low. After Adris came Sohail with 2 wickets, Spencer bowled the last over taking the final Wicket as the opposition were all out for 48. Now for Finals night …
In the Semi we played Chesham Bois. We batted first, 56 seemed a bit low again, but after 4 overs Chesham Bois needed 15 off the last over…12 off the first three balls ! was it a disaster, no we squeezed through by 2 runs, Spencer saving the day.
Now for the Final. HH lost the toss and were asked to bowl by Ballinger. Adris started by bowling the only Maiden of the whole Tournament and took a wkt, absolute class. Next Luke bowled a great over, James who kept well all Tournament took a great catch… but no ! it was not given . Then a wide is called, Luke kept his calm, just. The Umpire was given some stick by the 30 plus H.H.C.C. travelling support.
Ballinger set a target of 43, this was never enough against the batting of the Heath, Uzzi maintained his form, Adris again batted aggressively and Luke saw us home with balls to spare.
All the players played with great effort and skill, fielding, bowling and batting well. A true credit to H.H.C.C.
Charlie Samuels
We don't lose many games here at Fortress Heath, thanks to our plucky lower order 'thou shall not pass'-ers. However, rain changed the game today to a win/lose overs affair, ending in a thriller that took us to the final ball, but we couldn't quite get over the line.
We started under blue skies and 100% (stats may not be accurate) humidity. Our oppo, The Full Tossers, batted first and their pinch hitting (read horrible to watch, but effective, slogger) opening batsmen took full advantage of a couple of drops and a couple of half chances fall between fielders to get off to a flyer. Tom Hadden pinned the Tossers back a bit with a good first change spell, bowling with some pace and good accuracy. Jez was called on to take the pace off the ball and reinvented himself as an offspinner. The pace on the ball hasn't changed a great deal since his seam up days, but gone are the wides and he genuinely turned a few. His first wicket for a while was greeted with roars from players and adoring spectators (Al and Liam, the latter has apparently sustained an injury to his posterior) alike.
Then the rain came, and boy did it rain. We managed to get the covers on and Emma Burgham did very well to rustle up an early tea whilst we watched the heavens open. An hour later, with covers off and all 23 players (the Tossers brought 12, bit keen) fed and watered, we were ready to play. But how to account for the lost time?
Not wishing to bat in the dark, Charlie was a man with a plan. It was decided that the Tossers would have another six overs, taking them to 30 and HHCC would have 25 overs to chase their score down. The match had become an 'overs games' and therefore the draw was off the cards, it was do or die, win/lose.
We were set 166 to win, off 25 overs. Dom and Shrimpy got off to a frenzied start. Singles were pushed hard and often became twos, arms were taken on at every opportunity, byes run for every keeper fumble. Dom was deceived by a straight one and had to depart, but Shrimpy kept the innings going, well supported by Farooq Latif.
Atif took over from Shirmpy who couldn't quite reach his 50 (41) and pounded his first ball past square leg and was off and running. Our run rate dropped slightly in the middle period, thanks to some tight bowling and incredibly defensive fields. We were drifting towards defeat, until a wicket fell and Spencer 'danger man' North strode to the crease, rolled up his sleeves (literally), brylcreemed back his flop of hair (less literally) and got down to business. Fiddy aims to conserve energy when batting, why run twos when you can just launch the ball into woods, he asks himself. And so, he did. One particular six over mid-wicket was still travelling upwards when it clattered into the trees. Then there was the six over extra cover, yes, over
extra cover
! Ridiculous.
Had he carried on, we would have been home and dry. On 45 though he attempted another big six, didn't quite get hold of it and was caught in the deep. Did he know he was on 45? Probably not. Would he have done anything differently if he had? Definitely not. Fiddy had got us right back in the game. Sohail had been managing the middle order nicely, running well and keeping the scoreboard ticking, he continued to after Spencer's departure and eventually it was he who faced the final over with 12 needed to win.
Slightly unsportingly every single fielder was posted to the boundary, bar the keeper who was pretty far back himself. Sohail took three twos from the first three balls and looked to have out thunk the opposition skipper. Then, two singles from the next two balls, leaving Sohail needing four from the last ball to win. Fair play to the bowler, he delivered a good leg stump yorker which Sohail could only dig out for two. We lost by one run.
Dom Haddock
July 13th - Gt Gaddesden
As has become tradition, we took to the field with ten men. Our Devon tour during the week had taken its toll on the club, injuries are rife in the squad, Luke (broken thumb), Gus (broken toe) and Nick (broken everything, knee this time I think) are all suffering from an encounter with a South African oversea pro with his eye in (Fiddy is reported to have cried out in the field ''Stop hitting it to me!''). Added to which Shrimpy and Henry were both on holiday with the girlfriend/wife duties, however we got an eleven together to take on old friends Great Gaddesden.
The slip corden decided the best description of our bowling performance over the session was 'adequate'. It was a mixed bag mostly. Sohail was the pick of the bowlers performance wise and the oppo were cautious (7-2-16-2). Spence mixed up some pretty average deliveries with some really very good ones, that tended to take the batsmen by surprise and got them out, so ended with a five wicket haul (11-0-44-5), a good first match for his beloved to come down and watch. Ben was his nagging self but ultimately unable to make a break through. Dom and Wahid (both fancying some runs to chase perhaps?) kept Gladstone in the game, Dom floating down some full tosses that were dispatched and pitched a few that weren't, whilst Wahid combined 'four' balls and wicket balls, taking 2 for 26. Gaddesden's 163 all out was probably just below par, but low scoring thrillers are always good for the crowds.
Then came the performance of what the oppo called our 12th man, tea. A particularly wonderful effort this week, thank you loyal tea makers. The fielders would be well weighed down, trouble is of course, so would our batsmen.
Our reply got off to a good start, Dom and Wahid were going well (Dom played a bloody cover drive!) before Dom got a bit ambitious and top edged one. Wahid carried on though and his well paced 52 (his maiden 50 for the club your reporter believes) included some cracking shots and gave us a great foundation. He was well supported by Liam who has got his forward defensive down to a tee, but perhaps 'The Wall' needs to work on a 'release shot' as the pros call it to keep the board ticking. When they departed we still had 80 odd to get and time was not on our side.
Cue a brilliant partnership between Jeremy and Will Cousins. Will struck the ball beautifully, to all parts of the ground, thundering pulls shots and a particularly nice lofted straight drive. Clearly felling tress does a lot for the guns and his hardwork in the nets on Friday evenings is paying off, others take note! Jeremy played his cavalier drive through mid off well and often. But what was most impressive was their scampering singles, taking on fielders in the ring regularly, the wicket keeper a couple of times and putting real pressure on Gaddesden.
Unfortunately Will (26) didn't quite see see us home, but Jez coolly shepherded the tail and took us home with five overs to spare, finishing on 35 not out. The skipper's rotation policy, ensuring that everyone in the squad is in match condition, is paying dividends. A great team effort this week from all 11 men, skipper (not least to find 11 in the first place!), tea women, groundsman, official photographer, supporters and dogs. We adjourned to make the tricky decision to support either Germany or Argentina in the football.
Dom Haddock
July 6th - Balinger Waggoners - Away
There's a concept in 'time' cricket of winning draws and losing draws. Winning draws are generally accepted to be when one has set a greater number of runs that the oppo have been able to chase, but you haven't been able to bowl them out. However, when this happens you never
feel
like the winning side. This week, officially, we were on the end of a losing draw. However, the applause that met every safely negotiated ball of the final over and the cheers from our side as Charlie and Sohail strode off, match saved, felt very much like we'd won.

Really, we should have won outright at Ballinger this week, we had an excellent side. We didn't quite click right from the off. Sohail started well with ball, but edges didn't go to hand, but instead raced to the boundary. Ben Sonely got some good shape, but the batsmen were patient against him. Fiddy was struggling with his length, a week in Vegas taking its toll perhaps. We dropped the odd catch. There was the occasional misfield and an overthrows incident, all of which were blamed on hangovers (not unlike HHCC), caused by home brew cider (less like HHCC). drunk at a party hosted by a notable antiquarian book dealer (even less like HHCC, especially with Tom Jeffreys out of the picture).


There were some champagne moments in the field though. The first was Fiddy's screamer of a catch at gully, that saw him diving full length and the ball sticking in his outstretched hand, to see off their opener who looked useful (how we lamented Chris Sargeant and his trusty camera's absence to take would would have been the photo of the season). Another was Luke having had enough of his two pace run up, going off the long one and finding the glove of the batsman who was hurriedly leaping towards square-leg, who once dismissed gave us a bit of bat throwing that we're seeing rather a lot of this season. The covers fielded well, particularly Shrimpy, sporting yet another pair of pink pants, and our over rate (41 overs in 150 mins) was good. On a good wicket, and smallish boundaries they set us 204 to win, above par, but gettable.


Our reply however never really got going. Dom's expansive leave, saw him bowled. Shirmpy played a couple of cracking shots, then half-heartedly poked one to cover. Uzzi and Henry were going great guns for a while but a run out then sharp catch at slip inside four balls did for them. Wickets were tumbling, but the run rate was still manageable. Luke pounded some massive sixes and had he been able to stick around would have got us close. He was ably supported by Liam, holding an end up for him for a good while. Luke was given out caught behind to one he claims not to have edged and shortly afterwards, Liam definitely did nick one. We looked done for. We were 80 odd short, with 10 overs to go, nine down.

Our last men were captain Charlie and the big hitting Sohail. These two have very different approaches to seeing out a draw. Charlie gets every conceivable bit of himself, his bat and pads behind the ball and very effectively, blocks everything, stone dead. Sohail on the other hand is, let's say, a naturally positive batsman' and decided that playing his natural game was the way to see us home. So, in playing for a draw Sohail hit some huge sixes, some punchy fours and many a good shot that the pair decided to let go deep into the outfield without troubling the scorers.

However different in style, both innings were impressive and showed the top order how it ought to have been done. How futile the wicket keeper's chirp to Charlie ''how boring, he's not going to be able to just pat this back for ten overs''. Little did he know that this is Charlie's area of specialism, just the man you want in a crisis. His 40 ball duck was only broken on the final ball, when he squeezed one along the deck through the slip cordon and Sohail called him through for his first run.

A captain's innings. A draw (winning or losing, depending on your point of view) secured.
Dom Haddock
HHCC fielded a strong side again this week, against new oppo, Wendover CC and we even had ten of us at the ground at 2pm! Luke Brennan was the missing man, Henry was sent in search, found him in bed and four minutes later, Luke was taking the new ball. A Rauf / Brennan opening pair is as good as any Sunday village team can expect to come up against. Both bowled with good pace, Luke with good bounce (10-3-23-2) and Sohail deadly accuracy (8-2-17-2). It was rather too much for Wendover's top order, their four wickets blew away some seasoned batsmen and left their middle order exposed. Exposed to a very handy change pair in Tom Hadden and Stanley. Tom pushed the ball across the batsmen, had them feeling for their off stump and worked on his Allan Donald impression by staring out everyone in sight. Stanley plugged away very nicely, with a ''you miss, I hit'' line and length that kept an end tight.

Now, we all have our specialities, pinch-hitter, blocker-outer, yorker-deliverer etc. What HHCC has lacked since Jez got his yipps and Tom Jeffreys disappeared on mid-life gap year, is someone to clean up a load of batsmen under the age of 15. Well, we have found that man. James 'in-the-runs' Shrimpton assessed the abilities of nos 5 to 10 and bowled full, straight, varied his pace and flight HUGELY and took a five-for (three bowled, one LBW, one stumped). What a bully.

We bowled them out for a very get-able 125 and retired to an early tea. An excellent tea it was too, wraps (a firm favourite) and warm (yes, warm!) scones being the highlights.

Wendover opened the bowling with just as terrifying pair as HHCC did, but for rather different reasons. An old school mate of Henry's (no one wants to get out to an old friend) and the wily skipper, who put so little pace on the ball it hardly reached the batsmen, but it did, and on a perfect length every delivery (their keeper pointed out to Dom that he's never seen him bowl a bad ball). After a spritely 20, the lack of pace did for Henry. He made way for Wahid, who sensed runs given that his umpiring foe, Tim Barnsley, was nowhere to be seen.

With Wahid also in the 20s, Barnsley appeared. It took just one ball with Barnsley staring him down to dismiss Wahid, however his run-down-the-wicket-swipe-and-miss-it dismissal probably can't be blamed on Tim. Dom was still at the wicket and was rather enjoying having his favourite pull/sweep shot being fed by the change bowlers and was dispatching the ball to boundary regularly and pushing Wahid and Capper for threes, much to their dismay. He was joined briefly by Will Cousins who scorched two boundaries, then by Shrimpy, who in attempting to guide Dom to his 50, 'accidentally' guided a cover drive to the boundary, his self-admonition for this glorious shot rather confused the fielding side.

The 50 wasn't to be (43*), but Dom and Shrimpy cruised to victory, reaching the target in just 20 overs, leaving more time for the Plough in the evening sunshine, beers and cheesy chips.

Dom Haddock
June 21st - Presidents XI
- Home
Saturday 21st June 2014 was notable for two things. Firstly, it was the annual HHCC Presidents Day where the club takes on a Presidential XI and secondly, the sun was shining. Seriously. A big round yellow thing with warmth broadcasting down onto the common in all its glory.
Honest, if you hadn't been there you might not have believed it. A somewhat refreshing change to the previous year of thunder and lightning and countless years before that of rain, drizzle and endless shifting of wicket covers.
Both teams assembled for the regulation pre-match lunch which, as always, was superb (many thanks to chefs and organisers for another high class spread). The President's XI captain did the customary counting of assembled bodies to reveal that, unlike the weather and no surprise, he was a man short. A quick SOS call courtesy of club captain Charlie brought in "Last Minute" Angus Robertson, still somewhat bleary eyed from the beer festival previous evening (morning) although to be fair looking at the some of the club team he wasn't alone.
The President's XI won the toss and invited the club to have first use of a very flat looking wicket. The rationale for this was so the captain could spend as long out in the sun as was possible and also, given the early finishes of previous Presidents matches ensure the game would at least go on after tea. The President's XI opening attack was HHCC old boys personified as Nutman and Richards attempted to prise out Capper and Haddock. With a very flat low deck and both bowlers at times hitting variable lengths the club got off to a fast start putting on over 50 for the first wicket. Whilst Dom was not perhaps at his fluent best Henry seemed to be in good touch until for some inexplicable reason missed a straight one (thanks Caps). HHCC first drop Shrimpy arrived at the crease and wasted no time in playing himself in - keeping a watchful eye on the odd delivery which kept low - and steadily began to get going. It was fair to say that run accumulation was never going to be a problem for the club on a warm sunny afternoon with the pitch and outfield set for a big score.
Change bowler Stephen Thorpe ended Dom's "gritty" (his words) knock when he played all round a straight one bringing Jeremy Stevens in at no.4. Again possibly not in the best of touch (and no doubt influenced by the excellent selection of ale from the night before) Jez didn't really seem to get going and became Thorpe's second wicket of the afternoon. As much as this event merited celebration the big batting guns from HHCC just kept on coming bring in Luke Brennan at no.5. Now on any Sunday afternoon you would set your stall out as a batting captain to watch Messrs. Shrimpton and Brennan take a bowling attack apart and this was very much the case here - both batsmen mixing up watchful defence (mind the shooters) with powerful attacking shots. As Shrimpy came within sight of his hundred but time ticking down until tea a Presidential invitation was thrown up (almost literally) with Richard Cousins bowling an over of "extreme flight and guile" (with perhaps the emphasis on flight). Would Shimpy take up the challenge and power himself to a well-deserved hundred? Errrr no. After losing the strike to Luke the No.5 decided to take matters into his own hands by despatching the remainder of the over into the trees. Shrimpy then fell short of his hundred when Nutters return to clean up a somewhat tired looking shot and the declaration was made at 201 for 4.
For the President's XI some tidy bowling from Stephen Thorpe left him with a respectable 2-42, Tim Nutman 1-50 and the captain (deciding that 10 overs in one spell is more than enough for a warm afternoon) 1-36. Paul Kaye of Misfits bowled a very tight and respectable spell without due reward. All the fielders showed great commitment and character in the face of the HHCC batting offensive. Late replacement Nigel Goddard showed he had lost none of his form or wit over the years but running from one end of the common to the other between others and maintained his 1993 style of encouragement by sledging his own bowlers in between deliveries. Thanks Nigel! However Simon Persin - a self-confessed enthusiastic non-cricketer won the bravery award by literally wearing a couple of stinging Capper drives at extra cover (he still has the bruises to prove it). Everyone still had smiles on their faces so it was obviously time for tea.
Tea, as always, standard fare. Absolutely stonking. Thanks to all the ladies (and chaps) for the efforts it was once again well Worth the price of admission. Several of the President's XI wondered if it was like this every week. Apart from the big tent and the barrels of beer in the pavilion it really was just another day at HHCC.
The President's XI faced an immediate problem after tea - they were still technically one man short (even with Last Minute Angus) as Nigel Goddard had been fielding as a sub. Despite his protestations that he couldn't possibly bat and he really needed to go home for his tea, Nigel was coerced into opening the batting with Richard Cousins. To be fair to Nigel, it didn't take much persuasion....!
With the sun still shining down the President's XI openers went out to face the opening attack of Ben and Sohail and for the opening 10 overs it looked like the President's XI would put on a respectable show reaching 33 without loss and some fine shots from both players. However disaster struck which Nigel realised that he could run three times faster than Richard and attempted one (or was it two...?) that whilst mathematically possible regrettably physically was not and was run out.
Harry McHugh, who had decent time of it behind the stumps with the gloves, was setting his stall out in front of them with the bat and looked as solid as ever. However he failed to remember that you shouldn't ever listen to the HHCC fielders and their words of encouragement and advice. But listen he did and whilst trying to reply in kind with bat aimed a mighty mow off Spencer North and was bowled. At least he saw the funny side of it! From then on it was one-way traffic with the HHCC bowlers taking regular wickets despite the solid efforts of Will Cousins, Mark Mandeville and Paul Kaye to attempt delaying the inevitable.
Paul looked in decent touch but unfortunately ran out of partners by the end. Those who were there would have witnessed the final act of Tim Nutman being recalled after being bowled by a Charlie Samuels no-ball (yes folks, you read that correctly) which really was something to behold but when the final wicket fell the President's XI had reached 115 with 9 overs to go.
Whilst the result was very one sided the game was played with great humour between both sides and a fantastic day was had by all especially those members of the President's XI making their debuts on The Common. Thanks to everyone who organised the catering and for Nicko and family for running the bar.
Presidents XI:

Back: Chris Simpson (Umpire), Stephen Thorpe, Will Cousins, Nigel Goddard, Tim Nutman, Harry McHugh (wkt) , Mark Mandeville, Angus Robertson. Front: Simon Persin, Paul Kaye, Alistair Richards (capt), Richard Cousins

Hyde Heath CC:

Back: Luke Brennan, Matt Sims, Ben Sonley, Spencer North, Sohail Rauf, Liam Harrison.

Front: James Shrimpton, Dominic Haddock, Charlie Samuels (capt), Henry Capper (wkt), Jeremy Stevens

Alistair Richards
Players Re-union Pictures - June 22nd





June 15th - Southwell Ramblers
- Home
(Southwell Ramblers Report
)
After electing to bat first the Ramblers started at a canter. Five murderously certain boundaries from the blade of Ian Bartholomew hinted at the carnage to come, but there are 10 methods of dismissal in cricket and running out your best batsmen [Cambridge Blue] with a suicidal single is a classic the Ramblers never tire of. A remorseful Russell Jones was good enough to chip one up in the air a couple of balls later in a show of solidarity.
Heath's happiness was short-lived as Ali Turner and Matt Unwin, mainstays of the Ramblers middle-order for 15 years and proud Dads to the next generation watching on, used all their experience to first blunt and then to punish Heath's attack in a 150 plus run partnership fit for the ages and entirely fitting for Father's Day.
Ali, mindful of Madehurst kept the ball on the floor and waited for the boundary ball, while Matty played the supporting role before picking up the pace. Landmarks fell and the run rate soared as the 11pm kick off in Manaus and the opening bowler's 23rd birthday celebrations took their toll.
With tea looming Ali pressed hard on the pedal and selflessly holed out to long-on (Shrimpton) for 94. Another fine catch on the fence ended Matty's fun on 71, but the damage had been done and the Ramblers declared on an imposing 224 for 4. After the famine, a feast.
Heath came out all guns blazing but their star batsmen (Shrimpton) pulled the trigger once too often and misjudged the pace of Gus Williamson's quicker ball; it was even slower than he realised. Heath continued to throw the bat, in the case of Wahid a full 40 yards into the woods on his way back to the pavilion. At the other end Nick Marsh capped a hostile opening spell by pegging back their number 3's off stump – and when Team Gus combined to see off number 5 the Ramblers were in command.
Heath regrouped cautiously and then countered furiously. A flurry of boundaries took the partnership into 3 figures and suddenly it was the Ramblers looking anxiously at the scoreboard.
With all results possible, the pressure was palpable but Jim Owen held his nerve and beat their senior batsmen all ends up with a cracker that clipped the top of off. An identical dismissal an over later accounted for their dangerous no 6. Momentum was back with the Ramblers and they moved in for the kill. Jim pulled another rabbit out of the hat (7-down), Bat-Thrower (Wahid) got his own back and triggered his team-mate (8-down), and a brilliant diving catch from Ian Bartholomew took the Ramblers to the brink. The sting, however, was in the tail as Heath's final pair, surrounded by fielders and enveloped with tension, stood firm and secured the most dramatic of draws. Heroes and handshakes, and then a pint in the Plough. It's what Sundays were invented for.
by Gus Williamson (of Southwell Ramblers)
What a match! HHCC win, in a nail-biting finish and build some winning momentum.
Dom was stand in skipper for the day and we were at Ley Hill. The side today said a great deal about our squad's (do we have a squad?) strength and depth. By my count we had six played in the side this week, that weren't playing last week, and both were strong XIs. As 2014 tradition dictates, at 2pm we had just eight players. No stag-dos to blame this week, but a cycling road race that Shrimpy, Mark and Foxy had been forced to tail. Fortunately, Dom had lost the toss and had been asked to bat first. The home side had stipulated that this would be an 'overs', rather than a time game. No draws today, it was do or die.
Our innings got off to a bit of a stuttering start, a good catch and lighting leg-side stumping doing for Matt and Wahid and we were two down, for not terribly many in the sixth over. This brought Dom and Shrimpy together, both of whom were watchful early on it their innings, neither have scored big for the Heath this year and if we were to stand a chance to day, one of them would need to. The opening bowlers were seen off and the change bowlers, with more pace and a naturally shorter length, were welcomed. Shrimpy told his partner between one over 'I'm really not seeing it, I just can't time it yet'. The next ball he punched back over the bowler's head for a beautiful one-bounce four and the next screamed past square leg for another boundary. He was seeing it now. Moments later Dom had one dug in at him and he was able to get his favourite pull-shot out to good effect and both batsmen were on their way. It was a good partnership of 70 or 80 odd (records don't show) in quick time and set the platform for a potentially good score. Dom fell in the 30s to one-shot-too-many though and then the innings stuttered again, Mark and Will not troubling the scorer. Someone needed to sure up an end, to allow Shrimpy to keep going about his business. Liam was that man. This was to be the other meaningful partnership of HHCC's innings. Liam was solid in defence, gave Shrimpy the strike where possible and when he got a bad ball, gave it a good thump himself. Shrimpy was now hitting the ball to all parts, in one over he hit three sixes, all three over cover! He clearly didn't fancy getting a jug in though and fell for 95 in the dying overs. It was a welcome return to form and an innings that reminded us of his ability to play proper shots, to all parts of the ground and just how hard he hits the ball. A great knock. Liam supported him well and his19 was a very important contribution to the partnership and the innings total. Good scampering by the lower order and a cracking cut shot by Ben, got us to 194 after 40 overs.
Our defence couldn't have got of to a better start. Opening bowler, Stanley Burgham, pitched his second ball up, and took the edge with some beautiful late swing, which Wahid pouched at slip, we were off and running. However, their other opener, we've seen before. No one can remember him ever scored less than 100 against us and he looked in fine touch again today. Stanley and Ben bowled well to him but he was hitting them over the very short-on-one-side boundary all too regularly. Dom threw the ball to Mark, who had a plan. 'What I'll' do thought Mark 'is bowl this good batsmen, four rank legside longhops. He will dispatch every one of these for six. Once I have lured him into this false sense of security I'll wing down a perfect, fast Yorker, which is the LAST THING he'll expect and I'll clean him up.' Well, it worked like a charm, cleaned up (after four massive sixes) the danger man duly was and we were right back in the game.
I say 'back' in the game, because at this stage they were 80-2 off 10 overs. Run rate was not going to be a problem for them from here, we were going to need to bowl them out. This is where things got really exciting. We took wickets at almost exactly ten run intervals, just when it looked like they were getting away from us, we took another to pull back ahead. Mark took another good wicket - sharp catch, standing up from Dom (bows) and Stanley retuned for a second spell and took another, but it was Sohail who did the real damage.
The skipper had tried to keep Sohail up his sleeve, to rip through a middle order and all of a sudden the stage was set for our Yorker specialist. He gave them nothing short, nothing wide, nothing to score off, and just kept hitting the stumps. He blew three away in a great first spell and left us needing just two wickets for victory. They only needed 20 or so to win though! Wahid took over from Stanley (who having bowled at their danger man for much of the day, returned great figures of 7-0-45-2) and managed to tease their number 10 into popping one up into the legside towards a running, diving, finger-stretching, grasping Liam who held on as he hit the deck and then had ten men bundle on top of him in celebration. One wicket needed, 15 runs required. Their number 11 was their solid-in-defence, seen it all before skipper and his partner was handy and on 30 odd, this was by no means over. There was only one man to throw the ball back to. Sohail. Straight armed run up, quick shoulder speed, full and fast delivery on off stump, away swing, batsman full-blooded drive, edge, flies to slip, Shrimpy grabs it above his head, WE'VE WON, bowler sprints away arms outstretched, keeper jumps into them, Shrimpy buried under bodies, all eleven men huddle in the middle jumping and shouting for joy. Sunday cricket, boring is it ?
Sohail finished on 5.1-1-10-4. To have only gone for two an over and taken four wickets, in the context of the match is incredible. For the final wicket to bead Bowled Rauf, caught Shrimpton was very fitting. What a match!
Dom Haddock
Victory at last! And a pretty clinical performance from The Heath this week. Having had Chesham cancel the fixture at short notice, we were able to find a game in the conference, against Little Marlow. As we were playing an unknown side, we were particularly pleased to be fielding a very strong 11, Capper, Haddock, Shrimpton (with a terribly trendy new Shoreditch haircut, much to our amusement), Brennan, Stevens, James, North, Harrison, Rauf, Sonley & Samuels. Our number seven crashed an 80 last week, we had six genuine bowlers (seven if you count the 'keeper, Dom, which he at least does) and lot of youthful cover fielders.
We won the toss (hurrah!) and bowled (shock!). It was another was an excellent all round bowling display. Luke and Ben shared the new ball, you're not likely to see more contrasting opening pair and the oppo batsmen didn't like it much. Luke bowled fiercely, got great bounce and carry and stuck to a perfect, test-match line just outside the off stump (prompting the umpire to ask him 'who do you really play for?'!). Unfortunately this meant that they couldn't lay a bat on him and he went wicketless, but six overs for just 11 runs built real pressure. Pressure that Ben Sonley took great advantage of, bowling very full and very straight, varying his pace nicely and when they missed, he hit…twice.
The scoreboard was moving slowly and Capper and Haddock helpfully pointed this out to the batsmen at regular intervals, just in case they hadn't noticed. The batsmen even struggled with a one legged bowler. Sohail, limping from first slip to first slip, managed to hurl down six overs of good, swinging seam, with no run up whatsoever. Fiddy Spence was miserly too, his 15 over spell (he was overheard telling Charlie between overs I'll bowl all day skip, and was taken at his word, fuelled by 3 litres of green tea, rather oddly) went for just 43 runs and he took 12 wickets. Except he didn't take 12 wickets of course, he took three, but I reckon he would have taken 12 were all of the chances off his bowling taken and it was mathematically possible to. Fiddy must have questioned why, seemingly, everyone in Hyde Heath disliked him so much that they refused to take a catch off him. Luke must have a particular problem with poor old Fiddy, spilling three absolute dollies (fortunately the rest of the team enjoyed the entertainment). Spencer has to rely on a two stone dead LBW shouts and an excellent, over the shoulder, catch from his only mate in the field, James Shrimpton.
Some of the ground fielding wasn't up to the high standards set by the bowlers it has to be said, but Liam and Mark James competed for the fastest over the turf and cut off a good deal of boundaries. This, the really consistent bowling and popping wicket, meant we kept them down to 169.
After an excellent tea, Henry and Dom strode to the middle together, the last time this will happen and either man be unmarried (two weddings in two weeks). They were joined in their stride to the middle by a rather grumpy Shrimpy. With Henry injured, he needed a runner. With no batsmen out yet, the runner has to be the number three. Anyone that knows Shrimpy will know that he took this news with good grace, enthusiasm and great team spirit. Ha. So with three of us out there, we got on with chasing the runs down. We lost an early wicket, which didn't change the personnel in the middle, because as Dom trudged back to the pavilion he was reminded that as the only 'out' batsman, he had to take over the running duties. When the wicket you're protecting isn't your own, one takes on fielders' arms with more positivity. Dom and Shrimpy left Henry's heart in his mouth on more than one occasion, but no mix up was quite fatal.
Whilst Dom (9), Henry (22) and Shrimpy (15) all got starts, none of them kicked on and as the 20 overs began we needed 100 to win, with three down. Do-able, but we've seen collapses from here before. No collapses this week though. Jeremy joined Luke after the fall of the third wicket and played a sort of Dominic Cork esque innings. The elder statesman, seen it all before, a specialist bowler but certainly knows how to bat, running hard (I know, right!), calling loud, pushing fielders, full of energy (seriously) and giving the chase some buzz. He scampered to a good 25 not out. Luke was not playing the swashbuckling innings that we have seen him play this year. Yes, there was one six that went over the pavilion (!), but this wasn't a wicket on which, or a time, to be swashbuckling. So he knuckled down and grafted his way to an excellent 71 not out. Also, he was only dropped three times in his 71, so ended the day all square, drop wise.
Jez and Luke chipped away over by over and when the umpire bet Luke a beer that he couldn't finish it off this over (with a couple to spare), he took ten runs off four balls and that was that, we had our first win of 2014.
Little Marlow were excellent hosts. They are a good side (but not too good), good blokes, with a pretty ground, good teas and nice pub down the road. And to think, we could have been in Chesham…
May 18th - Pelicans - Home
Just half an hour in to this match against Great Missenden, it looked like we were going to struggle to compete. By 6pm we had all but lost it. Then we very nearly won it! Then we lost.
It was a shambolic start. At 2pm we had about seven players at the ground. Henry's stag-do the night before had accounted for a good few of our players. The stag himself had, coincidentally, come down with an infection and was unable to play. We'd heard that Luke was still going at 7.30am, and that Spencer had slept in his car in the Plough's car park. Neither were anywhere to be seen. Sohail was also MIA, so we took to the field with eight. Hilariously (for everyone else, but not so much him), Spencer did turn up just as we started and so was asked to open the bowling. Never have I seen someone less enthusiastic about the idea of bowling (in baking hot sun, on a slept-in-a-car-park hangover) and that includes Jeremy. With only eight, then nine (thanks to super-sub Angus who appeared in whites as if from nowhere at some point), in the field there were huge gaps that even Charlie's most inventive of fields could not plug and the oppo got off to a flyer.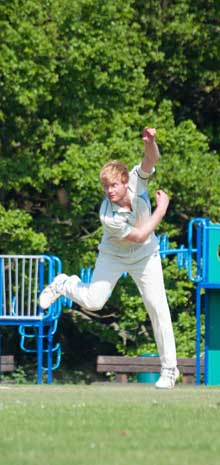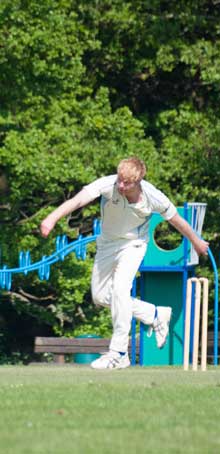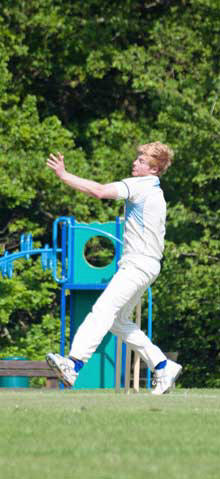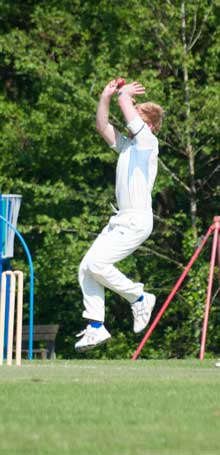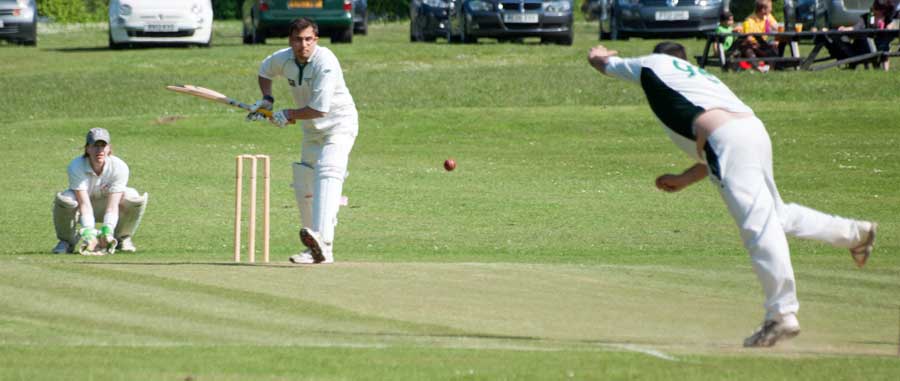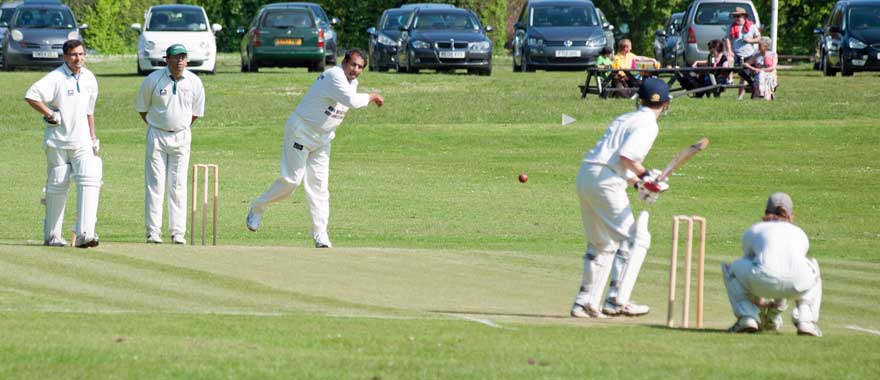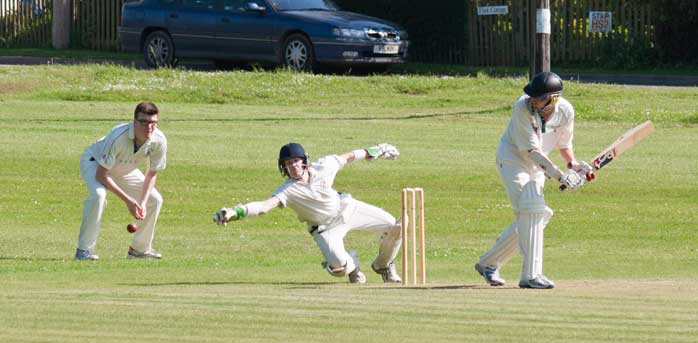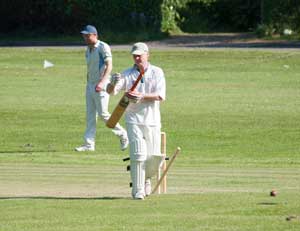 Once we'd assembled an 11, we actually bowled and fielded very well. Tom Hadden won the 'finding the edge of the bat without the ball going to hand' award. How he ended up wicketless is a mystery. Sohail hooped the ball round corners, including delivering the perfect toe crunching, inswinging yorker to their number 4, second ball up, to send him packing. New man, Jamil, bowled all sorts seam-up and little tweakers very well and took four wickets on his HHCC debut. Luke (once awake) bowled with real menace, fast and bouncy. Speaking of fast, Liam was his usual lightning self in the field, particularly on the cover boundary where he cut off a number of certain boundaries and must have saved tens of runs. Wahid took a very smart catch, diving forward in the deep and Charlie pouched a catch that came right out of the beating sun. Luke came up with the sledge of the day, which I now forget, but it was something about this batsman needing to get more runs, the batsman's reply was an attempted booming cover drive that resulting in simple catch…for Luke. I LOVE IT when then happens.
All of that great work couldn't quite overcome the strong foundation that we gifted them in the first ten or so overs, and they declared at tea on 199. Like our cricket, tea was a team effort. Stage managed by Janet, we had input from four other members of the team. Have we seen either pasta or mango slices at HHCC teas before? Super effort.
Our reply got off to a dreadful start. To chase down 199, one or two of our top five would have to get big runs. We were 51 for five, with Wahid's 21, the top score between the five of us. It looked like it could be an early session in the Plough. But Spence had other ideas.
For a good few years Spence has shown himself to be a useful hitter down the order. This innings was much more than that. He hit it miles, ball after ball, whatever came at him. He picked gaps, he chipped it over the infield when he could and smashed over outfielders heads if he needed to. He ran smartly, and shared good stands with Wahid and with Liam. He didn't do much gentle caressing of the ball, but this sure wasn't slogging either, it was proper shots, hit hard. The oppo were shook. Suddenly, the required rate was very manageable, especially given the mood Spencer was in. He took the game away from them for a good while and it looked like we might snatch a victory. In the end, a mix up between the wickets saw him run out for a very impressive 82. Our last couple of batsmen didn't put up much of a fight and Great Missenden wrapped it up quickly after Spence fell. We were bowled out for 157, 40 odd runs short.
Special mention and thanks must go to Mikey. Most of us have seen the pictures of the outfield after fete-gate last week. It looked like a battle field and I don't think any of us thought it would be playable for some time. To see it on Sunday, you wouldn't have ever known. It was another great wicket too, hard and quick and a bit in it for both batsman and bowler, the opposition remarked on its quality a number of times. Thank you Mikey. We all enjoyed seeing our Club President, Robin Richards, patrolling the boundary all day this Sunday. Shame we couldn't give him a victory. Still, there's always next week.
Dom Haddock
Hyde Heath play Chartridge as a season opener in most years but with the Bank of England entertaining us last week, things were slightly different. In the past, we often came out second best, frustratingly so, half-baked and naïve, even resorting to 26 yard pitches to confuse them! Would it be better this time?
What a lovely Bank Holiday Sunday! Usually cold and wet, we had a gem of a day. Mike had worked hard and long to prepare a vista of bucolic charm. Cricket days such as this inspire all of us through the dark winter. Last week there was a bitter wind to take the gloss of the fabulous facilities at the B of E ground. This week unfurled Hyde Heath Common in all it"s glory, sun and warmth, blackbirds singing and even a Spitfire flew overhead!
Although one or two of the "oppo" looked at the pitch long and hard, when the Toss was lost, Chartridge played the odds, bowl first and controlled the game. Charlie must have felt a little frustrated when we were put in.
Normally Henry Capper is a guaranteed cert for runs at home. He has the knack of playing our pitch in complete control and keeps the runs flowing. However, second ball and a shut face with a leading edge meant Chartridge were cock-a-hoop. 0-1!
Fortunately Uzi and Wahid had another view. The ball was not really coming on to the bat and scoring was hard. Both played really well to keep the good balls out and score slowly but safely. The over-rate was appalling and our score mirrored this. Really, to bowl 25 overs in 2 hours in village cricket is pretty poor,. However Uzi was coming in to his own. His acceleration of the scoring rate was slow but sure. Wahid departed for 25 valuable runs. Matt Sims came in and played really well for 30, but the star went on to 111 not out in a fantastic innings. Spencer North chipped in with 11 off 7 balls to add insult. 188 for 4 was a good total at the break.
Tea was even more of a highlight than normal. Caroline Capper with help from the Barnsley's, produced one of the best teas ever. Tandoori chicken, Tuna and sweetcorn, BLT, egg and cress sandwiches, butcher's sausages,, melon, strawberries, Lemon drizzle cake, chocolate brownies – Oh Oh Oh.. Too much.
On to Chartridge's innings. Their over rate and approach was slightly negative during the Hyde Heath's innings, however they started their innings with intent. The opening pair, Wison and Ali batted positively but both were removed, bowled, by Spencer North who went on to take 5 wickets. Mustafar , so often a thorn to us, went cheaply to a good catch from Jeremy Stevens. Wahid, who certainly produced variety, tumbled a couple out and things looked promising. The older Wilson who for years has frustrated HH with rear-guard defence, continued his theme with solid (stolid?) defence and after his wicket LBW North (who else), things looked good. Charlie Samuels decided to render his personal salute to the Centenary of WW1 by lobbing 12 Mills Bombs (unfortunately with their pins very firmly left in) to confound Chartridge but to no avail. In spite of a mere child next in, numbers 8 and 9 (11 having failed to arrive) managed to grit their way out.
Sometimes matches with close finishes are exciting but this failed on all counts. Previous correspondents have eulogized the cut and thrust of timed matches. Both this and the previous match (B of E), HH were totally in control but had a disappointing result. If one side wins the toss and plays a negative game, this format frustrates. Overs games might have given `HH 2 wins in 2 game but…. However Chartridge enjoyed their draw, and good luck to them. However, even Charlie (he of regular field changes, often mystifying to the casual observer) was moved to frustration at only 39 overs between 2.00 and 4.30, mainly with spin!!
Spencer North is starting to play some really good cricket and all credit to him. He has developed in to a hard-hitting batsman who has sorted out his rather too methodical choice of shots and has bowled with good pace and direction. Uzi is a friend with allegiance elsewhere but played really well for us. As far as the rest are concerned, Ben Sonley has real talent in his dibbly-dobbleys, Wahid bowled and batted with conviction, Will is starting to blossom. I am not sure Captain Charlie would have won medals on the Somme with his grenade throwing, but as ever, he leads with conviction – good for him. Hey-ho, onwards through the wedding season with two casualties, both opening bats. Will HH cope??
Watch this space!!
John Capper
April 27th - Bank of England - Away
Bank of England vs HHCC (27 April 2014) (Pictures courtesy of Paul Haddock)
The smell of linseed oil, the sound of leather on willow and the arching of long forgotten muscles, it's back baby! Cricket is back. The first game of the season it always a bit of a shock to the system, digging out bits of kit from the back of cupboards and bottom of bags, finding your unwashed whites scrunched up in the ball you made with them at the end of the last game in September, forgetting to pack the basics (jockstrap, Luke!), not remembering quite how pads strap on. All part of the rich traditions of the game.
This year, HHCC's first fixture was against our old friends, The Bank of England. Usually they come to us, as part of their tour in mid August. But for this match we had been invited to their impressive ground in Putney, to play for the newly introduced Brian Hartley cup, in honour of Brian who played for both sides for many years, arranged the first fixture between us and sadly passed away last year.
We looked a strong side on paper. Though we were missing some old faces like TJ (on a mid life crisis gap year), Shrimpy (football taking priority) and Nick the Kiwi, but with some new blood in Wade Mahmood and Tom Hadden (no relation).
We lost the toss and were asked to bat first. Dom had decided not to net over the winter (claiming a busy work schedule but more likely to avoid Chesham Bois and a chance bumping into his parents) and it showed, as he fell early to their spinner early on (he is currently investigating whether opening the bowling with a spinner contravenes the MCC Spirit of Cricket regulations). This brought Luke Brennan to the crease, promoted up the order in Shrimpy's stead. He and Henry both started watchfully and steadily, sensible for the first knock of the season. But once Luke decided he'd got his eye in, he cut lose with some great shots. A punched late cut that flew to the boundary and some crunching straight drives were particularly memorable. Henry allowed Luke to do most of the damage, but his stonewall forward defensive and quick singles meant that between them the pair rotated the strike, demolished the first, second and third change bowlers, didn't look like getting out and the spirit of the Bank of England was broken (if it wasn't already. There you go, an economic joke in a match report, didn't get that from Jeffreys did you). Luke made a blistering 73 but was undone when he attempted his first defensive stroke for some overs and missed a straight one. Henry was prized out shortly afterwards, bowled by a good one, having scored 44 gritty, determined runs with signs of more flowing shots coming towards the end of his knock, that we will doubtless see more of this season.
At 142-3, with plenty of time to spare, a guys had set a great foundation. The middle order capitalised on the freedom they had been allowed and shots came aplenty from new man Wade Mahmood, Spencer North and Will Cousins. Highlights of this period include Wade absolutely nailing a sort of double handed-backhand shot at mid on, who somehow lost sight of it and let the ball slam into his chest (an impressive bruise was to be seen after the game); Will Cousins' spectacular Monty-esque sliding superman dive to make his ground, when no fielder was anywhere near the ball, never mind throwing down the stumps; and Will's massive six into the crowd during his confident innings of 23.
We set Bank 226 to win and felt pretty confident at tea. Tea was good, though the DIY scones (big bowls of cream and jam) caused havoc at one end of the table.
To the bowling. No cobwebs needed to be being dusted off here. Both openers, Fiddy and Ben Sonley, were right on the money straight away. Ben kept things really tight at his end and Fiddy blew them away at the other. Spencer bowled accurately, with good pace and when he pitched it up, got real movement. He took three wickets in his first three overs, a top-of-off-stumper, a clean-them-all-up Yorker and a well taken skyer catch by Liam.
From there on in, Bank decided that they weren't going to get the runs, so they shut up shop. Bank blocked effectively and in darkening, chilly, slightly drizzly April weather, this wasn't much fun to watch, even when Tom and Luke (the oppo were particularly disheartened to see that the guy that had smashed them to all parts of the ground was a quick bowler by trade) bowled with real pace, what a great first change pair to have your sleeve! Jeremy had a spell that showed signs of hope for a return to his Mr Consistent form (including a maiden!). Things got interesting again when Charlie decided to take the pace off the ball. Wade tweaked it and mixed up his pace well to take three wickets and get us back into the game. At the other end, the skip turn to yours 'gold-arm' truly, and Dom took three wickets too, something which he will be reminding his skipper of, for the rest of the summer.
This left HHCC needing one last wicket, Bank needed 160 odd runs to win, or to see out four overs for the draw. There were a couple of chances in those four overs, a sharp one at gully to Ben and one to Spence at point which would have been the nailed on catch-of-the-season come September, but both went down. Their opening batsman hadn't looked like getting out all day, their number 11 was no mug and they saw them home for an uneven draw.
So, the Brian Hartley cup will be shared, at least until August when we welcome Bank back to the Heath. A fine display for the first outing on a grey April afternoon (where's this heat wave we keep hearing about?), with contributions from every single player. There'll be some sore muscles on Monday morning, but every ache will be worth it, cricket's back.
Dom Haddock