June 11th - Misfits - Home Win !
An wonderful victory for HHCC this week, to extend the winning streak to six. Things didn't get off to a good start though, Little Missenden's Australian opening bat got off to a flyer with well struck cover drives, to put 47 in the score board without loss after 8 overs. We needed some magic and Sohail provided it, strangling the Aussie down leg. There followed an odd exchange as the batsman firmly told the umpire to retract his decision, claiming not to have hit it, which the umpire, in the spirit of a Theresa May U-turn, did. With one eye on catches column in the end of season averages sheet, Dom just as firmly reminded the umpire how umpiring worked and to his credit said umpire upheld his original decision, pleasing the many (fielders), not the few (the batsman).
Sohail struck again the very next ball and from there on in, we were into them. Ben reeled off 12 excellent overs and took two wickets and Adnan tossed the ball high, extracted turn and took three wickets for 15 runs from eight overs. Bursts from Kenny and Fiddy saw them take a wicket apiece and Aaron's cool head ensured we capitalised on some suicidal running between the wickets. We bowled Little Missenden out for 119.
Oh what a mess our top order made of the chase, we were quickly 14 for 4. Out strode Kenny and we wondered what his approach might be to this perilous situation. He decided to belt everything pitched in his half as hard as he could and it was good to watch. He needed a foil, someone to sure up an end and Aaron was the man, enabling Kenny to keep hitting freely. It took a wonderful catch to dismiss Kenny, who fell just one short of his 50, but what a wonderfully entertaining and match resuscitating 49 it was.
There was still work to be done. Now 8 down, we were still 30 short and in the context of a 120 run target, still a way off. We needed another significant innings and Liam provided it. His wicket was never in doubt, even when opening bowlers were brought back on, Liam's forward defence was impenetrable. He played no false or forcing shots and knew that with 20 overs still remaining, the singles would come. Slowly but surely he was getting us to the line. Liam was ably supported by Ben, who occupied wonderfully in the slowest but most important 4 not out I've ever witnessed. A guide past backward point and we'd done it! Liam finished on 22*.
After an excellent fielding effort, it look for all the world that we'd thrown this game away. But every single one of our numbers 5 to 10 contributed, to make damn sure we won and keep our winning streak going. Will it last to President's day?

Dom Haddock
June 4th - Roxbourne - Home Win !
A classic start to a Sunday cricket match, an opposition car had broken down en route to the match, so three members of Roxbourne's XI would be an hour late. They forfeited the toss, and given we had nine players at the ground, to their eight, we fielded first.
Luke bowled brilliantly, slightly fuller and slightly straighter than is natural for him and Roxbourne's top order couldn't cope. A superbly deflected bowlers run out was icing on the cake from Luke, whose figures read 9-1-24-2. His economy was particular noteworthy given that Roxbourne's strategy was T20 in style. Bats were thrown at everything, which got the scoreboard rattling along, but unfortunately for them, the wickets column rattled along nicely too. Sohail struggled with his line early on, but his last four overs were excellent and he also took two wickets. Adnan returning from injury bowled a very tight spell (10 runs off his 5 overs) and took his first wicket of the summer with the worst ball he bowled all day, good old leg spinners! Waq twirled down some offies until their number 8 whacked him into the trees, at which stage he decided to return to his more usual seamers and clean bowled the number 8 the next delivery. His accuracy cleaned up the tail and we bowled Roxbourne out for 135.
Our reply raced to 35 with pit loss. However, Dom managed to combine an awful shot, with a very good catch, setting off a mini collapse which saw three wickets fall in six balls for the addition of one run - game on. Luke joined Henry 'red ink' Capper, and the pair sensibly went into a quiet stabilising period for some overs. A classy, straight punch for four by Luke signalled that his eye was in and the two returned to their natural free flowing games, striking bad balls to all parts. Luke was run out on 40 thanks to a very smart direct hit, but the damage had been done. Henry, unfurled sweetly timed consecutive cover drives (yes, you read that correctly, eat yer heart out Ian Bell) and the job was done.
After a classic start to a Sunday cricket match, we also had a classic finish; the Plough full to burst with cricketers drinking warm beer and watching the rain fall outside. Inside we celebrated our fifth win in a row, wondered whether this was a record and calculated Henry's current average. It's 348. Perhaps the highest average without having bought a jug since records began.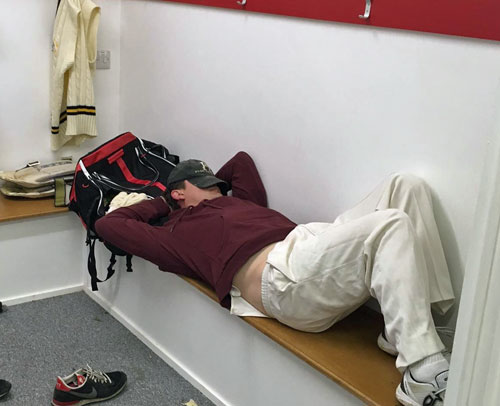 Jeremy gets into the zone.
Dom Haddock
May 28th - Lt Marlow - Home Win !

On a sizzling afternoon at Fortress Heath, we won again, making it four wins in the trot !

We hosted the strong Little Marlow, won the toss and asked them to bat first. Their experienced opening pair were aggressive from the start, but Ben and Sohail contained them and were well supported with committed fielding all round. Stanley, coming on first change bowled with deadly accuracy and a well disguised slightly slower ball, that stuck in the pitch and tested the well set batsmen. Debutant Saj came on to bowl a seemly never ending spell, which started seam-up and as the ball softened, he very effectively changed to off spin. We began to chip away at the wickets, then Jeremy came on to great effect, striking twice in two balls.
Though we bowled well, over the course of the innings a couple of chances went through pairs of hands, the odd long hop was dispatched and three of Little Marlow's batsmen put together significant innings. We went to tea requiring 212 to win.
It was the first weekend of Ramadan, and 12 players across the two teams were fasting. Given the heat, humidity and length of day a great deal of respect was extended to our fasting team mates and oppo and it was a touching sight to see nine of the opposition make their afternoon prayers together on the outfield.
To reach 212, our reply needed to start with impetus and Will Cousins gave us just that, clattering the odd loose ball over the boundary for sixes and fours, allowing the more sedate Dom to get his eye in (and digest the 32 sandwiches he'd had to eat, given Ramadan's double measures). Saj picked up where Will left off and sweetly timed some back-footed cover drives during a smart 20 odd. Kenny came to the crease and was firmly instructed by Dom to block his first ball (the last of an over). Kenny theoretically consented, then pounded said delivery high and far over mid-on, and continue with this strategy for a few overs.
Dom meanwhile had steadily made his way into the 60s, which combined with the firepower at the other end meant we had kept the required rate to a manageable 5 an over. With 70 still required, Dom missed a straight one and set off a batting collapse that looked to make victory impossible. But Jeremy steadied the ship, shoring up an end and another important partnership with Sohail got us over the line with two wickets and plenty of overs to spare.
Four in a row, eh.
Dom Haddock
May 21st - Pelicans - Away Win !



Our newest recruit !

We travelled to Great Missenden this week, grateful for a wicket to play on given the deluge of rain in the days before the match. We were less grateful to be invited to bat first on a pudding – today was not going to be a run fest. Out batsman used contrasting methods; Henry was determined and gritty and reached 50; Umar, Kenny and Sohail were cavalier and wasted no time chipping in with important 20s and 30s. We were bowled out for 147, which felt about par, given the conditions.

A wonderful tea awaited us! Barbequed burgers, falafel and halloumi, all sorts of salads and homemade scones, washed down on the sly with bottles of beer – did we really have to go back out and field?

We did, and we got off to a flyer. Ben and Sohail started brilliantly, Ben particularly and he picked up three early wickets, to leave Little Missenden reeling, crawling along at two runs an over, wickets tumbling. Ben was instrumental in the fourth wicket too, the batman clipped Sohail hard round the corner, to where Ben must have been reliving his last wicket, because the first he knew about the ball it was hitting him on the forearm and lodging nicely into his gathering arms – casual. The Pelicans pulled themselves together though and a brilliant/frustrating partnership ran us ragged for 15 overs or so, pinching singles where there oughtn't to have been and dispatching the increasing number of loose deliveries to the boundary.
As can be the way when defending a low total, we had gone from cruising to victory, to looking like throwing it away. A rallying call from the skipper; a new strategic field set; and a double bowling change did the trick. Their strike batsman heaved a Dom offie to long off and Haroon Rauf charged in and took an excellent high catch. Ben came back on and immediately nipped out his fourth wicket and numbers 10 and 11 managed to miss a couple of straight, slows ones from Dom and victory was ours.
Another excellent team effort, another win against the odds and a third victory in a row, we could get used to this.
Dom Haddock
May 14th The Lee - Away Win !
A memorable victory away from home this week. We travelled the couple of miles to the Lee, with two debutants in the side, Waq and Aaron, one assumes their matching beards is coincidence, rather than a new selection policy. We won the toss and chose to bowl, news which was received gleefully by the oppo skipper, he who laughs last and all that...
We didn't bowl badly, nor field badly, nor make any strategical errors. We struggled though with the limited overs rule of bowlers being restricted to eight overs, and more so with some hideously ugly and brilliantly effective middle order slogging and slashing. The Lee looked set for an imposing 250 plus score, until Waq and Sohail pulled things back towards the end and we restricted them to 226. Credit to Kenny and Fiddy too for good control and to take pace off the ball, Dom debuted some off spin to reasonable effect.
The Lee's opening bowling spell was a barrage; both were quick, one was banging it in short, the other hurled down chin high beamers. Henry and Dom were obturate and pounced on any misdirected delivery they could, to try and stay near to the run rate. At 20 overs we were 109 without loss, oppo moral broken and a good foundation for our aggressive middle order to come in and 'express themselves', as younger TMS commentators would say.
And so it came to pass. Dom fell soon after drinks, but Will, Waq and Fiddy all followed with useful and brutal cameos. Henry was still going, anchoring the innings beautifully and when Nick joined him only handful of runs were required for victory and for Henry's hundred. Trouble was we were in the penultimate over. Henry selflessly instructed the on-strike-skipper to finish the match and for the second week in a row, Nick did just that.
To chase 226 is a fine achievement, and to do so against this depth of bowling attack, even better. Hats off to clean and powerful striking by the talented Waq and Fiddy at the end, but Henry's innings was a very special, match winning one. 99 not out though, jug evasion.
Dom Haddock