Service Times - Sundays at 9.15 am
ST ANDREWS CHURCH, HYDE HEATH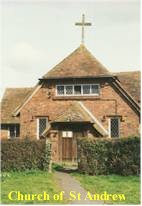 The Church was built in 1910 by Mrs. Hampton, who specifically arranged that it should be outside the Little Missenden Parish Boundary. It took a special document signed by H.M. The Queen to rearrange the Parish Boundary to bring the Church into Little Missenden Parish in 1956.
The building was originally used as a Mission Room and only later came to be used as the Church you see here today - picture right shows how it looked prior to the 2007 renovations.
The Frescos on the East Wall: pictures here
The scene behind the altar was painted by local artist Mrs Joy Trotman Brand and her sister, Miss Anne Trotman, carved the wooden surround in English oak, donated by Robin Brazil. Miss Trotman still comes regularly to oil the wood and keep it in good condition.
The painting has many local connections:
Mrs Brand's daughter Marjorie, was the model for the little girl and the dog is the Trotman family pet, Gwillym. The shepherd is the son of Mrs Birch. She was the church caretaker for many years. The trees in the picture represent White's Wood, the haystack and barn in the background are at Nash's Farm and the stream in the foreground is the Misbourne at Little Missenden.
The cross on the roof was presented by Mr Baker, a lay reader here for many years and other work in the church has been carried out by local people, with the enthusiastic encouragement of the then Vicar of the parish, Rev. F.F.C. Roberts.
This is an active church. There is a service every Sunday at 9.15 am to which everyone is most welcome.
Help required ! Do you happen to know any more about the people mentioned above ? If so please let us know - to Chris@HydeHeath.com