September 30th - Woodley - Home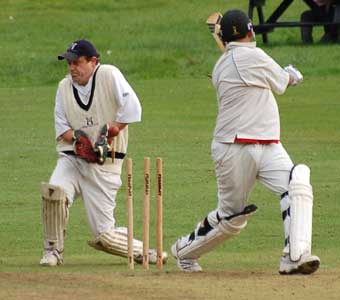 Definitely the last match for 2007...can't be doing with a 12.30 start every Sunday...in the event Alistair bowls the first ball to Woodley at five minutes to one. He reckons that he is not accustomed to using a new ball with a decent seam, so the first two deliveries curve away from the off stump as wides. Generosity has now ceased and he returns to his better-known parsimonious self, sending down six maidens from the pavilion end and conceding just 19 runs in his opening spell of eleven overs whilst taking two wickets. Meanwhile up at the Plough end Sohail has been plugging away, taking just the one wicket (caught by stand-in 'keeper, Jeremy), and he is eventually replaced by his cousin, Atif, who has taken a lot of wickets over the past few Sundays.

Today proves to be no different as he twirls away, mesmerising the batsmen; his efforts yield 4 wickets for 32 runs. Only S.Brar offers any resistance, and he is unfortunate to be well caught on the deep square-leg boundary when two runs short of a deserved half-century. Tom Jefferys and two run-outs complete the visitors' misery as they are all out for 109 in 39 .4 overs. Mr.Webbe-Master has briefly escaped from his stock-taking duties over at the village shop and joined us for tea and more action pix.
Tea with jam and cream scones, carrot and chocolate cake...ideal fare to round off the season...thank you, ladies.
The wicket was still damp from the rains of last Thursday and Friday, and thus scoring was still not easy, but Alistair (16) and James Shrimpton (26) ground out a workmanlike opening partnership and there was good support from Nick Burgham (19), but the aggressive Jeremy and Sohail saw us to the target after 27.1 overs. And so to the Plough...
Result: WOODLEY 109 HYDE HEATH 111-4. Hyde Heath won by 6 wickets.
And so another season, sadly, comes to an end...
Won 8, Drawn 4, Lost 8, Abandoned 1 ( Cancelled 4 )
Watch this space for further news during the winter
September 23rd - Ivinghoe & Pitstone - Home
The weather remains clement. Although the playing square did receive some moisture during the week Mike T. had it ready for Sunday and the visit of Ivinghoe & Pitstone C.C. They won the toss and elected to bat first, presumably to enjoy the best of the light available. By the ninth over they had reached 46 for 3, but worse was to come as Sohail Rauf ( 4 wickets for 21 runs from 6 overs) and Atif Mirza ( rabbit-hunting again - 3 for 10 from 4) completely wrecked the visitors' innings. They were aided by some excellent ground-fielding and catching which resulted in Ivinghoe & Pitstone being all out for just 73 from 20.4 overs.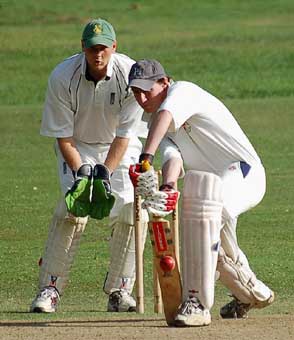 It was too early for tea, so Henry and Dominic went out to open the innings for Hyde Heath and made a good start, adding 42 for the first wicket, of which Dominic made 31 (seven fours) from 28 deliveries. Henry was in a much more subdued mood hitting just two fours in his 21 not out, from 36 balls faced. James Shrimpton adopted a cavalier approach scoring his 22 not out (five fours) at the rate of a run a minute, so the target and teatime were reached simultaneously at 77 for 1 wicket from 13.4 overs.

Result: IVINGHOE & PITSTONE 73 HYDE HEATH 77-1 Hyde Heath won by nine wickets.
We seem to have got the hang of winning now that the season is almost over...
And so to tea, with egg sarnies, Bakewell tart, flapjack and brownies...delicious...even Mr.and Mrs.Webbe-Master were not late this Sunday and so could enjoy...I must quiz Mr.W-M. further about this piece of history that he has unearthed, namely concerning a 200-guineas cricket match at Hyde Heath in August, 1798...
Next Sunday ( Sept.30th.)...definitely the last match of the 2007 season... v.WOODLEY (12.30 start)
September 16th - Abbots Langley - Home
With the season's end fast approaching and the weather bright and breezy we welcomed to the Common opponents
whom we first met last year, Abbots Langley C.C. They won the toss and decided to bat first, but we couldn't get started immediately, because some of them had become stuck in traffic en route, and we were two short due to a mix-up with selection. Several 'phone calls by Charlie eventually secured the services of the cousins, Atif Mirza and Sohail Rauf, who arrived some time after the start ( Charlie, bad back and all, filled in as sub.in the interim ).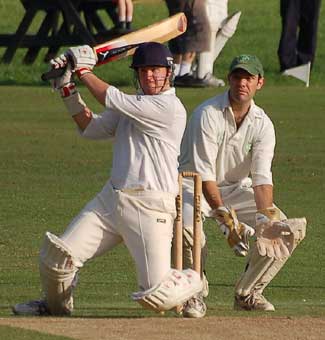 The first ball was eventually delivered some twenty-seven minutes after the scheduled start. The visitors initially made a steady start, but then James Aird , bowling with some pace from the Plough end, began to create havoc with their top order. Opening batsman, Lewins ( 21) offered some resistance, but Abbots Langley soon found themselves at 64 for 5 wickets - all five to James ! Then A.Cox took control, cleverly farming the bowling, shielding the tail-enders and hitting a well-constructed 54 ( seven fours ), but even he fell victim to the wiles of Atif Mirza, who finished with the impressive figures of 5 wickets for 11 runs from 5 overs...not bad for someone who wasn't in the team at one o'clock ! He had been well supported by some good ground fielding and really excellent catches. The visitors were all out for 125 in exactly 34 overs and James Aird's return was 5 for 43 from 10 overs. I said three weeks ago that I would believe it when I actually saw Tim Barnsley's retirement...and there he was stood at slip, almost as large as life.
Tea, and some delightfully fruity sponge cakes - thank you, ladies. Mr.and Mrs Webbe-Master arrived in time this week and the air was filled with the whirrings of a digital motor drive, to produce yet more action pics.for the website.
The Hyde Heath reply began slowly, and the first wicket was lost without a run on the board, but then Dominic Haddock ( 42 - nine fours ) and James Shrimpton ( 32 - five fours ) added 74 unhurried runs for the second wicket.

They were both eventually bowled by a young man named Dan Gurney ( I remember in the sixties a very good american formula one driver of that name with his "Eagle Climax" car...memories...trouble is I can't remember the events of the previous over or two !) Back down on terra firma skipper for the day, Nick Burgham, thumped his way to 36 not out ( four fours ) and with Richard Austin saw the home side to the target with 7.2 overs to spare.
Result: ABBOTS LANGLEY 125 HYDE HEATH 129 - 3 Hyde Heath won by 7 wickets.
Next Sunday ( 23rd.Sept.) at the Common v. Ivinghoe & Pitstone 1.00 pm. start


September 9th - Cublington - Home
Second week in September, and still the sunny weather continues.Your correspondent is enjoying a long weekend in North Somerset, celebrating his wedding anniversary, so the integrity of the scorebook rests with the team... We welcomed to the Common our friends from Cublington, whose all-singing, all-dancing scorebox is the envy of their opponents. They won the toss and chose to bat first. They lost a wicket in the first over, but then their partnership of Burton and Taylor ( I seem to have heard of them before...) added 67 runs for the second wicket. This proved to be the rump of the visitors' innings total, for the next highest contribution was the 17 wides sent down by the Hyde Heath bowlers ( we do seem to have conceded a high number of wides this season...about 120, I estimate.) The Cublington innings gradually petered out so that at teatime after 37 overs they had reached 127 for 8 wickets declared.
For the home side young Spencer North bowled well to finish with 2 wickets for 26 runs, but the pick of the bunch was Alistair Richards with 3 for 14.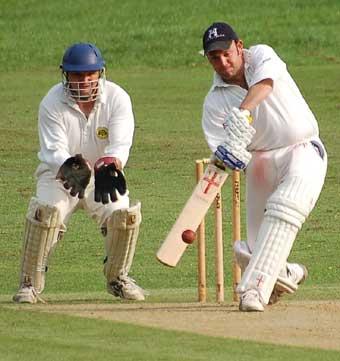 He was soon in action again after tea as he opened the innings with Dominic Haddock. Together they achieved the best partnership of the season so far, adding 90 runs for the first wicket.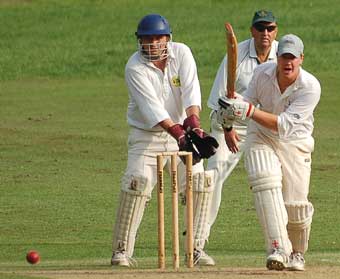 Dominic had been particularly brutal, smashing 11 fours in his knock of 55, but then James Shrimpton and Alistair batted comfortably to reach the target of 128 in just 18.2 overs. Alistair's contribution was 37 not out ( 6 fours ) and the match was all over by half past five.

Mr.Webbe-Master had been seen earlier, snapping away to great effect...the strange thing was that he was too late for tea...The photographs that he contributes to our website are topnotch and appreciated by our fans all over the world, especially in New Zealand.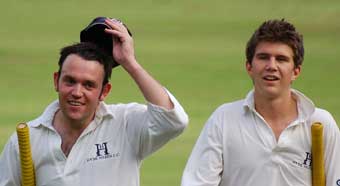 Result:
CUBLINGTON 127-8 dec. HYDE HEATH 128-1. Hyde Heath won by 9 wickets.
Next Sunday ( 16th.Sept.) v. Abbots Langley at the Common 1.00 start.

September 2nd - Amersham Hill - Away
September ... autumn by any other name ... season of mists, mellow fruitfulness and one o' clock starts, which interfere with the smooth running of domestic affairs, causing early lunches, or, if you're really unlucky, no lunch at all. We had a new fixture at Amersham Hill; Henry won the toss

and opted to field first. It was agreed to be a "forty overs" game with a maximum of eight overs per bowler.

The home side made its intentions clear from the start as Telford attempted several big hits. He was dropped twice and then bowled, but the best stand of the innings was 65 between wicket-keeper McKenzie, (34-two fours, two sixes) and skipper Joseph (72-nine fours and one six). I wished that I had constructed a wagon wheel of the latter's innings, since several of his fours were taken through the slip area ... still all runs look good in the book, especially in colour. Apart from a brief cameo by Bugden (it seems that I went to school with a cousin of his uncle) the home side slid to 169 all out from 39.3 overs. For Hyde Heath James Aird bowled well to finish with 3 wickets for 36 runs from his eight overs and Nick "the Kiwi" Burgham three for 35.

After tea we lost two early wickets to the speed of Richardson-Hill, but Nick had decided he was going to enjoy his afternoon, peppering the straight boundary with three sixes in his knock of 36. He added 49 with Alistair Richards and then we saw a stand of 38 from two veterans, Simon Napier-Munn (18) and John Capper (22), but it was not enough. There was no saving-face belligerence by the bowlers and Hyde Heath subsided to 139 all out in 34.3 overs. It would have been nice to reduce the margin of defeat a little more.

Result: AMERSHAM HILL 169 HYDE HEATH 139 Amersham Hill won by 30 runs

Next Sunday (9th.Sept.) v. Cublington (home - 1.00 start)
August 26th - Bank of England Touring - Home
After the washout of the previous Sunday it was gratifying to be greeted by sunny weather on August Bank Holiday Sunday. And what a day! We started with a celebratory brunch chez Barnsley to mark his retirement from the game (I'll believe it when I see it..) Many thanks to Anna for the abundance of provisions, especially the banofee pie of which a portion was saved for me at teatime, and to Tim, for the other refreshments which made it such a good lunchtime.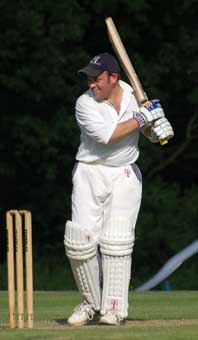 So to the Common where our guests were Bank of England Touring. They won the toss and invited Hyde Heath to bat first. Henry Capper and Alistair Richards found the going slow at first-after all the rain there was a degree of uneven bounce in the wicket-but they eventually added 78 for the first wicket. Henry was the first to go-lbw.for 46 (8 fours-63 minutes) and there then followed a partnership of 77 for the second wicket. This time it was Alistair who was dismissed; he made 57 (7 fours, 1 six in 124 minutes). This was his maiden half-century for the Club, and it brought much pleasure, not only to him, but to all those who were certain, particularly the proud old age parent, that he would any day now achieve this milestone. James Shrimpton 70 not out (eleven fours-89 minutes) ensured satisfactory progress to the tea declaration at 199 for 3 wickets from 44 overs.
Tea, the obligatory chocolate cake-my favourite-and Mr.Webbe-Master snapping away on his monopodded digital camera, complete with motor drive...
After tea the visitors were soon in trouble at 31 for 4 wickets after 15 overs . Their woes were compounded by an injury to Austin, their wicket-keeper, and then a direct throw for a run out.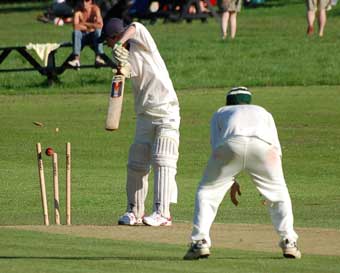 At this point Kidnee 43 not out (5 fours) and Eddols 47 not out (3 fours) came together and no amount of bowling changes could shift them as their sterling action brought the Bank of England total to 132 for 5 wickets at the close. Only Jeremy Stevens met with any success with the ball, taking 4 wickets for 16 runs from 12 overs.
Result: HYDE HEATH 199 - 3 dec. BANK OF ENGLAND TOURING 132 - 5 Match drawn.
Afterwards we were treated to the tourists' fancy dress parade and relevant songs. The theme this year was either four months too early, or eight months too late ... Christmas !. We look forward to seeing them again next season.
Next Sunday (2nd.Sept.) at Amersham Hill C.C.- a new fixture- 1.00 start.
Robin Richards
August 19th - Gamecocks - Rain

August 12th - Longwick - Home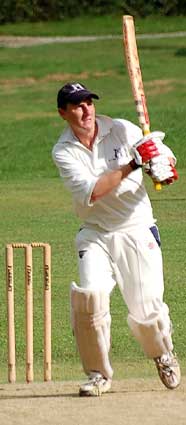 On a cloudy afternoon visitors Longwick won the toss and opted to field first. it was nice to see Charlie Vermeijlen make a return to the Common. He opened the innings with Henry Capper and their partnership was worth 62 at more than a run a minute. Henry's innings of 102 not out was his third century for the Club; it contained 15 fours and was struck from 124 balls in 150 minutes. It was of course the dominant feature of the Hyde Heath innings since no other batsman could scrape an individual score greater than 15.Longwick hustled through their overs, sending down 44, despite a brief break for rain, so Hyde Heath reached 191 for 6 wickets declared at tea.

Tea ... two different types of chocolate cake and a visit from Mr.Webbe - master with his monopod and motor drive, snapping at will.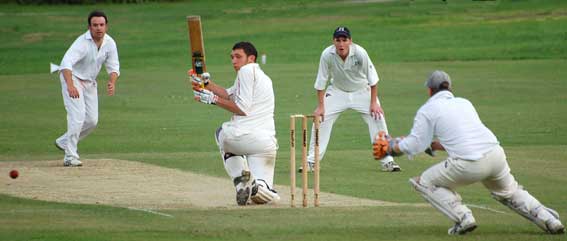 Longwick in their reply were always up with the clock and their best stand was worth 91 runs for the fourth wicket between Marshall (80-thirteen fours one six) and Autrey (25). There was a good supporting knock from Rhodes (3 1) which helped the visitors to reach their target comfortably in 32.3 overs. For Hyde Heath Alistair Richards returned the best (if slightly expensive, for him) bowling figures of four wickets for 64 runs from 11.3 overs. You have to feel sorry for Henry ... a chanceless century and finishing on the losing side...
Result HYDE HEATH 191-6 dec. LONGWICK 193-6. Longwick won by 4 wickets
That means that we have now lost 7 matches this season...
Next Sunday, 19th.August v. Gamecocks at the Common (2.00 start)
Robin Richards
August 5th - Bourne End - Away
Phew ... hottest Sunday of the year thus far ... thirty degrees centigrade (or eighty-six in old money) and we would be at Bourne End, where there is no shade whatever to be found. The visitors won the toss and invited the home side to bat first, which they were delighted to do, rather than field in the heat of the afternoon. Their opening batsmen moved along nicely at just under four runs per over and they added 63 for the first wicket. The tempo increased with the arrival of Hill, whose 54 (five fours one six) formed the backbone of the innings; he got good support from the other middle order batsmen and this enabled Bourne End to declare at tea on 190 for 6 wickets from 39 overs.
There had been two drinks breaks, mercifully, as the Hyde Heath bowlers struggled in the heat and were one short in number, Timothy Nutman having sent a text to say that to say that his physio instructs no cricket for TM for a fortnight ... James Aird toiled manfully to take two wickets for 33 runs from 14 overs, and Nick Burgham weighed in with two for 34. Overall, though, the Hyde Heath fielding was not up to its usual standard.
After tea father and son, Gordon and Richard Scillitoe, opened the bowling, and at one point they were pitted against father and son, John and Henry Capper. Captain Akhtar held himself back, but when he came on as third-change bowler there was total mayhem as he exploited every uneven patch of the wicket to take five wickets for just six runs as Hyde Heath collapsed to 94 all out, suffering from post-tour blues. Gordon Scillitoe bowled well to finish with 4 for 23.
Result: BOURNE END 190-6 dec. HYDE HEATH 94. Boume End won by 96 runs.
Next Sunday, 12th.August v. Longwick at the Common ( 2.00 start)
Robin Richards
August 3rd - Petts Wood - tour - Away
On Friday at Petts Wood the home side won the toss and opted to bat first. No.3 batsman, Ward, made a fighting 78, but his colleagues appeared to have no answer to the pace of Alistair and James as they ripped through the order, with 4 wickets for 13 from 9.5 overs and 4 for 9 from 5. As light relief Richard Cousins had a long spin, taking the other two wickets for 54, and there was good support from the field with Dominic keeping wicket well and taking 3 catches, whilst Simon Napier-Munn also pouched 3. This reduced Petts Wood to an all-out total of 144, which they made from 36.5 overs. All appeared to be plain sailing as Hyde Heath made their reply. Henry and Matt Sims (21) shared a partnership of 64 for the first wicket, and then an unbroken stand for the second wicket of 84 with James Shrimpton (36 not out). Henry's contribution was a classy 88 not out, made from 76 deliveries and including 16 fours which enabled Hyde Heath to reach their target at 148 for 1 wicket from 24.3 overs.
Result: PETTS WOOD 144 HYDE HEATH 148-1 Hyde Heath won by 9 wickets.
It is a fact that the two occupants of room 6 at the Grange Moor Hotel each took 6 wickets on tour.. spooky, or what! Thanks to Matt Sims for organising the whole trip to Kent...
Robin Richards
August 2nd - Harvil - tour - Away
To the garden of England, a change of location for the annual tour. Our chairman, John Capper, together with Caroline, not forgetting Angus, had offered to take me to the first game, at Harvil (near Meopham, for those of you who like to know about locations ), so it was heigh-ho for the open road, if that's how you like your M.25, and thanks to J.C.'s satnav. we were there in plenty of time for the start, 11.30 for a 50 overs per side match.
Hyde Heath won the toss and elected to bat, and it was nice to see the captain and vice captain set off to open the innings. Yours truly had a new plaything to handle, the controls of an electronic scoreboard, which was nice. I'm trying to get the chairman to set up a capital project for a similar piece of equipment ... Henry Capper hit a useful 25 to get the innings going, but the highlight of the morning's play was a stand of 65 for the fourth wicket between James Shrimpton (54) and Richard Austin (29).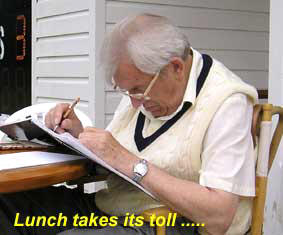 After lunch (steak pie and veg., followed by profiteroles), with only 12 overs remaining, quick runs were vital and they came in an unbroken stand for the eighth wicket between Dominic Haddock (56 not out) and Alistair Richards (32 not out), the highlight being a lofted drive by Alistair,which cleared the roof of the neighbouring pub., the Amazon and Tiger. This late flurry of runs helped Hyde Heath to a 50-over total of 238 for 7 wickets ... very respectable, but the home side exuded strength; with a South African and an Australian, both league professionals, you felt that they could reach a target of 338 or 438, if required. And so they ticked along at four an over until tea (ham and chicken salad cake etc.).
Jeremy Stevens had dismissed both opening batsmen at a personal cost of just 18 runs, and a few spots of rain had made all the coloured inks in my scorebook run. For the home side Wakeman made 47, Kang retired on 50 and Van de Merwe hit a belligerent 41 not out, enabling Harvil to reach 240 for 7 wickets in 39.4 overs. For Hyde Heath, in addition to the aforementioned Jeremy, Alistair took two wickets for 30 and James Aird two for 43. After the game there was yet more food available, from the barbecue, so it was a sausage in a bun, with some for Angus, then it was back round the M.25 and home in time for the watershed on TV.
Good day out ... thanks again, John.
Result: HYDE HEATH 238-7 HARVIL 240-6 Harvil won by 4 wickets.
Robin Richards
Now The real story of the Tour - Tom's blog ....
August 2007 saw the first Hyde Heath tour away from Box in some years. Tour Manager Matt Simms had organized two fixtures in his native Kent, and so it was that an advanced party of elite Hyde Heath cricketers made their way down to Maidstone on the evening of Wednesday 1st August. After checking in to the Grange Moor Hotel – which was clean and pleasant enough – we headed in to town for a few drinks. These were soaked up by the traditional tour late-night curry and we all went to bed in reasonable time ahead of tomorrow's big match.
The following morning we headed to Harvel's ground where we were met by the rest of the squad. Tour Manager Matt Simms had thoughtfully brought with him a straw Stetson-style hat for each member of the squad. These were worn with gusto for many of the tour's off-field activities. The match was to be 50 overs per side, beginning at 11.00 with breaks for lunch and tea.
Hyde Heath won the toss, and openers Henry Capper and Charlie Samuels strode purposefully to the crease. They put on a useful opening partnership against some tidy bowling, and hopes of a big total began to rise. Unfortunately the customary Hyde Heath collapse rather put the brakes on. Charlie got a good one from Harvel's Aussi pro, Henry missed a bit of a heave, and Tom Jeffreys missed a straight one to bag a second ball duck – for which he earned the privilege of wearing a lurid orange t-shirt for the rest of the day.
James Shrimpton fought back with a carefully constructed half century, punctuated by some elegant driving and authoritative pull-shots. He was dismissed almost immediately after lunch (which I might add, was really excellent). This brought Alistair Richards and Dom Haddock to the crease. Their rapid-fire unbeaten 8th wicket partnership of 66 gave us a competitive total. Dom hit 50 at faster than a run a ball and Ali hit some mighty blows, none bigger than a huge off-driven six that was still rising as it flew into the trees. Their partnership lifted Hyde Heath to what seemed a relatively competitive total of 238 off their 50 overs.
Whilst this was all occurring some of the players amused themselves with a game of one-hand-one-bounce with a wind-ball. Tom Jeffreys proved a wily bowler (quite a contrast to his usual rubbish), whilst Atif Mirza turned it square both ways. He let himself down however by dissenting at a straightforward LBW decision. Jeffreys bowled a straight one, which Atif padded up to. The umpire (also Jeffreys) had no hesitation in raising the finger, but Atif refused to walk, and eventually the bat had to be literally wrestled from his hands. It was an unsightly incident.
When the other cricket resumed, Hyde Heath began reasonably well. Jeremy Stevens bowled straight through to record exceptional figures of 10-3-19-2. The two wickets however were from the rankest deliveries he bowled all day. The problem was the bowling from the other end. Tim Nutman bowled tidily enough but was hampered by a very short off-side boundary. Atif Mirza was brought on, but he too was driven repeatedly over long off. Tom Jeffreys replaced Jeremy when his spell was up, and, perhaps inspired by the manner in which Stevens had claimed his wickets, proceeded to dish up some serious dross. His 3 overs went for 44, and the match began to slip away from Hyde Heath. The batsmen continued the slaughter and reached their target with 13 overs to spare.
The thrashing was punctuated by two memorable moments however: With the score mounting one of the opposition batsman tried to carve James Aird back over his head. He slightly mistimed the shot however and sent the ball spiralling towards long off. All heads turned to see who would try to take the catch. Only one small fellow was anywhere near it: yes, it was none other than Atif Mirza. We all prepared to laugh at the expected drop, but somehow Atif overcame his usual appalling standard of fielding. He safely held the catch and was promptly mobbed by his ecstatic team-mates.
A few overs later, and with Harvel within sight of Hyde Heath's total, the batsmen became increasingly ambitious. The result was a huge top edge, again off Aird, which sailed high into the air. The wicket-keeper (Richard Austin) called confidently for the ball, settled under its trajectory, steadied himself… and missed it completely. We all howled with laughter as Richard himself simply appeared rather puzzled by the event. A man with big gloves on had failed where good old Atif had succeeded!
So Hyde Heath got a thrashing, but the hosts put on a lovely barbeque for us, which went down very well indeed. That evening the squad headed into Maidstone to commiserate. As is so often the case, drink led to bravado, and somehow, a series of hundred yard sprints was organized. Whilst for some, drunkenness can slow the body, and dull the senses, for others it acts as, literally, a sharpener. This was definitely the case for Tom 'Carl Lewis' Jeffreys. Overcoming his usual laziness, he dished out a sound thrashing to all and sundry – especially a particularly embarrassed Henry Capper (who was unfortunately unable to back up his chat). One race between Jeffreys, Atif, and Al Shirley ended in amusing fashion: with Jeffreys comfortably in the lead, Shirley's vision was hampered by the trail of dust. Losing his sight, he lost his footing, and tumbled onto the pavement right in front of a slow moving police car! The sound of laughter emanating from their loudspeaker could be heard throughout the whole of Kent…
Tim Nutman had spent much of the evening complaining about an injury that he had allegedly picked up during the day, but somehow managed to shake it off when the squad arrived at Maidstone's prime night-spot. His dancing was nothing compared to that of Dom Haddock. Oddly enough, the Kent ladies were none too impressed by his run-a-ball half-century – I'm not sure how successful his dance-moves were either.
The morning after contained this piece of dialogue in front of the owner of our hotel:
Atif: (referring to Tim's much-publicised posterior ailment) "How's your arse, this morning?"
Tim: "Pretty sore actually."
Atif: "I'm not surprised."
Grange Moor can't wait to have us back next year.
Friday saw Hyde Heath come against Pett's Wood, a side skippered by the brother of Matt Simms. Matt had warned us beforehand that he and his brother were complete opposites and he wasn't wrong: Toby Simms is several sizes larger round the waist than Matt, but, like Matt, an astute captain and extremely affable host.
Charlie lost the toss and we were asked to take the field. After the previous evenings shenanigans and on account of the baking sun, ours was a rather lethargic performance in the field. Whilst there weren't many glaring errors, the level of banter was well below the Hyde Heath average. After the previous evening's races, it was good to see the level of athleticism return to normal.
Pett's Wood were dismissed for 144 with Alistair Richards and James Aird claiming four wickets apiece. This raised suspicion in some quarters of a room 6 conspiracy between the two bowlers to avoid having to buy a jug, but the case was never made it to court. One of Aird's dismissals was notable for the manner in which he managed to shatter the middle stump: Devon Malcolm would have been proud…The nagging off-spin of Richard Cousins also claimed another two wickets, but he put down a tough caught-and-bowled chance off one of their openers when the batsman was on 5. He went on to make 75 – over half of his team's total. Generally though, the fielding was good: Dom Haddock – keeping wicket due to a hand injury to Henry Capper – pouched three catches off the quicks, and Simon Napier-Munn also snared three, including an excellent diving catch in the gulley. In so doing, Napes became the first man on tour not to bat or bowl, but still have to buy a jug!
During this time, Tim Nutman, who had been rested due to the injury that he had told us all so much about, went AWOL. Apparently he was upset at not being selected, and decided – not exactly in the spirit of team solidarity – to pack up and drive home. In his absence, it was decided by the committee to fine him £1.3 million for deserting his post. He has been refused the right to appeal. Atif, unlike Nutman, stood by his team. Although some of us began to wish he hadn't. He spent the majority of Pett's Wood's innings dressed like a gay pirate as square-leg umpire muttering into his dictaphone about ways to fine the rest of the team. But at least, he hadn't buggered off home…
With Pett's Wood missing their best bowler due to injury, their attack was a little thin, and the Hyde Heath top-order took full advantage. Matt Simms got the momentum going with an uncharacteristically swashbuckling cameo while Henry Capper made a sensibly aggressive unbeaten 88. James Shrinpton then finished the innings off with 4, 6, and 4 off consecutive balls to register an emphatic 9 wicket victory for Hyde Heath.
Our hosts were extremely magnanimous in defeat, laying on an excellent tea and plenty of local ale. Both teams then adjourned to a local pub, where the Fines Committee handed out more bizarre fines: Dom Haddock was fined for something to do with his university Drama Society, whilst Henry Capper was fined for losing to Tom Jeffreys in the previous evening's races. Talk about salt in the wounds…
The evening's dinner consisted of take-away pizza in the hotel, after which Richard Austin, Tom Jeffreys, and Jeremy Stevens whiled away the evening with a game of seriously high-stakes poker. The rest of the squad weren't brave enough to participate. Needless to say, Jeremy won. The next morning we all went on our separate ways. But the memory of tour lives on – especially as we were apparently given a sound thrashing by Bourne End the following day. All in all, it was a thorough success, memorable for Atif's catch, Charlie's new position as opening batsman, Al's tumble, and Tim Nutman's impending bankruptcy.
Tom
July 29th - Turville Park - Away
Rain on Saturday evening, but an early Sunday 'phone call from the Turville Park match manager assures that the game is still on. China Charlie is kindly giving me a lift; we meet at the Plough to round up any stragglers then set off for a fairly remote part of Oxfordshire, singing snatches of C M McCall's "Convoy".
On arrival we find a slightly damp square, but it is a bright and breezy drying day, so winning the toss and electing to field seems like a good idea The only snag is that our bowlers appear to be having an off-day as opening batsman, Keelmer, ( 50 - ten fours ... there's that Convoy again ) and skipper, Wade, who last year hit 116 at Hyde Heath, but this year was dismissed relatively cheaply for 92 ( eleven fours, three sixes ) piled on the agony. On the bright side there was some excellent fielding, highlighted by three top-drawer catches, two by Danny Samuels and one by James Shrimpton. There was a clatter of wickets towards the end of the Turville Park innings as our bowlers regained a little pride, with Jeremy Stevens taking 3 for 35 from ten overs, Timothy Nutman 2 for 60 from 12 and Atif Mirza, 2 for 58 from 10, helping the home side to declare on 203 for 9 wickets from 40 overs.
Tea was a very pleasant interval with two different sorts of chocolate cake and other toothsome sponge confections & Charlie gave me the batting order on a piece of paper, which I later noted bore on the reverse the words "Sunglasses half price, all rings £1, but I was too late to take advantage of this generous offer.
Down on earth we had lost both our openers Henry Capper and Dominic Haddock fairly cheaply, but James Shrimpton ( 30 - five fours ) and Tim Bamsley ( 22 - three fours ) steadied the ship until the next piece of action. This was some positive striking by Danny Samuels, (two fours, one six) and Timothy Nutman ( one four, one six) but we were by this time too far behind the clock and it was eventually left to Jemmy Stevens and the skipper to play out time at 156 for 9. For the home side Hunt produced the remarkable bowling analysis of 6 overs, three maidens, nine runs, three wickets.
Result: TURVILLE PARK 203 - 9 dec. HYDE HEATH 156 - 9 match drawn.
We all adjourned to the Five Horseshoes at Upper Maidensgrove (wherever that may be), an hostelry with scenic views from its garden and excellent music on its sound system, the Travelling Wilberries no less .
Then it was time for an exciting journey home as we followed SN-M who was following his eccentric sat.-nav. It seemed to me at one point that all roads led back to Turville...
Next Thursday and Friday ... on tour in Kent for the Matt. Sims Homecoming.
Next Sunday (5th.August) at Bourne End (Herts. ) ... might as well say 2.30 start, because they're never ready for 2.00 pm.
Robin Richards
July 22nd - Woodley - Home
Early morning rain ( that might be a good title for a song ... ) clearing, and the forecast on TV referred to a mostly bright afternoon. We had rain on Saturday, a deluge on Friday and goodness knows how much precipitation in the days prior to that ... Incidentally, I watched the TV reports of the flooding in Kingston upon Thames and noted that as soon as the~water had receded their traffic wardens were out and about, booking abandoned vehicles !... to much more important things-despite the dampness Mike Thompson had prepared a very reasonable wicket for us to welcome our new friends from Woodley, who won the toss and asked Hyde Heath to bat first. The innings was built round the customary sound knock by Henry Capper, who patiently built a personal score of 85 (ten fours and two sixes ), and seven other batsmen who reached double figures-just, the highest of these being 23 not out by Alistair Richards, batting at number eight. Still, as a combined effort it brought riches to the team total, enabling a tea declaration at 211 for 9 wickets, from 39 overs. Henry's 85 had occupied 115 minutes and came from 87 balls. For the visitors young Parfitt bowled well to finish with 4 wickets for 25 rims, and Cherin had 3 for 42.
Tea... one was almost distracted by the Open golf on the pavilion television set, but not enough to take the mind off the splendid Bakewell tart prepared and provided by Lynne. I have fond memories of working in Bakewell, especially in auditing the hotel where that delightful confection was first made ... happy days !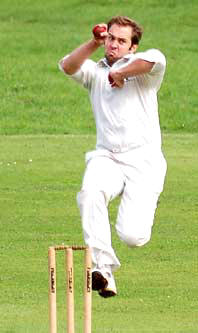 After tea the Woodley batsmen were under the cosh as Tim Nutman and Jeremy Stevens each accounted for a top-order man, but then the change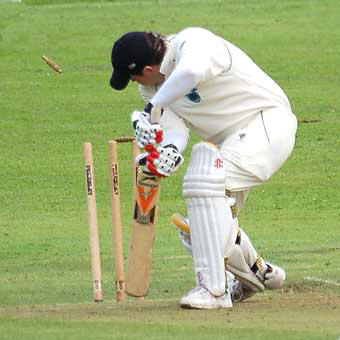 bowlers started to do some damage as Alistair bowled the next two, and the spinning fingers of Atif Mirza ran through the rest, recording the season's best return of 6 wickets for 12 runs. Alistair finished with 2 for 12, and Henry, not keeping wicket today, and Tom Jeffrys each grabbed two catches. You had to feel a bit sorry for the Woodley batsmen as the track was drying nicely after tea. We shall see them again next year, when the scenario will doubtless be entirely different.
Result: HYDE HEATH 211-9 dec. WOODLEY 59 Hyde Heath won by 152 runs
Incidentally, Mr.Webbe-Master was a teatime visitor, putting his motor-drive and monopod to good use shortly thereafter ... he had done the sarne the previous Wednesday evening for the fun match with the Plough, although l would have thought that on that occasion the available light was totally inadequate...
Next match. Sunday, 29th. July at Turville Park ( 2.00 start ) and on the following Thursday and Friday it's down to Kent for the Matt Sims homecoming tour...
Robin Richards
July 18th - The Plough - Home - Evening fixture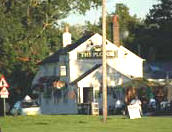 A little light relief took place on Wednesday evening when the annual challenge to the Cricket Club by the denizens of The Plough took place. The main laws are:- every player to bowl two overs and retire when his personal batting total has reached 25, although he may return to the crease if all other wickets have been taken.
The Plough won the toss and elected to field, their best bowlers being Jonathon Humphries (3 for 9) and Ali Mirza (now, who could he be related to ? 2 for 9). For the Club Nick Burgham and Sohail Rauf made 25 each, and a recalled Dominic Haddock finished on 42 as a total of 163 - 7 was reached after 18.2 overs. It was now starting to get dark and the odds were stacking against the side batting second, despite 25's from Jonathon H. and Richard Austin and useful knocks from Ali Mirza (him again!) and Mike Meduck Thompson. The onfield players were having difficulty in seeing the ball by this time and the scorer was finding it impossible. Mercifully, the twentieth over saw the end with the Plough 21 runs short, but it had been a fun evening. Now it was all hands on deck to get the gear neatly stowed in the pavilion before night totally enveloped us. Thence to the Plough for a warming supper ... thanks, Chris. (Not included in overall statistics)
Seems to me that this fixture should be played as near as possible to midsummer day, and started earlier than 6.43 pm, if we are to avoid problems with the available dayligbt.
Robin Richards
July 15th - Chesham Bois - Home
Although the wicket had been visited by more rain during the week a commendable effort was made to get it ready for today's match, against Chesham Bois, who lost the toss and were invited to bat first. At the start of the match the weather was cloudy and warm with a light breeze, giving no hint of the deluge to come. Of the visiting batsmen only Beaumont made any impression - his 46 contained seven fours, and he appeared to be in complete command. He must have lost concentration, however, because his wicket fell to the first ball on resumption after a twenty-minute break for rain. The players were back on the field for a mere eight minutes, during which time two runs were scored, but then the heavens opened again, and they all trooped off for an early tea. The usual excellent tea contained an unusually long list of calorific confectionery, which was pleasing to both the eye and the taste buds.
It was still raining at this point, and an inspection of the square told us that the only course of action was abandonment with the visitors' score on seventy-three for five. Tim Nutman had bowled well to finish with three wickets for 19 runs from ten overs and James Aird with two for 18 from five.
Result: CHESHAM BOIS 73-5 ( 23.1 overs ) Match Abandoned.

Next Sunday ( 22nd.July ) v. WOODLEY ( home ) 2.00 start.
Robin Richards
July 8th - Ballinger Waggoners - Home
Firstly an update…. in the most recent report filed by your correspondent, that is in the matter of the game against the President's Eleven there arose :
Crisis of identity 1: The hon. scorer, enjoying yet another senior moment, admits to getting the names wrong of two of the Pres Xl. batsmen; in truth it was Mr.Boden, not Mr England who scored 92. The hon.scorer blames a). having the wrong pair of spectacles on his person and b). the delicious lunch.
Crisis of Identity 2: Also ascribing the liquidity level of lunch to his mental state Mr T R.Barnsley insisted on appearing in both team photographs.
Let us return to the present...
And so, after several millimetres of rainfall, we were at last able to play again and welcomed to The Common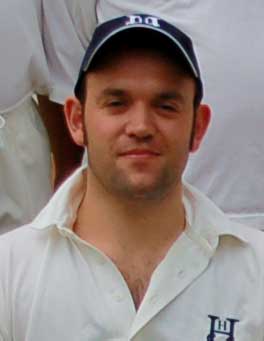 Ballinger Waggoners, who had brought plenty of support, won the toss and put the home side in on a wicket which bore evidence of residual dampness. Initially this seemed to be a good decision - after ten overs the Hyde Heath score stood at 15 for 3 wickets. There then followed a change of fortune as James Aird (33 - six fours), Nick Burgham and Alistair Richards - pictured here - (22 - two fours, one six) added another 70 runs between them to give the score some respectability, but soon after that four wickets fell at the same total as Hyde Heath were put out for a paltry 109. For the visitors Lloyd, Holden and Webster each grabbed three wickets.
And so to tea, served by Miss Hannah and Miss Lucy. The highlight appeared to be some attractive marble cake.
With such a small total to defend Hyde Heath needed to take quick wickets. This they did as Alistair wreaked havoc with the visiting batting order, reducing them to 19 for 7 wickets, his personal tally being six wickets for just three runs, including a hat-trick. The match looked to be all over, but the Ballinger eighth-wicket pair of Salisbury and Lloyd dug in and dug deep, Alistair needed a rest and no other Hyde Heath bowler seemed to relish the task of final demolition. As a consequence the two determined visiting batsmen produced an unbroken partnership which was worth 94 runs and saw Ballinger home by three wickets with 28 deliveries to spare. They had given just one possible chance, by Lloyd, at the wicket when the scores were level; his contribution was 39 not out (six fours) and that of Salisbury 30 not out (four fours). For Hyde Heath Alistair's final tally was six wickets for 19 runs from 14 overs (7 maidens). So, Ballinger won an interesting match of fluctuating fortunes and Alistair took his second hat-trick for the Club. Incidentally, he has also taken one against the Club (for the President's XI)
Result: HYDE HEATH 109 BALLINGER 113-7 Ballinger Waggoners won by 3 wickets
Next Sunday 15th. July v. Chesham Bois at the Common 2.00 pm. start
Robin Richards
July 1st - Southwell Ramblers - Home - Rain

Robin Richards
June 24th - Six - a - side tournament - Home - Rain

Robin Richards
June 23rd - Presidents XI - Home
Weather forecasters are confounded as rain keeps its distance for the pre-lunch ceremony to welcome all the President's Men ... oh, the clink of the Pimms glasses and the claret cups as good times are remembered and old stories are re-told, perhaps with a little further embellishment. And so to lunch ... a Dave Sanders-cooked steak, and salad, followed by the cheeseboard, sets up a lad for a full afternoon at the scorebook... First - the teams: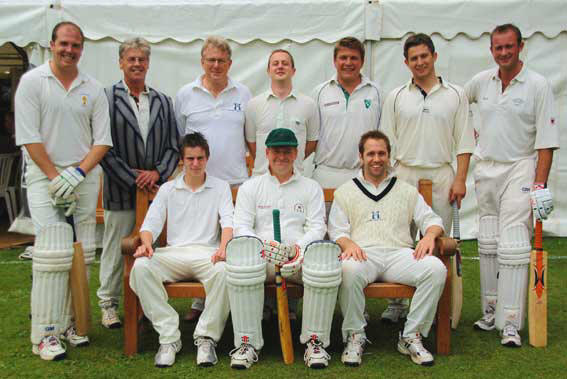 Presidents XI - Back: James England, Dave Brennan, Tim Barnsley, Charlie Vermeijlen, Matt Mann, John Keogh, Mike Bowden Front: Spencer North, Vin Grantham, Tim Nutman, Luke Brennan (not in picture)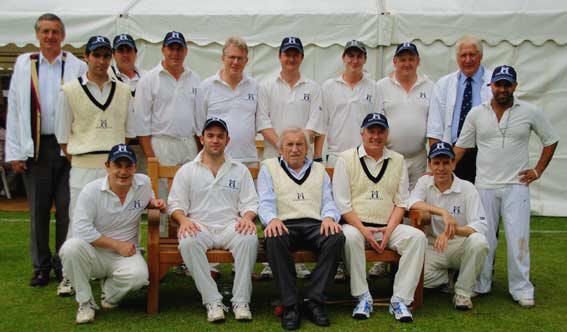 Hyde Heath - Back: Colin Heck, James Aird, Nick Burgham, Simon Napier Munn, Tim Barnsley,
Richard Austin, Henry Capper, Richard Cousins, John Capper, Atif Mirza
Front: Jeremy Stevens, Alistair Richards, Robin Richards, Charlie Samuels, Matt Sims
The President's Xl won the toss and elected to bat first, which they always do, toss or no, and lost their first wicket to the fifth ball of the match. Thereafter they galloped along at not less than five runs an over, lead by opener, England, who was soon despatching the ball to all parts. He was helped in his endeavours by some particularly inept fielding, which was no doubt due to overindulgence at the Beer Festival on the previous evening, and by a useful stand of 87 with our old friend, Charlie Vermeiffien, ( 35 - 3 fours 1 six). When he was finally out for 92, to a high running catch by China Charlie Samuels, whom we welcomed back from injury, he had scored exactly two-thirds of the President's runs with 11 fours and 1 six. Ten overs, and some tail-wagging later, the tea interval arrived with the total on 183 for 8 wickets and four of the home bowlers, James Aird, Atif Mirza, Jeremy Stevens and Alistair Richards each having taken two wickets. Alistair's 2 for 21 from 9 overs being deemed the best performance and winning him a bottle of champagne.
Teatime and its delights ... three different types of chocolate cake ... was interrupted by a heavy downfall of rain which was accompanied by thunder and lightning, so out went a few of our brave lads to put a cover on the wicket. This seemed to work, because play resumed a mere twenty minutes late, with Henry Capper keen to get after the target of 184. He started off well enough with help from Richard Austin (17), but then he was bowled by Timothy Nutman for 38 (4 fours), who soon did the same for Nick Burgham. At this point there was another downpour and the players were forced to leave the field for a further half-hour. On their return the surface had slowed sufficiently to reduce the incidence of the ball reaching the boundary, although James Aird tried his best with 4 fours in his 24, and he was well supported by Richard Cousins (18). The chances of a win seemed to have been washed away, and it was left to the bowlers, Alistair (13 not out), and Jeremy (10 not out) to see Hyde Heath to the draw at 151 for 8 wickets. For the President's XI Timothy Nutman bowled well to finish with 4 wickets for 48 runs from 13 overs.
Result: PRESIDENT'S XI 183-8 dec. HYDE HEATH 151-8. Match drawn.
And so to Sunday ... at 9.45 a.m. with rain falling, and the forecast worse, it was decided, rightly, to call off the six-a-side tournament, leaving so much beer unconsumed and the engraved individual glass trophies undistributed. Does anybody know how to neatly change a 7 to an 8 V
Next Sunday (July 1st) at home to the Southwell Ramblers (2.30 start) ... weather permitting.
More Presidents Day pictures :

Reg Rundle, Dave Bevan, Brian Hartley, Rob Merrick, Alan Neale, Paul Haddock,Tim Neale
Robin Richards ..... with pictures by Chris Sargeant
June 17th - Lt Missenden Misfits - Home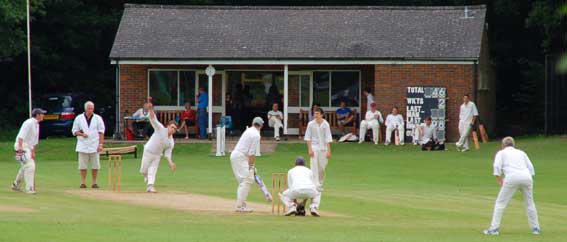 Fathers' Day ... receipt of opulent greetings card which depicts bottles of vintage claret, an item which unfortunately does not form part of my present diet ... doctor's orders, you know ... but a promise of delivery from some outfit in cyberspace of two remastered CDs and a DVD of the Traveling Wilburys ... oh, joy ! To the matter in hand ... after some heavy rain during the week the wicket on the Common was surprisingly dry enough for play as we welcomed our neighbours from the other end of the parish, Little Missenden Misfits, who won the toss and opted to field first.
Henry Capper provided the backbone to the innings, sharing firstly in a stand of 54 with Alistair Richards, then one of 69 with James Shrimpton ( 37 - 4 fours and 1 six ) and one of 38 with Richard Cousins ( 21 -3 fours ); he was fourth out at 179 to a soft return catch, having made 98 ... unlucky not to have reached the century. He struck 10 fours, 3 sixes and 2 motor cars heading for the straight mile and Great Missenden ! After this there was a great clatter of wickets as Hyde Heath pushed for the 200-mark, but mercifully the tea interval forced a declaration at 198 for 8 (off 45 overs ). For the visitors Scott did well to finish with 4 for 54 and Mayne 2 for 40.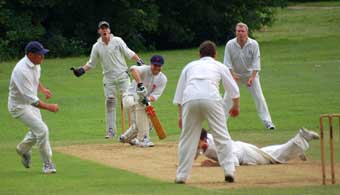 Tea was the usual pleasure with the highlight being smoked salmon in a brown roll, followed by the lightest of sponge cakes. At this point we were joined by Mr. and Mrs.Webbe-Meister, he to partake of a cuppa and show off his latest piece of photographic hardware, a monopod.. There then followed an erudite discussion on the value of monopods over tripods, and would there be a use for a bipod, of which 1 have ever seen only the one, attached to a bren gun for firing from the prone position.
After tea Hyde Heath looked as though they meant business by sending down four consecutive maiden overs. Jeremy Stevens bagged the first three wickets, including that of Paul Partridge who struck an entertaining 35 ( 2 fours 2 sixes ), but this brought together the fourth-wicket
pair who appeared to be doing just as they pleased, in fact they shared in a partnership of 104 runs until the 34th.over ( and Timothy Nutman's fourth ) when the following happened:- first ball ... James Shrimpton leaped high in the air at extra-cover to catch, and dismiss, Hugh Connor for 58 ( 4 fours 1 six ) the batsmen crossed ... second ball ... James Aird executed a splendid running catch to get rid of Don Crawford for 42 ( 2 fours 2 sixes ) ... third ... single to Mayne ... fourth and fifth ... dot balls... sixth ... Young caught and bowled Nutman ... 161 for 6. The thirty-fifth over was a maiden, bowled by Jeremy and the thirty-sixth was a double wicket maiden, so Tim finished with 5 for 21 and Jeremy 3 for 43 as the Misfits closed on 164 for 8 ftom 37 overs. To back up the bowling the fielding had been of the highest order too, and it was not only the young bodies which achieved such quality, witness Richard Cousins' attempt at a run-out from a prone position after a diving stop.
Congratulations to Mike Thompson for providing us with a wicket, which, after all the rainfall, yielded 362 runs on the day...
Result: HYDE HEATH 198-8       LITTLE MISSENDEN MISFITS 164-8       Match drawn.
Next week: Royal Ascot ... HH Beer Festival ... President's XI 2.00 Sat. Jun.23rd ... Six-a-Side Tournament Sun Jun.24th ... giddy with anticipation...
Robin Richards
June 10th - Full Tossers - Home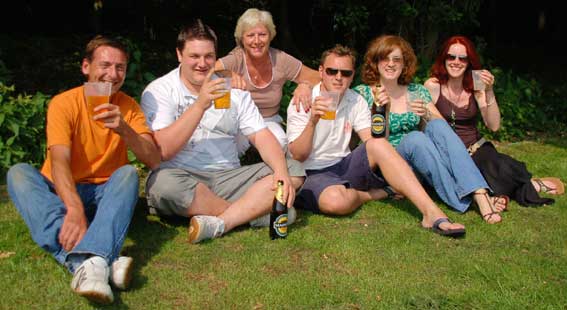 Only one match to report on this week ... 1 need to re-negotiate my authorship fees ... We welcomed to the Common Full Tossers C.C. who lost the toss and were invited to bat first. They were soon in trouble at 18 for 3 in the sixth over to the opening attack of Tim Nutman and Jeremy Stevens, but then there was some respite as father and son Lennon set about rebuilding the innings. Despite some good support bowling from Kerry Binding ( 2 for 21 ), James Aird ( 2 for 14) and Nick Burgham ( 2 for 5 ) the visitors' score gradually mounted, thanks mainly to Lennon senior who made 45 off 104 balls ( 2 sixes, 4 fours ) and was out to a good running catch by Jeremy at 106 for 7 wickets. The tail wagged briefly and the innings came to an end at 131 all out after 41.4 overs. Jeremy did well to finish with 3 for 10 from 5.4 overs.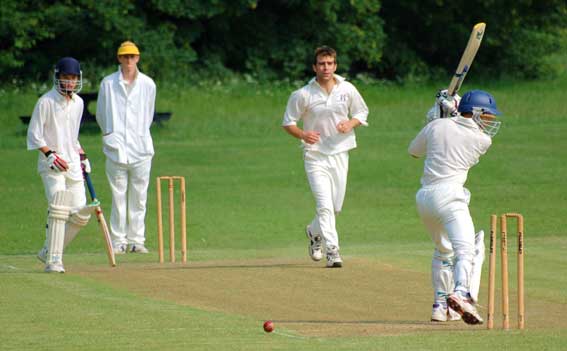 Tea was splendid, as ever, with the highlight of chocolate brownies, and afterwards Hyde Heath lost their first wicket in the third over and their second in the eighth, but then skipper, Henry Capper ( 26 ) and Richard Cousins ( 23 ) righted the ship, and there was a further good contribution from Nick Burgham ( 29 ).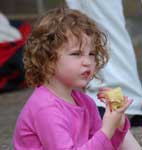 When they had gone 24 runs were needed, but with 10 overs and four wickets in hand, so the home side looked favourite for the win. However, at this point opening bowler, Rubin, returned to the fray, and his second spell of 4 for 6 was particularly devastating.
With the last pair at the crease and six runs required for victory Tim Nutman had only to keep out one delivery, so that Tom Jeffreys could take the strike, and like as not, score the winning runs during the next over, but it was not to be, and the Full Tossers had won by 5 runs. Tim's return to the pavilion was followed by the sounds of a slamming door and possible further barrack room damages. Rubin bowled well to finish with 5 wickets for 15 from 10 overs.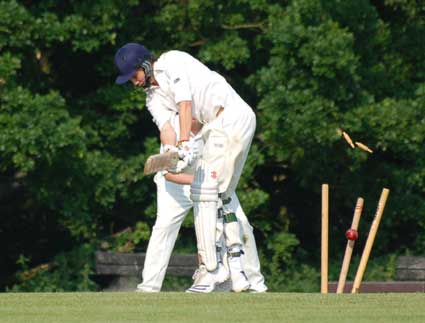 Result: FULLTOSSERS 131 (41.4overs) HYDE HEATH 126 (36.O overs) Full Tossers won by 5 runs ( so near and yet so far ! )
Next Sunday ( 17th.June ) at home to Little Missenden Misfits ( 2.00 start) ... weather permitting we shall look forward to welcoming our near neighbours and their skipper, Hugh Connor.
Robin Richards
June 3rd - Odney - Home
After the rains of May it was a relief to reach June and some brighter, warmer weather. This day was a milestone in the Club's history in that it was the first occasion on which two separate teams from Hyde Heath C.C.had taken the field, one at home and one away.
So it was that Odney C.C. was welcomed to the Common; they won the toss, opted to bat first and initially didn't make a very good fist of the job as Tim Nutman ( 2 for 26 ) and Will Reynolds ( 2 for 19) found early success. Nunn ( 38 ) and Polston ( 44) then steadied the ship, enabling the visitors to close on a fairly respectable 132 all out, despite the wiles of Tom Jefflies, who finished with 2 for 31 with his leg spin. After tea the home side needed a good start to their reply, but it was not to be. Odney's man of the match, Nunn, was an irresistible force, taking 7 for 17, notwithstanding the valiant efforts of skipper, Matt.Sims ( 22 ) and Tim Barnsley ( 20 ). Hyde Heath, mainly due to lack of experience, subsided to a meagre 85 all out, giving the visitors a victory by 47 runs.
Results: ODNEY 132 HYDE HEATH 85 Odney won by 47 runs - but also .....
Robin Richards
June 3rd - Ley Hill - Away
Meanwhile,over at Ley Hill Common, the visitors, Hyde Heath, won the toss and asked the home side to bat first. James Aird ( 3 for 37 ) and Jeremy Stevens ( 2 for 3 1) met with early success, but were unable to remove opening batsman, Lown, who held Ley Hill together with a marathon innings of 102 not out ( 11 fours, 5 sixes ) in 150 minutes off 122 balls. The next highest score was Phillips with 2 1; he and Lown had added 60 for the 6t.wicket. After 44 overs it was time for tea and a declaration at 156 for 6 wickets.
Afterwards the Hyde Heath reply was always ahead of the clock, thanks to solid knocks from Henry Capper ( 30 - 5 fours), James Shrimpton ( 37 - 6 fours) and Will Conibear ( 36 - 5 fours, 1 six). With thirteen overs remaining and eight wickets in hand 37 runs were needed for victory, but during the following nine overs a further six wickets fell and 24 runs were still required when James Aird arrived at the crease. Steve Gomm had pointed the way with a neat six to the shortest boundary ( but perished the next ball in tying to repeat the dose ! ) and James took the hint hitting three more and a four in his 24 not out ( from just eight deliveries ) as Hyde Heath reached the target with one wicket and ten balls to spare. For Ley Hill Paul Green bowled well to bring about that late collapse in taking six wickets for 31 with his slow left-arm deliveries ... he later-said that he would- like to keep that strip of the square, because he had taken- a further five wickets on it the day before ...ugh !
Result: LEY HILL 156-6 dec. HYDE HEATH 162-9 Hyde Heath won by 1 wicket
At the end of a busy day it was thanks to all those who had made it possible, the players for their availability, the captains for their team selection, the ladies for their catering and Mike Thompson for preparing another strip.
Next Sunday (10th) there will be just the one match, at home to the Full Tossers ( 2.00 pm start)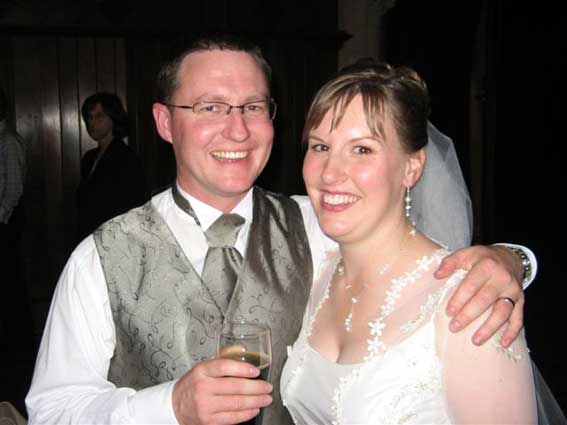 My local friendly weather station tells me that during the whole of May we had 154mm.of rain.
Final thought ... how nice it was to welcome to the ground our old friend and former overseas player, Richard Howard, together with his new wife, Annette. We wish them safe home to NZ.
Robin Richards
May 27th - The Nomadic Medics - Home - Rain

Robin Richards
May 20th - Gt Missenden Pelicans - Away
Last Sunday was planned to be a milestone in the history of H.H.C.C. - we were hoping to show the world that we could put out two teams, the first in the away fixture at Great Missenden Pelicans, and the second in a home fixture to be arranged through the Club Cricket Conference Fixture Bureau. The Pelicans rang to say that they were short of players and might have to cancel if we couldn't help, so China Charlie did the right thing as a good neighbour, and mindful of our manpower resources, put the notion of a second fixture on hold ... for the time being. He himself was suffering with a back problem, and was therefore not playing, but was to be seen anxiously patrolling the boundary at Nag's Head Lane while Henry Capper was in charge of the team. Henry got the first part right ... he won the toss and invited the home side to bat first. A 40-overs per side match had been agreed upon, with a maximum of 10 overs per bowler.
There was some cloud cover and the weather forecast didn't seem too promising. After the recent rains the pitch was tricky to bat on, but home skipper, Griggs, was prepared to battle, top-scoring with 32 runs from 75 balls faced. There were useful contributions from Taylor, Kankate and and Woolerton but the bowlers generally had the batsmen pinned down, and teatime came with the Pelicans all out for 135 from 39.3 overs ( James Aird 2 for 32, Jeremy Stevens 3 for 30 and Alistair Richards, bowling spin, 2 wickets for 7 runs)
After tea Henry and volunteer opener, Alistair, went steadily towards the target and were separated at 40 in the 12th.over when the former, having struck five fours in his 29 was unluckily given out 1.b.w. The wicket was still not easy to bat on, but Alistair, showing much resilience, appeared to master it, and had help from Tim Barnsley (19 - 4 fours) and Matt.Holiland (12 - 2 fours). As the visitors neared the target the question was whether Alistair's monumental patience would prevent him from making his maiden half-century for the Club, and the answer was in the affirmative as no- nonsense Jeremy struck the winning four off the first ball of the 37th.over and Hyde Heath reached 139 for 7 wickets. Alistair's 46 not out came in 134 minutes off 105 balls and contained 4 fours and one towering six which was still rising as it entered the trees beyond the long-on boundary. For the Pelicans Kankate ( 2 for 24 ), Mirza ( 2 for 28 ) and Frank ( 2 for 40) all bowled well.
Result: GREAT MISSENDEN PELICANS 135 all out ( 39.3 overs
HYDE HEATH 139 - 7 ( 36.1 overs ) Hyde Heath won by 3 wickets
Robin Richards
May 11th - The Lee - Home - Rain

Robin Richards
May 6th - Chartridge - Home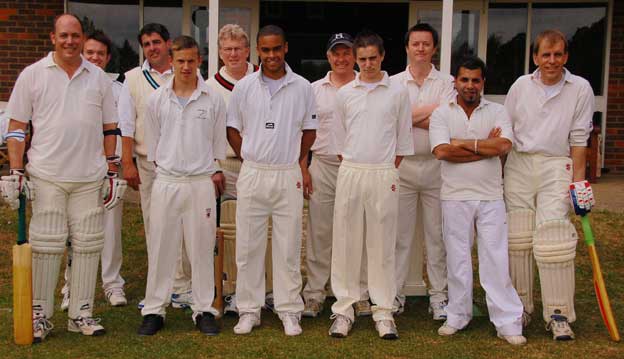 From left: Simon Napier-Munn, Alistair Richards, Nick Burgham, Bardley Holt, Tim Barnsley, Danny Samuels, Charlie Samuels, Spencer North, Richard Austin, Atif Mirza, Matt Sims.
On an afternoon which was breezy, cloudy and cool with the slight threat of rain ( I'll be giving weather reports from coastal stations next ... ) Chartridge C.C. were the visitors to the Common; they won the toss and invited the home side to bat first. Matt.Sims was out to the fourth ball of the innings; this seemed to set the tone for some unadventurous batting, indeed after 18 overs, the striking rate was less than two ! Several batsmen reached double figures and then surrendered prior to building an innings of substance, and there was one suicidal run-out. After 24 overs the total had staggered to 60 for 6 wickets ... desperate measures were now required, and they were realised by Bradley Holt (24) and Atif Mirza (34 not out) whose partnership more than doubled the score in a further eleven overs. Spencer North then briefly added a few runs more, enabling the tea declaration after two and a half hours and thirty-seven overs to be made at 139 for 7 wickets. Mustafa had the best bowling return for the visitors with 3 for 37 from 9 overs.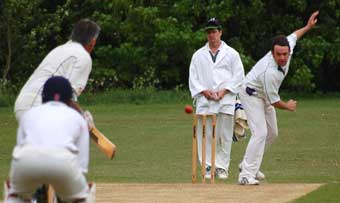 The chocolate cake looked good at tea, when we were joined by Mr.Webbe-Master,who during the afternoon had found a useful vantage point to park his tripod and take some action pix, having started the afternoon with an outbreak of team portraitures. After six overs, Chartridge were 6 for 2 wickets ... game on ... but the fall of the third wicket at 23 heralded the arrival at the crease of Mustafa, who, after a quiet start, began striking the ball to all parts. His 88 not out included 15 fours and one six. Although wickets had fallen earlier he found a useful partner in Grant.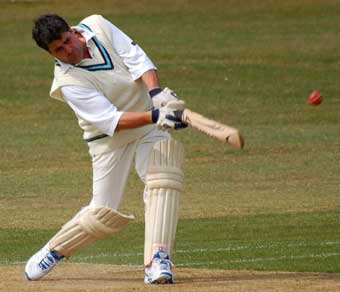 Together they added 74 in an unbroken stand for the seventh wicket to see the visitors home with 4.2 overs to spare. For Hyde Heath China Charlie had found himself with two injured front-line bowlers, Bradley Holt and Nick Burgham. Nevertheless Alistair Richards bowled well to finish with 3 for 30 from 8.4 overs
Result: HYDE HEATH 139-7 CHARTRIDGE 142-6 Chartridge won by 4 wickets
Well, that's the season's first defeat done and dusted ... perhaps we can now concentrate on the season's first victory...will it be next Sunday, 13 . May at home to The Lee (2.00)
Robin Richards
April 29th - HH Spitfires vs HH Cavaliers - Home
There is a rose in full bloom outside the kitchen window of the hon.sec.; underfoot the ground is as dry and hard as you might expect in July or August, but it's the end of April.. Have the seasons lost their sense of timing ? Well, maybe..but we can rely on one season to remain constant, the cricket season. This year it was decided to bridge the gap between the warmth and comfort of indoor nets at the Beacon and the windswept competitiveness of the first match on the Common against Chartridge by staging a Club match...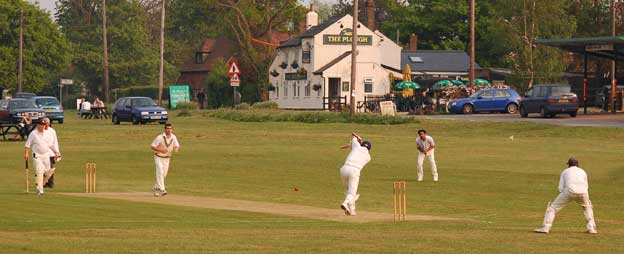 And so it came to pass that on a bright sunny afternoon Samuels' Spitfires won the toss and invited the Capper Cavaliers to take first use of the wicket. They used it fairly well initially, adding 43 for the first wicket in three-quarters of an hour (Henry Capper 26, Richard Cousins 19), and they continued at approx. 4 per over, but lost wickets at regular intervals. Jeremy Stevens with a no-nonsense knock of 34 boosted the Cavaliers' rate, enabling Henry to declare at tea o'clock on 160 for 9 off 36 overs. Simon Napier-Munn had the best bowling figures with three for 30 from 8 overs, and young Spencer North caught the eye with two for 15. However, one unwanted statistic was that exactly 20 % of the Cavaliers' total came in extras. And so to tea, which today included my favourite, poppy seed cake, specially delivered in a large black vehicle with darkened windows.
Nice to see Mr.Webbe-Meister start the season with some long-range digital images of the action and still be in time for tea...
In reply the Spitfires were always behind the clock, and they were losing wickets too... The only bright spot so far had been Sohail Rauf who in a brief cameo of an innings hit a six that went so high it's probably still in orbit ... over Mr.Russell Smith's garden ... The middle order of Charlie Vermeylen (22), Alistair Richards and Spencer (23) ensured a modicum of respectability to the final total of 116 in 29.2 overs, but they failed to combat the wiles of Atif Mirza who finished with 4 wickets for 21 and was ably supported by Jeremy with 3 for 18.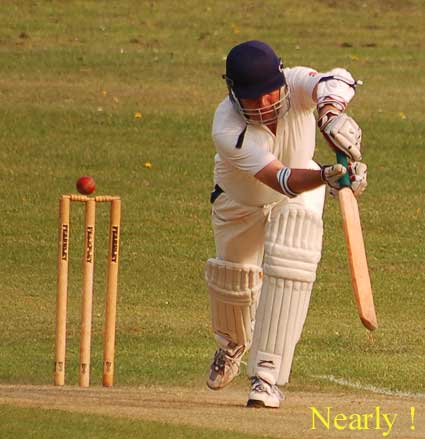 Thanks to John Capper and Chris. Simpson for performing most of the umpiring duties.
Conclusions which may be drawn from this exercise... It would be reasonable to assume that the same players who- made runs and took wickets in previous seasons will do so again in 2007, although Spencer North might prove a surprise package. Bowling and fielding would need to be tightened to eliminate the leakage of extras. If we can field two teams today, without the help of Messrs. Haddock, Holt, Jefferys, Nutman, Shrimpton and Williamson what chance is there of our becoming a two-team club ?
We shall see what happens when we entertain Chartridge next Sunday at the Common (2.00 start).
Robin Richards